THE SECRET GARDEN Comes to Music Mountain Theatre
The Secret Garden will be presented on weekends from February 3 - 19.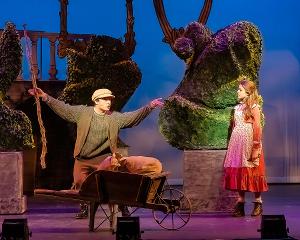 The enchanting classic of children's literature is reimagined in brilliant musical style. The Secret Garden will be presented on weekends from February 3 - 19, with a total of 12 performances. Show times are Fridays and Saturdays at 8 PM, Saturdays and Sundays at 3 PM.
The Secret Garden sees Mary, an 11- year-old living in British India, forced from her home by tragedy. She finds herself in Yorkshire, England, on the estate of her reclusive uncle, Archibald Craven, and his son, Colin. What ensues is a compelling mixture of love, suspense, and rebirth in which the raw power of nature gives way to miracle and magic. The stunning musical score and classic story combine to create one of the most powerful theatre experiences of all time.
The cast is led by Lillian Irene and Nora Bella Kushnier, who will alternate the role of Mary Lennox with Matthew Golian and Peter F. Piccini sharing the part of Mary's cousin, Colin. Additional cast members include Louis Palena as Archibald Craven, Libby Kane (Rose), Jenna Parrilla Alvino (Martha), David LaRaus (Dicken), Jenny McNiven (Rose), Andrew Ferrie (Neville), David Whiteman, Lauren Brader, Lucinda Fisher, Dan Mucha, Patrick Lavery, Morgan Tarrant, Alison McMullen, Bill Weir, Nicholas Kianka, Jaydin Houck, Carrie Scherder, Phoenix Fritch and Suzanne Green. The production is under the guidance of director and choreographer Jordan Brennan. Rhett Commodaro joins as assistant director, with Jared Williams handling musical direction and Christopher Cichon heading the technical team.
Tickets are $32 for adults and $30 for students/seniors/military and can be purchased by visiting musicmountaintheatre.org, in person at the box office, or by calling 609.397.3337. Subscribe and save with a subscription package for the 2023 season! Subscriptions are valid from January 2023 to December 2023.
In addition to the mainstage productions, performances for young audiences are offered throughout the year! Currently on stage is The Snow Queen's Frozen Adventures through Saturday February 4th with Disney's Frozen Jr. opening on February 18. Young Audience tickets are just $10 and showtimes are Saturdays at 11 AM and 1 PM.
Music Mountain Theatre has remained committed to its mission of enriching, educating, and entertaining the community through the appreciation of the arts during this difficult time. The Theatre strives to provide a safe environment for all with rigorous cleaning procedures and, more recently, the installation of state-of-the-art air scrubbers to increase indoor air quality and reduce contaminants.
Music Mountain Theatre is located at 1483 NJ-179 in Lambertville, New Jersey.