Resistance Begins Now: JCTC Launches New Series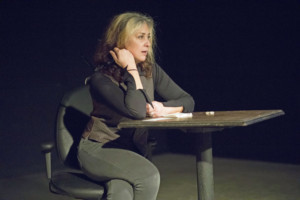 From massive demonstrations to sharing topical Facebook posts, we live in an era of resistance. Oppression has never been as identifiable, our political responses to oppression have never been this personal - and thanks to current technology - so widespread. The situation is complicated, emotional and dangerous, with the only certainty being there are no easy answers.
For a nonprofit arts organization known for diverse programming that explores the issues of our times, Jersey City Theater Center (JCTC) could not have chosen a more relevant theme to close out the spring portion of its 2018 season. From April 13th to June 15th , JCTC launches the Resistance series which begins with the Resistance Art Show in the gallery at Merseles Studios and concludes with The BOX: Resistance Edition. Resistance features an ambitious array of theatre, readings and performances - combined with community dialogue and audience/artist discussions - that each in their own way ask what is resistance, and why are people compelled to resist, especially now.
"Looking at the word today, it seems everybody is resisting something in our society," said Olga Levina, Artistic Director, JCTC. "It is not just on a political level, but on a personal level too. Look at how teenagers are resisting the NRA, or how Black Lives Matter, the #METOO movement and Women's Marches show that real resistance is not just about political issues, but individuals who are trying to create needed change. We at JCTC pick series topics that tackle the issues of our times and there seems to be few issues as relevant today as resistance."
JCTC presents arts programming at Merseles Studios and the adjacent White Eagle Hall. Its thematic series explore - through visual arts, theatre, readings, dance, music and other performances - topics global in scope but relevant to the community.
Like all JCTC's thematic series, Resistance begins with an Art Show in the Merseles Studios gallery showcasing an array of mediums - and a diverse range of artists - examining the many facets of this timely theme. The Resistance gallery opening also includes an artist reception followed by an audience Q&A with participating artists.
The Resistance Art Show - curated by Lucy Rovetto, Visual Arts Coordinator and co-curated by Bang Chau, Marketing Design Associate -features a diverse range of artists and mediums, including photography, painting, alcohol ink, collage and sculpture. Artists include: Bryant Small, Carla Lobmier, Paul Di Zefalo, Seungkyung Oh, Cassandra Adams, Catalina Aranguren, Hao Feng, Jenny Brover, Alex Katsenelinboigen, Jacqueline Ferrante, Danielle Scott, Luis Alves, John Ruddy, Mira Levy, Robyn Thompson, Jerome China, Athena Toledo, and Natalie Giugni.
Attendees of the Resistance Art Show opening - and all JCTC events at Merseles Studios: the gallery is open and accessible during all Resistance shows - should be sure to see and experience the innovative and provocative Foretelling the Truth, an interactive, mixed medium "soft sculpture" by Natalie Giugni, who says her art poses an inescapable question: why are men allowed to pass laws about women's bodies?
Made of plush fabrics and other materials, viewers reach into an egg-shaped replica of female anatomy and remove fortune cookies containing slips that have either the Oxford dictionary definition of "misogyny" written on them, or one of multiple Donald Trump quotes. "With each of his passing days in the White House, attempts to decimate advances in women's rights are enacted," she said. "The President's explicit 'Grab her by the pussy' comment, dismissed as mere locker room talk, will forever be part of the disgraceful legacy left by this leader of the free world."
In selecting the Resistance pieces, Rovetto was struck by how - in spite of the potentially grim subject matter the theme invokes - many artists, like Giugni, expressed their resistance with visual wit. "It was interesting to see artists use sarcasm and humor to depict and comment on serious political issues, such as gun violence or women's rights," said Rovetto. "Some artists in the Resistance show submitted pieces that often spoke to their own very personal resistance to personal situations. Others explored the theme by looking more outside of themselves, approaching the topic using a straight forward, very photorealistic and even journalistic styles."
This blend of the conceptual, the abstract and the realistic has resulted in a distinctive group show by a diverse range of artists that is both introspective and surprisingly hopeful. "All of the pieces give us the viewer the opportunity to wonder about our own responses to what we are resisting," added Rovetto. "We live in a very critical time and the new spirit that we build in must be hopeful ... otherwise all we have to offer our planet is more dystopia."
Resistance Series
4/13 - Resistance Art Show & Artist Reception/Artist Talk
4/25 ARTSpeaks - the "quirky" Visual Arts Talk profiles Ray Arcadio and Kati Vilim, visual artists whose work often exemplifies Resistance.
5/2 - New Play Reading - Wolf at the Door by Richard Dresser - a comedy about a Tenant Association fighting a powerful Land Lord to retain rent controlled apartments, described as a "A comedy for tense times when normalcy is just a fond memory."
5/11 (evening 8:00pm show)/ 5/12 (2:30 matinee and evening 8:00 pm show) Decline and Fall by Drew Weinstein and Nocturne Productions, based on the Paris Peace Conference of 1919, this production analyzes the experience of individuals who make decisions on behalf of many, the masses affected by such decisions, and the muddy filter of communication separating them.
5/18 and 5/19 -A Woman's Movement by Freespace Dance - choreographed by Donna Scro Samori, this special evening of dance, movement, film and music celebrates women, femininity, and the strength and connection of women. It is an artistic expression of the importance of women's voices during this particular time in history.
5/23 - New Play Reading - Twenty Thirty Four by Matt Spangler - a dystopian comedy about a time traveler who journeys via wormhole to 2034 where Trump is still president and white supremacists have walled off "undesirables" in Mexico and California.
5/24 Confusion to Keep Away by Nicky Watts - an interactive Conceptual Art Performance that explores intricate unconscious brain patterns associated with emotional isolation.
6/2 Hokum! - Hokum Productions returns to Merseles Studios with a special night of alternative music you can't resist!
6/7, 6/8, 6/9 - Yarns by No Dominion Theatre Co. Inc - a devised theatre piece, developed through the JCTC Theatre Residency program - Yarns utilizes found texts and burlesque to critique the notion of "women's work."
6/15 The BOX: Resistance Edition - a curated showcase of music, spoken-word, poetry, dance and other performances on the Resistance theme.
For more information or to purchase tickets visit: www.JCTCenter.org.
More Hot Stories For You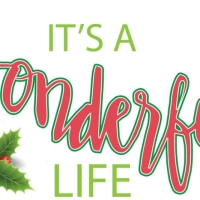 Wharton Community Players to Present IT'S A WONDERFUL LIFE: A LIVE RADIO PLAY This Month

December 2, 2022

New Jersey's largest non-profit community performing arts education organization will continue its 2022-23 season with a family-friendly production of It's A Wonderful Life: A Live Radio Play in the intimate Wharton Black Box Theater in Berkeley Heights.
---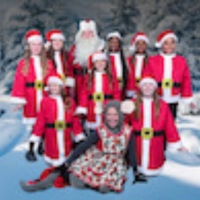 MCCC's Kelsey Theatre Presents 'TWAS THE NIGHT BEFORE CHRISTMAS

December 2, 2022

Mercer County Community College's (MCCC's) Kelsey Theatre continues to bring merriment to area families in December with "'Twas the Night Before Christmas." This musical adaption of the famous poem runs Friday, Dec. 2, 2022 through Monday, Dec. 5. and is sure to delight.
---
Paper Mill Announces Summer Musical Theater Conservatory and Musical Theater Technique Intensive

December 2, 2022

Paper Mill Playhouse, (Mark S. Hoebee-Producing Artistic Director, Michael Stotts-Executive Director) recipient of the Tony Award for Regional Theatre, will hold auditions for students to be a part of the theater's prestigious Summer Musical Theater Conservatory and Musical Theater Technique Intensive for 2023 on Saturday, January 21st and Sunday, January 29th at Montclair State University, College of the Arts/Life Hall, 1 Normal Avenue, Montclair, NJ. 
---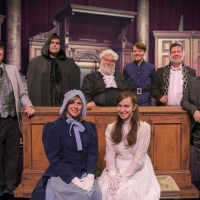 The MTM Players Bring The Comedy Sequel THE TRIAL OF EBENEZER SCROOGE To The Kelsey Theatre Stage

December 1, 2022

Celebrating its 8th year of theatre and second at Kelsey Theatre, The MTM Players bring the sequel comedy penned by local playwright Mark Brown, The Trial of Ebenezer Scrooge to Kelsey Theatre one weekend only Dec 9 - Dec 11, 2022, in West Windsor, NJ for five performances including a rare Sunday evening showing at 7pm.
---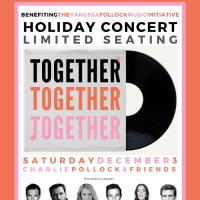 Holiday Concert Fundraiser TOGETHER TOGETHER TOGETHER Announced December 3

December 1, 2022

Pollock Properties Group of Keller Williams and Matt Keane of Guaranteed Rate will present the Holiday Concert Fundraiser Event of the season! Join Charlie Pollock & Friends for this exciting family-friendly night of holiday music & cheer, while raising money for the Vanessa Pollock Music Initiative!
---