Kelsey Theatre Announces 2019-20 Season; IF/THEN, PARADE, and More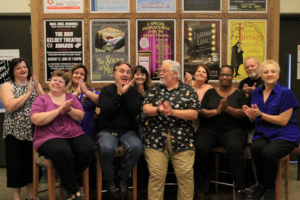 It's a theater season filled with daring, colorful and memorable heroes. Mercer County Community College's (MCCC's) Kelsey Theatre has announced its blockbuster schedule for 2019-20. The curtain goes up on Kelsey's 46th season Sept. 12 with the beloved Rodgers & Hammerstein's musical The Sound of Music, followed by other major musicals, dramas, comedies, and shows for the entire family. Kelsey Theatre is located on MCCC's West Windsor Campus, 1200 Old Trenton Road. Kelsey Theatre is wheelchair accessible with free parking next to the theater.
"Over the years, we have drawn patrons from a wider and wider area. Once they discover the magic that happens on our stage, they often become Kelsey Theatre regulars," said M. Kitty Getlik, the theater's artistic director. "Each season we strive to present a diverse array of shows - some that pull at the heartstrings, others that offer lots of laughs, and still others that give folks a chance to ponder the big questions. And we offer a special series for youngsters. There is truly something for everyone at Kelsey Theatre."
Ten regional theater companies will perform this year, along with several companies starring MCCC theater and dance students. The Kelsey Kids Series will feature traveling professional troupes. Based on popular demand, the theater has added some Saturday matinees for its full-length productions (in addition to the highly popular Sunday matinees).
In keeping with the college's goal to offer quality, affordable theater for all, ticket prices are a fraction of those at larger venues, with subscription packages available for discounts of up to 43 percent. Subscription packages are on sale now; current subscriber requests will be processed first, followed by new subscribers and those purchasing tickets for individual shows. Unless otherwise noted, ticket prices for musicals are $22 for adults and $20 for seniors and students/children; tickets for plays are $20 and $18. (There is a small surcharge for order processing.) Orders may be placed by calling the Kelsey Theatre Box Office at 609-570-3333, by mail, or online at
www.KelseyTheatre.org
.
The season "starts at the very beginning" with The Sound of Music, presented by Pierrot Productions Sept. 12 to 22. Maria wins the heart of a widowed naval captain and his seven children, but happiness is short-lived when Austria is invaded by the Nazis. The family's courageous escape is one of the most inspirational finales ever presented on stage. (Due to the show's immense popularity, Thursday evening and Saturday matinee shows have been added to the schedule.)
The mood shifts to light-hearted hilarity with Leading Ladies, presented by Maurer Productions OnStage Sept. 27 to Oct. 6. In this Ken Ludwig farce, Twelfth Night meets Some Like It Hot. Two fading British actors are willing to go to extreme measures to turn their luck - and their fortunes - around. More laughs are in store with Tartuffe, presented by PinnWorth Productions Oct. 11 to 20. A new translation of Molière's 1664 classic, its themes of lust, deceit and false piety are strikingly relevant today.
Catch Me If You Can touches down at Kelsey Theatre next, starring the larger-than-life faux pilot, doctor and lawyer Frank Abagnale. Presented by The Pennington Players Oct. 25 to Nov. 3, this high-flying musical is based on Abagnale's incredible true story and the hit film. From Nov. 8 to 17, The Yardley Players retell an age-old biblical story, Joseph and The Amazing Technicolor Dreamcoat. A decorative coat sets a nasty family dynamic in motion and the memorable musical score by of Andrew Lloyd Webber and Tim Rice adds to the drama of this colorful show.
It's time for some holiday spirit as M & M Stage Productions presents Scrooge, a family musical adaptation of Charles Dickens' A Christmas Carol, Nov. 22 to Dec. 1. With the help of ghosts from the past, present and future, Scrooge is about to make a serious attitude adjustment for the better.
Calendar Girls starts off the new year with a sizzle. When 11 "mature" women pose nude for a calendar to raise money for the Leukemia Research Fund, they create quite a stir in their small British town. It's based on a true story and it's presented by The Pennington Players Jan. 3 to 12. A courtroom stir is about to ensue in Forté Dramatic Productions' 12 Angry Men (Jurors) Jan. 17 to 26. Once the defense and prosecution have rested, it's the jurors' turn to take up the case. Only one has the courage to explore the prejudices and preconceptions that turn an open and shut case on its head.
Theater To Go is ready to recreate the unbridled night life of Berlin in the 1930s in the renowned musical Cabaret from Jan. 31 to Feb. 9. With numbers such as "Cabaret," "Willkommen" and "Tomorrow Belongs To Me," two love stories are set against the scary backdrop of Hitler's rise to power. Next up is a misguided search for love in Last Of The Red Hot Lovers, presented by The Yardley Players Feb. 14 to 23. The Neil Simon classic tells the story of Barney Cashman, deep in the throes of a midlife crisis, but determined not to miss the sexual revolution of the 1960s.
A full throttle musical event takes center stage March 6 to 8. The Reock & Roll Revue returns to Kelsey Theatre with a Grateful Dead Tribute Concert. Always performing to sell-out crowds, the Revue's new show will be a journey through the first ten years of this iconic American band's studio recordings, along with a video history. The theme of musical genius continues with Moises Kaufman's 33 Variations, presented by Pierrot Productions March 13 to 22. Late in life, Beethoven wrote 33 variations on an uninspired waltz and a modern-day music scholar wants to know why. The drama is enhanced by a live pianist playing the variations.
The epic musical Parade is presented by Playful Theatre Productions March 27 to April 5. Set in 1913 Georgia, it tells the true story of a Jewish, Brooklyn-raised factory manager accused of an unthinkable crime. This compelling show, with its beautiful, touching musical score, combines a murder mystery, courtroom drama, and lesson about the dangers of prejudice and ignorance.
Life's myriad possibilities is the theme of the musical If/Then, presented by MCCC's Academic Theater and Dance Program April 17 to 26. Newly divorced Elizabeth moves to New York City, where she quickly makes two friends, one who suggests that she seek new experiences and the other who advises her to focus on her career. As "Liz" and "Beth" each explore separate paths, they grapple with questions of fortune, self-determination, and personal growth. The story of a teen's personal growth offers a decidedly lighter perspective in 13, The Musical, presented by M&M Stage Productions May 1 to 10. Accompanied by Jason Robert Brown's upbeat, unforgettable rock score, this coming-of-age story is about fitting in, standing out, and the friends you make along the way.
When the Mercer Dance Ensemble takes to the stage May 16 and 17, audiences will be mesmerized by a troupe of MCCC's most talented students, faculty and alumni, plus guest choreographers and dancers, as they perform a spelling binding array of original works.
The celebrated Shakespeare '70 returns to Kelsey Theatre for its annual tribute to The Bard with Two Gentlemen of Verona May 22 to 31. As only Shakespeare can tell it, a tale of young love, hilarious servants and disguised genders is about to make for a wild comic ride. A modern gentlemanly, but equally chaotic, tale comes to Kelsey as Maurer Productions OnStage presents the musical A Gentleman's Guide to Love and Murder June 5 to 14. When an heir to a family fortune decides to get rid of the eight pesky relatives ahead of him in line, what could possibly go wrong? Just ask his mistress, fiancée, and eight pesky relatives!
Three blockbuster musicals provide a thrilling close to the Kelsey season. Evita, the Tony Award winning musical biography of Eva Perone, is presented by PinnWorth Productions in June 19 to 28 (including three weekday performances). Next up is The Yardley Players' Oliver, a Dickens' inspired musical about an orphan whose luck is about to change - but not without some dangerous bumps along the way. Ending the season on the happiest note possible is M&M Stage Productions' Mamma Mia! July 24 to Aug. 2. Set to the sunny music of ABBA, a wedding on a gorgeous Greek Island brings together a mother, daughter, three possible dads, and an unforgettable dance down the aisle.
Kelsey Theatre's Kids Series kicks into gear with an interactive movie event, Annie - The Movie Singalong, presented by Theater To Go Oct. 19. A musical adaptation of Thumbelina, presented by Virginia Rep on Tour, is up next on Nov. 2. The whole family can celebrate the holidays with two Kelsey Theatre traditions in December 'Twas the Night Before Christmas, presented by The Kelsey Players Dec. 6 to 8, and The Nutcracker, presented by Dance Connection Dec. 13 to 15. Rosie Revere, Engineer, based on the children's book series with a STEM focus, is presented by Theatreworks/USA Jan. 25. MCCC's very own Tomato Patch Workshop troupe can't wait to bring DISNEY's Frozen Jr. musical to the stage Feb. 29 to March 1. Then it's time for Chicken Dance, a delightful barnyard musical presented by ArtsPower March 21. Virginia Rep on Tour returns May 2 with the musical adventure Treasure Island, based on the classic novel by Robert Louis Stevenson. Kelsey Theatre welcomes a new company to perform the season's final show. Traveling Lantern Theatre Company presents The Lion, The Witch and The Wardrobe, an epic musical journey set in C.S. Lewis' Narnia, on May 30.
Subscriptions for the 2019-2020 season are on sale now. Orders are also being taken for individual shows, with processing to begin on Aug. 19. Some children's shows are scheduled for daytime performances on Fridays and Mondays to accommodate school groups. For more information or to purchase tickets , visit www.KelseyTheatre.org or call the box office at 609-570-3333.
Kelsey Theatre welcomes community volunteers. Tasks include ushering, sewing costumes, building scenery, distributing show posters, and running the light and sound board. Volunteers see the shows for free. For more information, call 609-570-3566 or email projects@mccc.edu.