Interview: Gonzalo Valencia-Michael Campbell-Amy Calzone and Barry Spatz of GOBLINS AND GATES at Montclair State University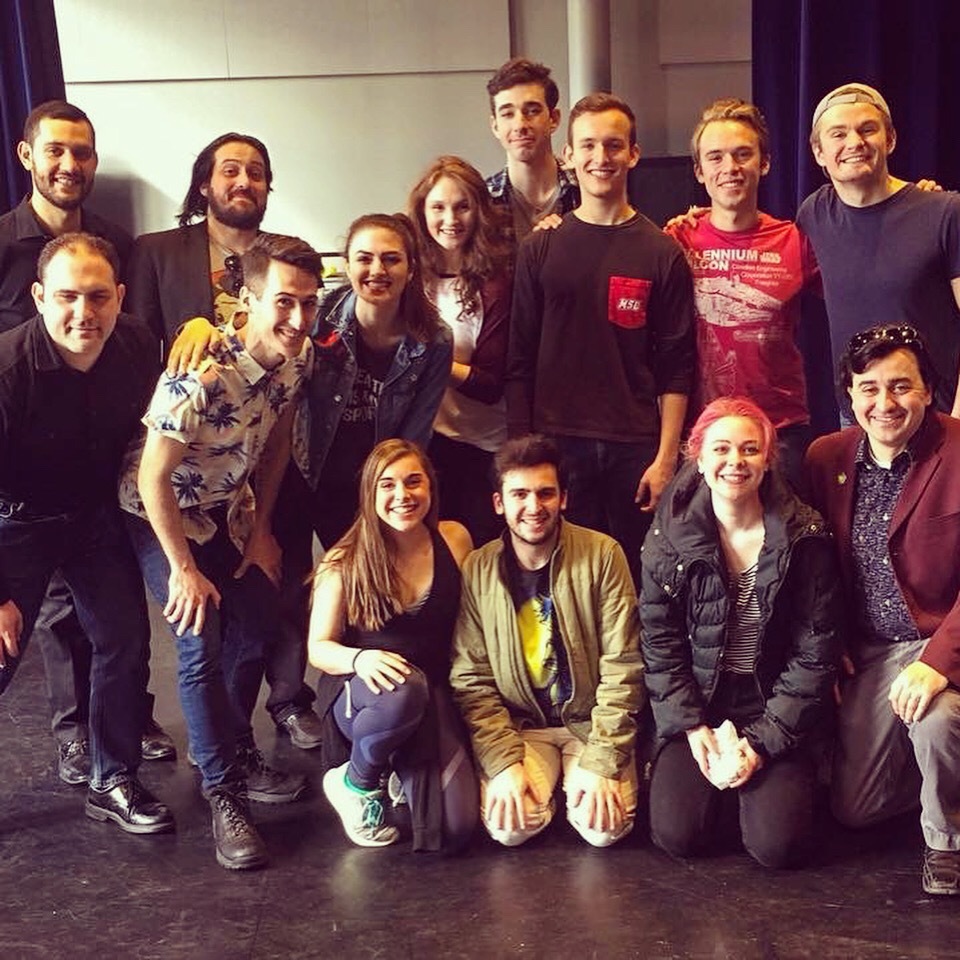 At Montclair State University this past April, an original musical was staged for a sold out four day run. "Goblins and Gates" tells the story about a bunch of friends who play a pen & paper fantasy roleplaying game. Together, they slay goblins, live adventures, and fight the demons that appear both in the game and in the real world.
The music and lyrics for the show were written by Gonzalo Valencia of Nutley with book and lyrics by Michael Campbell of Little Falls. The concept for the show was first jotted down on a piece of paper by Campbell about 10 years ago during a rehearsal that he and Valencia were involved in at the time. The two have been working on the show for the past two years. Montclair State University has been instrumental in helping to give life to their show.
"Last year, back when Goblins and Gates was just a few songs and scenes, we took part in a the Composer's Showcase with 4th Wall Theatre, Inc. in their performance space in Bloomfield, NJ. Greg Dlugos, the Music Supervisor for the Montclair State University Musical Theater Program, was in attendance that evening. He told us that if we developed the show, he would be interested in putting on a portion of it in the black box space at MSU during the following summer semester. So we wrote for that deadline, and we were able to put together about half the show for last summer. He must have been impressed with the additions we made, because he was instrumental in getting us a performance slot the following spring," the writers explained. Because of the pairs partnership with the University, they were able to cast their show with their massive department-wide auditions that took place this past winter," Valencia explained.
Amy Calzone of Succasunna, New Jersey acted as Director. This wasn't Calzone's first time directing an original musical as she previously directed "Wendy's Shadow" at NYMF. This was, however, her first introduction into role playing games. "The hardest part was dissecting the material. I never played the game (or any role play games) before so I needed Michael and Gonzalo to fill me in form time to time," Calzone explained. She, along with the rest of the cast, crew and audiences, is excited for the future of the show. Co-Orchestrater and Musical Director Barry Spatz of Clifton, New Jersey explained his involvement in the show, "Being an orchestrater I took what Gonzalo gave me and fleshed it out for our 6 piece band. For most of the songs he already wrote a piano, bass and drum part. And I then wrote a guitar, violin and cello part...I also was the Copyist, which means that I was responsible for putting all of the music on the page for the musicians to read. Being the Musical Director I taught the vocal parts to the entire cast during the rehearsal process and rehearsed the band. For the performances I played the piano part and conducted the band throughout the show." Spatz also acted as the accompanist during auditions and had a say in casting. Spatz spoke about one of the challenges of the show, "The hardest thing for me was orchestrating the show. Gonzalo had a specific sound that he wanted and we had to make that from basically nothing. He obviously had a bunch of music references that we were going for but it was still a challenge to bring that to life. We both had to be cooperative and flexible. A lot of the time we finished each others ideas and sometimes we even had to get rid of ideas that weren't working. We are still exploring other possibilities to expand the orchestration and be more specific with the sound of the show." Spatz said it best when he said, "...Gonzalo and Michael have created a unique piece that can speak to anybody, even if they are not into gaming or musical theatre. I am just glad to be part of it." Campbell added, "We believe that there aren't enough original musicals out there, and we believe that making something new opens the door to people who have never seen a musical before. We think the world of musical theatre is for everyone, and a show like this will show gamers that they can also have a place in the theater world. Of course, we hope to make a show that everyone can enjoy, and, with our first draft, I think we are getting closer to that goal. If we're lucky, maybe we will also encourage folks to play games with one another face to face. In today's technological world, we often forget how easy it is for human beings to connect and to have a great time with simple tools, like pen & paper. So, stop reading this and go and play a game with some loved ones. We promise you'll have a good time." The musical has 12 songs that will make you both laugh and cry. The show runs for 110 minutes with no intermission. Valencia and Campbell are working towards recording a soundtrack for the show. To hear one of the songs from the show, "I Mix Potions," visit:
https://www.youtube.com/watch?v=BW4HR1S-blc
To learn more or to contact Gonzalo Valencia please visit his website at
http://www.gonzalovalencia.com

Photo Credit: Gonzalo Valencia