Interview: Anthony Rapp Talks BroadwayCon's Inception, Favorite Moments, and Ideas For Future Events
BroadwayCon Co-Creator Anthony Rapp attended this year's convention, which was held on July 8-10!
Anthony Rapp is a legendary performer in the theater industry, and fans are inspired by the iconic roles he originated in popular shows like RENT, You're A Good Man Charlie Brown, and If/Then. In 2016, Anthony helped his long-time friend and Mischief Management's CEO and Founder, Melissa Anelli, launch the first-ever BroadwayCon theater convention as its co-creator. The three-day annual event is in its seventh year, and was held in-person for the first time since the pandemic on July 8-10, 2022 at The New Yorker Hotel and Manhattan Center.
BroadwayCon's programming features panels, performances, workshops, and autograph and photograph sessions with Broadway's biggest names. There is also a full-service vendor marketplace where fans can buy rare theater-related treasures to take home. The convention gives theater fans from all over the world the opportunity to connect with each other through a common interest and create a community. Anthony attended this year's BroadwayCon for just one day only on Saturday, July 9th. He performed in the BroadwayCon Cabaret, as well as participating in his own individual autograph and photograph meet and greets.
Anthony Rapp has been acting and singing professionally since he was nine years old. He is best known for originating the role of Mark Cohen in Jonathan Larson's Tony Award-winning rock opera, Rent, for which he shared an OBIE Award with the rest of the cast. Films include Adventures in Babysitting, Dazed and Confused, A Beautiful Mind, and RENT. A writer as well, Anthony penned The NY Times bestselling Without You: A Memoir of Love, Loss, and the Musical Rent (Simon & Schuster). He can currently be seen as Lt. Cmdr Paul Stamets on Star Trek: Discovery on Paramount Plus.
BroadwayWorld had the incredible opportunity to interview Anthony Rapp at BroadwayCon. Anthony talked about how BroadwayCon was created, his favorite moments from years past, and ideas for panels that should be added to future programming schedules.
How did the idea for BroadwayCon come about?
Melissa Anelli and I have known each other for 26 years since the run of Rent, and we became closer a few years later. When she started doing events with Mischief Management, her company, I attended LeakyCon (the Harry Potter-themed conventions) and I was really impressed. We were watching the Tonys one year, and Melissa was like, "What do you think about TheaterCon?" I said, "Sure, yeah, why not? Of course!" And then we had an official lunch meeting where we talked about really trying to do it. I was doing If/Then at the time (in 2014), and I started sharing this with my colleagues and friends in the show. I promised them that my friend Melissa and her company will do this the right way and it will really feel like community and celebration. During the first year, even with the blizzard, the feeling was still wonderful and strong.
How does BroadwayCon stand out from other fan conventions, like LeakyCon or Comic-Con?
I can speak now being in the Star Trek universe, I have been to quite a few conventions. There is a feeling at the very specific Star Trek convention that there is some similarity, that the sense of community within that fandom is very strong. But when you're at some other more general Comic-Con events, it's much more diffuse. It's more like a big grab bag. It's fun and cool to see cosplay and everything, but you don't get that sense of community spirit. I think what BroadwayCon has that really is special is the fans. To be a fan of theater, is to be somebody who loves being in the room with other people, witnessing the work before you, and celebrating it all together. And I really think BroadwayCon epitomizes that.
What is your role as BroadwayCon's co-creator?
Melissa and her team at Mischief Management do all of the logistics and the planning, so I don't do any of that stuff. Sometimes I might throw out an idea for a panel, but I continue to try to be an ambassador to the community, and an advocate for making sure we have a strong quality of guests, meaning the people in the panels. Mischief Management is also so committed to making sure that we have a very diverse representation of people who are speaking and getting to do panels and performances. That's very paramount on their minds, I promise you. As much as anything else, my role is to be a public face and help to also continue to spread the good word of BroadwayCon as a liaison.
How has BroadwayCon evolved over the years from the very first one in 2016?
I think some things have gotten more streamlined with programming probably. We've proven ourselves that it's a quality event, so it's important to continue maintaining that quality and then rising to keep improving that quality.
How is this year's BroadwayCon different from those in the past? It's the first one in-person following the pandemic and the Broadway shutdown, and is being held in the summer.
I mean, I think all of those things do make a big difference. Also, the protocols that are in place for people who are currently working in shows effects or limits some of the opportunities for them to participate. There's a lot of put-in rehearsals and all that stuff that makes it a little tougher for those people to be involved in the same way that they were in years past. That's one of the logistical things that makes it a little harder to pull off.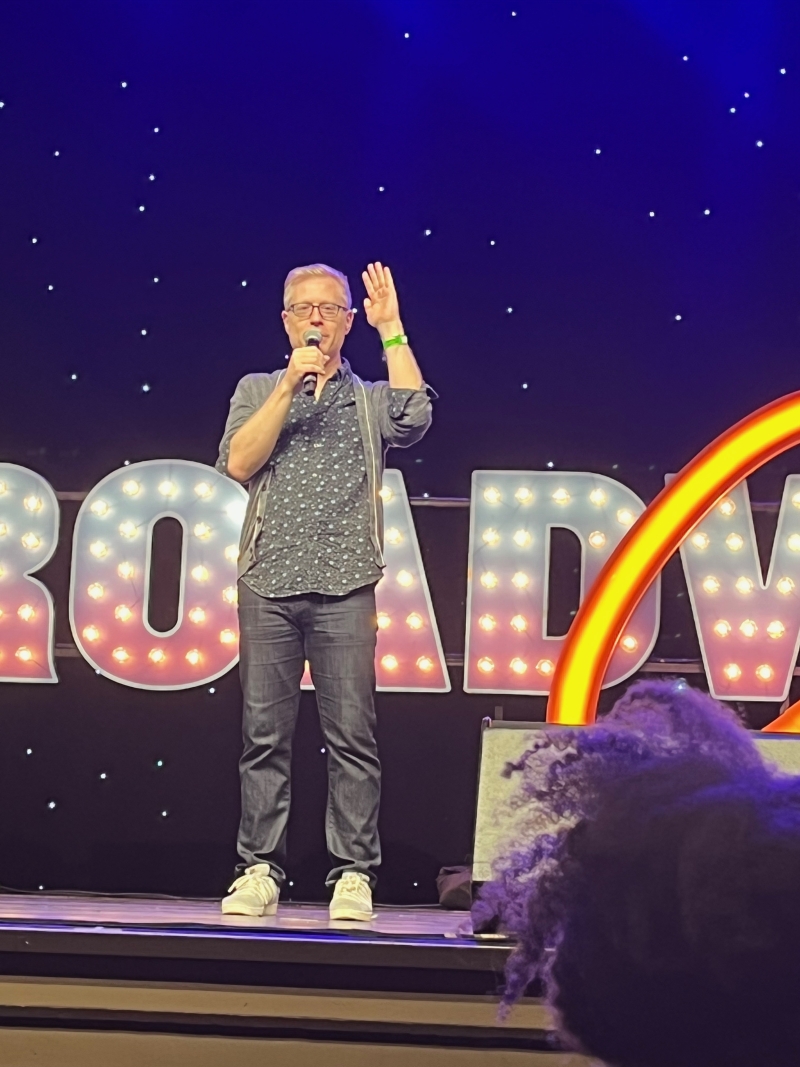 What have been some of your favorite BroadwayCon events?
The iconic first year Blizzard Party Line, that's one I will always remember for sure with deep fondness. To be able to help moderate and put together the 20th Anniversary RENT panel was really special the first year for me personally. Being at the Hamilton panel was really super exciting, and being able to show that these are really super high-quality conversations about theatre. It's exciting and fun, but it's also a really deeply thoughtful engagement.
What types of events or panels do you hope are added to future conventions that haven't been done yet?
Any time we can get some of the legends around, that's always a pretty cool thing. Like Joel Grey, Chita Rivera, Bernadette Peters, Patti LuPone. Those are the folks that it would be great to have the opportunity for them to experience this, I really believe that. I think they would have a wonderful experience of the community embracing them for their legacy and being able to have an in-depth conversation with someone (a moderator or fellow artist). That's the kind of thing I think would be really, really special.
To keep up with Anthony, follow him on Twitter and Instagram. He is currently starring as Lt. Commander Paul Stamets in Star Trek: Discovery. Seasons 1-4 are now streaming on Paramount+.
For more information on BroadwayCon, please follow them on Twitter, Instagram and Facebook, or visit their website at https://www.broadwaycon.com.
Photo Credit: David Urbanke