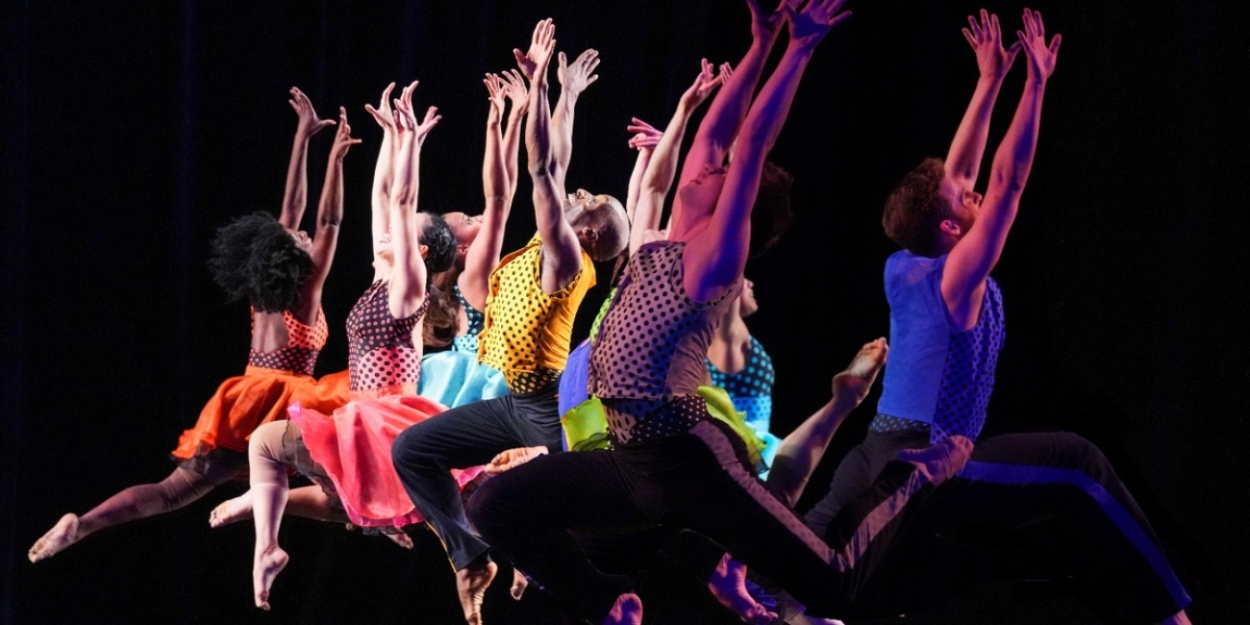 Carolyn Dorfman Dance Announces 40th Anniversary Season Featuring a WAMFest Performance, a Gala Benefit & More
Founded in 1982, Carolyn Dorfman Dance has 12 full-time dancers.
Carolyn Dorfman Dance, a premiere modern dance company based in New Jersey and New York City, will celebrate a landmark 40 years of bold and powerful dance with their 2022-23 Season. The highlights for this year include a performance with jazz great Regina Carter at NJPAC's TD James Moody Jazz Festival in November, a full company performance at the Lyceum Art Center in Burlington, a shared appearance with New Jersey Ballet at Fairleigh Dickinson's WAMFest, and a thrilling Dance on Exhibition at the Morris Museum/Bickford Theater in April, which also includes its annual Gala Benefit.
Founded in 1982, Carolyn Dorfman Dance has 12 full-time dancers. The company includes returning artists Katlyn Baskin, Brandon Jones, Jarred Bosch, Kaila Moses, Dominique Dobransky, Maiko Harada, Gianna Diaz, Khalid Dunton, and Charles Scheland who are joined by three new dancers, Andréa Ward, Carmella Taitt, and Hannah Gross. Robert Mark Burke will join the company's full time roster in January 2023.
Artistic Director and Choreographer Carolyn Dorfman dedicates the 40th Anniversary Season to the memory of her parents, Mala Weintraub Dorfman (1923-2022) and Henry Dorfman (1922-2002). The beloved couple were Holocaust survivors and immigrants who engendered a deep humanity that shaped Carolyn's humanism and artistry as well as the art, processes, and the entire family of Carolyn Dorfman Dance.
The performance schedule for the 40th Anniversary Season offers several opportunities for Metropolitan area, and national audiences to see the company in performance:
· Wednesday, October 12th, at 1:30 and 7:30 - WAM Fest at FDU in Madison (Shared performance with New Jersey Ballet)
· Friday, October 21st, at 7:00 - Tennessee Youth Dance Festival, Chattanooga Center for Creative Arts, TN
· Sunday, October 23rd, at 3:00 - Lyceum Hall Center for the Arts in Burlington
· Wednesday, November 16th, at 7:30 - NJPAC's TD James Moody Jazz Festival
· Saturday, December 3rd, at 7:30 - Morris County Dance Festival at the Madison Community Arts Center
· Thursday, April 13th, at 7:30 - 40th Anniversary Performance, Bickford Theatre at the Morris Museum (Gala Benefit to follow)- Dance on Exhibit
· Saturday, April 15th, at 7:30 - 40th Anniversary Performance, Bickford Theatre at the Morris Museum- Dance on Exhibit
· May 7-12- Tour and Residency to Chattanooga, TN
The company will be involved in a host of immersive residencies, including performances and education workshops, with programming at universities, performing arts centers, community centers, and schools. In the fall, for the 15th year, the company will be teaching and/or lecturing at the Union County Vo-Tech Academy for the Performing Arts in Scotch Plains, Rutgers University in New Brunswick, and during the Tennessee Youth Dance Festival in Chattanooga. In 2023, teaching residencies will take place in four schools in the Elizabeth School District, at Passaic County Technical Institute, and at County Prep in Hudson County.
The season will see the premier of a new work, choreographed by Carolyn Dorfman in collaboration with the jazz violinist Regina Carter. As Carolyn explains, "Regina and I begin this new project, entitled The Attitude of Doing, earlier this year drawing on material that reflects her artistry and our vision of life, love and community. The creation is set to premier at NJPAC's TD James Moody Jazz Festival on November 16 and blends live performance by Regina with the company as well as recorded sound. Dorfman invites you to: "Take this joyous journey with us!"
The Company will also continue performances of Pastorale Pause, NOW, PRIMA!, WAVES, and The Legacy Project (specifically Cat's Cradle and excerpts from Mayne Mentshn). For the performances at the Bickford Theatre at the Morris Museum in April, the Company will "exhibit" Dorfman's canon in the museum and on the stage, featuring excerpts from seminal works from the Company's long history.
In addition to 12 full-time dancers and one part-timer, CDD is supported by a loyal Board of Trustees and a remarkable staff which includes executive director Anita Thomas who is supported by communications/development manager Anna Shaffner, company manager Stephanie Byrnes Harrell, financial administrator Flora Attardi, associate artistic director Jacqueline Dumas Albert, and rehearsal director Katlyn Baskin. For more information, visit www.carolyndorfman.dance.
| | |
| --- | --- |
| Vote Now for the 2022 BroadwayWorld New Jersey Awards | |
| voting ends in | |