Review: A DOG STORY at Bickford Theater At The Morris Museum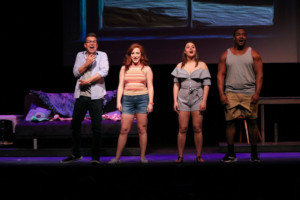 It sometimes feels like there's an invisible wall hovering between people while out and about. We tend to mind our own business and stay out of each other's way, avoiding eye contact and pleasantries, replacing them with a palpable urgency to get to where we are going. In this day and age, it can feel as though it's not only that we don't have time to stop to smell the flowers, we don't even know the flowers are there, we leave them in our hurried wake. There's so much beauty in connection but we've seemed to bury that beauty in our days filled to the brim with obligations. Maybe it's easier that way; maybe we fear the inevitable disappointment when the flowers whither and fade. Better to protect ourselves than to risk feeling, well, anything. Or maybe we are just that busy! I'm guilty of this zombie-esque behavior, or at least I was, until I had kids.
In my current world we stop and smell every flower, pick up every rock, consider every stick, examine every bug and leaf and we talk to everyone. You see, my son is two and in his eyes everything is fantastic and life is beautiful. It's pretty much the best thing ever. He smiles at every stranger and almost always offers an enthusiastic "Hello!" Most are receptive, if not delighted, to dismantle their invisible wall for a while to indulge a smiling toddler. Also, I wear my infant almost everywhere we go, she's perfectly content hanging (literally) with mama while we run errands and I find that people will smile and often ask me questions about the little face squished next to my chest. I'm happy to answer, it feels nice to connect.
The only other time I've witnessed this kind of social ease with strangers is while walking a dog. One of my best friends would puppysit her adorable pug-nephew, Parker aka "Lil P", and when we would walk down the New York City street we couldn't complete a block without someone asking about the handsome gentleman. This is especially remarkable because NYC is notorious for its hustle and bustle, it's a part of its charm! Dogs are amazing, they really do love unconditionally. I raised two puppies in succession. I spent a whole summer training our first dog, Maggie, while I was on break from teaching. We had her for a year before finding out she had leukemia. It was awful seeing our sweet pup lose her appetite and once insatiable urge to fetch. I was with her when she passed, I cried and held her paw, she was my buddy and the only thing she ever did was love us. Later that year my parents adopted a Goldendoodle, Sadie, the sweetest, most gentle soul who has ever walked the earth. She helped us all heal from losing our Maggie and she is the best pup to my kiddos who absolutely love her.
The power of the cute companion is center to the very entertaining A Dog Story currently playing at Bickford Theater. Our main character Roland, played by the terrific Daniel Robert Sullivan of "Jersey Boys" fame, is about as disconnected as can be; working long hours and trying to move his way up the corporate ladder. He surmises that the only way he will get promoted is with a successful, beautiful wife, for marriage is the common thread in the previous promotions in his firm. His best friend Guy, portrayed by an effervescent Shabazz Green, tells him that the most direct and true way to a woman's heart is a puppy and let's just say he's not wrong.
The show addresses the importance of slowing down and taking the time and energy to cultivate fulfilling relationships, both human and canine. With wonderful and strong performances by the leading ladies Clare Fitzgerald and Allie Ambriano who punctuate the idea that love and companionship don't allow for short cuts. When it comes to matters of the heart it's best to play the long game. Directed by the always superb Eric Hafen this staging takes us through the highs and lows of pet ownership and young love. It's a fun night, not to be missed!
So if you see me out and about, wearing a baby while holding my toddler's hand with the right and a leash with the left don't hesitate to give us a smile. We are all still learning about the world in our own way and are delighted to connect. After all, that's why we are here, isn't it?
A Dog Story at Bickford Theater Dates:
Thursday, April 12, 7:30PM and April 19, 2:00PM and 7:30PM
Friday, April 13, and April 20, 8:00PM
Saturday, April 14 and April 21, 8:00PM
Sunday, April 15 and April 22, 2:00PM
Tickets may be purchased online at http://morrismuseum.org/main-stage-performances/, by phone at 973. 971.3706, or in person at the Bickford Theatre Box Office. The Bickford Theatre is an integral part of the Morris Museum, located at 6 Normandy Heights Road in Morristown, NJ, and offers free parking and full accessibility. Box Office hours for phone sales are Monday through Friday, 10:00am to 5:00pm. Walk-up hours are Tuesday through Friday, 11:00am to 5:00pm.