BWW Interview: Margarita Levieva and THE TRIAL OF DONNA CAINE at George Street Playhouse 10/16 to 11/11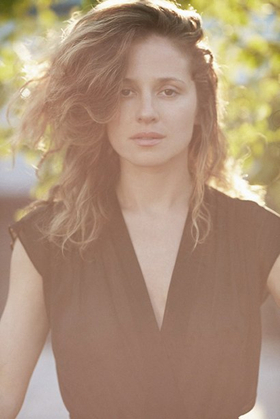 George Street Playhouse (GSP) will launch its 2018-19 season with the world premiere of The Trial of Donna Caine, a gripping courtroom drama by Walter Anderson, who served as the editor-in-chief of Parade magazine for 20 years prior to being named Chairman and CEO of Parade Publications.
The production stars Margarita Levieva alongside Flor De Liz Perez making her Playhouse debut as Staff Sgt. Donna Caine. They are joined by Playhouse alums, the two-time Tony Award nominee Peter Frechette, Kally Duling, Julia Brothers, and John Bolger. The cast is completed by Michael Cullen, Melissa Maxwell, and Ryan George.
When Marine Staff Sergeant Donna Caine is accused of a serious crime, highly respected attorney Emily Zola Ginsberg is convinced to take the case. Fighting for her client's future, Ginsberg finds herself taking on the military establishment in order to expose the truth.
Broadwayworld.com had the pleasure of interviewing Margarita Levieva about her career and her role as Emily Zola Ginsberg in The Trial of Donna Caine.
Levieva is currently one of the leads in David Simon's critically acclaimed HBO drama The Deuce, starring opposite James Franco and Maggie Gyllenhaal. Margarita can next be seen in the independent feature Inherit the Viper opposite Josh Hartnett and Bruce Dern. She made her Broadway debut in 2009 with the play Impressionism at the Gerald Schoenfeld Theatre opposite Jeremy Irons and Joan Allen. She has completed the Meisner Training Program at the William Esper Studio in New York. Margarita's past film credits include Diary of a Teenage Girl, Sleeping with Other People, James White, For Ellen, and Adventureland. Margarita's television credits include memorable roles in ABC's Revenge, NBC's Allegiance and The Blacklist, and HBO's Luck and How to Make It In America.
What was your earliest interest in the performing arts.
The moment I saw Maya Plisetskaya dance the BLACK SWAN on stage at the Mariinsky theatre in St. Petersburg, Russia, I knew I wanted to be up there, transforming and telling stories, like she was. I was 5-years-old.
We'd love to know a little about your education and how it has influenced your career.
I graduated NYU with a double major in economics and psychology. I also snuck in minors in philosophy, sociology, and Russian history. I was fascinated with the way the world works, and especially with the way people's brains work and why and how people make choices the way they do and lead lives that are so specific to them.
I ended up going to the William Esper studio for 2 1/2 years after college. For years, it was my Achilles' heel, feeling somehow inferior as an actor because I didn't get an official degree in acting and didn't go to graduate school for theatre.
But the longer I've worked professionally as an actor, the more I've appreciated the education I did receive. It's given me great insight into human behavior and has continued to help with characters I've played over the years.
Have you had any particular mentors?
Through the years, there have been many people I've looked up to, whom I've admired, both dead and alive. I learned so much from reading about their lives and choices they've made. I've also had the privilege of great teachers.
What advice do you have for people wishing to enter the acting profession?
Find out what who you are and never give up on that. Never try be like someone else. Hone your craft. Grow your personal voice. Read, watch, observe, stay curious. Only compare yourself to yourself. Remember that failure is part of the process, so learn from your mistakes and don't let them get you down.
There's no straightforward road to success, and anyway, success will not fill any voids that exist inside. So find things that do, and those are personal. Be kind to yourself. This business can be really tough. Sometimes getting work is not about talent or how good you are. So many variables are involved. Still work hard, because at least for me, that's how confidence is built.
Best advice I ever got is, "it's not a race, it's a marathon." So please stay the course, and when you want to give up, get quiet and listen to that little voice inside that wanted to do this in the first place.
Tell us about your role as Emily Zola Ginsberg in The Trial of Donna Caine and how you prepared for the part.
Emily Zola Ginsberg is a dream part for me. She is a survivor. She's very strong, highly intelligent, and deeply intuitive. She's incredibly good at her job, as one of the most successful attorneys in the country. And as many survivors, she carries a deep wound that is the driving force of so much of her life.
Going back to my years as a psychology major, Emily is an incredible study in what makes someone who they are, how one deals with unbearable loss, and the path they choose for themselves from there. Many don't get out alive. Some are completely debilitated. And then others thrive. But at what cost? What is constantly there lurking beneath the surface, hidden behind the facade? These were all things I thought about when it came to Emily. Obviously there was a lot of research into law and politics, and what daily life for an attorney looks like. I watched a lot of real-life court cases, as well as TV shows with attorneys and films. Ultimately it was about discovering what Emily's specific style is, and that came from doing a lot of backstory work on my own.
How do you like working at GSP?
I cried the first time I walked into the theatre. It's such a special place. Unbelievable how they transformed a barn into a performance space. It feels so intimate, yet, once you're out in the audience, the space feels grand.
Tell us about the cast and creative for The Trial of Donna Caine.
Our cast and crew is a gift. Every day we walk in talking about how lucky we are. And of course, a lot of that is due to David Saint and his ability to bring together the perfect team, on all fronts.
What would you like metro audiences to know about the show?
The show is deeply moving and wildly entertaining.
Can you share with us some of your future plans?
I'm excited to get back to the third season of The Deuce, which starts filming in February.
You can follow Margarita Levieva on Instagram @Margosha777
The Trial of Donna Caine will run from 10/16 to 11/11 at George Street's current venue, 103 College Farm Road in New Brunswick, NJ with Opening Night set for Friday, October 19. To purchase tickets or for more information, visit the George Street Playhouse website at https://georgestreetplayhouse.org/ or call the box office at 732-246-7717.
Photo Credit: Courtesy of Margarita Levieva