BWW Review: EXPEDITIE EILAND at De Meervaart: Island Paradise from HELL
We live in a world of voyeurism. Reality tv in all its' forms is booming, and getting more extreme as time passes. Survivor (Expeditie Robinson) is such a format. The first Dutch edition in 2000 was an instant hit. Having evolved since the first edition, together with other reality tv formats, a valid question is raised... Are we going to far with candidates on reality tv shows? Where's the moral high ground? Where does the show end and intrusion in someone's private life begin? Where's the line? Let's find out...
Welcome to Expeditie Eiland!
This new musical comedy by Rick Engelkes Producties opened Sunday October 28th in Amsterdam.
The plot is based on reality shows such as Survivor. We follow the journey of three families, competing to win 1 million euros. Family Ten Kate (John Buijsman, Lone van Roosendaal, Jip Bartels), the owners of a snack bar and their son, family Van Stirum-Vinkesteijn (Jelka van Houten or Renée van Wegberg, Rutger de Bekker, Kaylee Peters) an author, a plastic surgeon and their daughter and finally modern family Kuipers (Dennis Willekens, Ferry Doedens and Pascalle Langhorst).
The first act is on point. Lots of laughs, getting to know the different characters. There's a good balance between the stories of the families, struggling with each other and the game. An tropical island is build on a turning platform, which gives the actors room to explore. It works really well and helps to tell the story.(decor design by Carla Janssen Höfelt)
Opening the show as the cold-hearted shark of a game host is Joey Schalker. He represents everything that's wrong with exploiting real people for ratings, but boy, he does do it well. You love to hate him, and with his smooth looks and vocals, he is the ultimate evil host.
The jokes are constant throughout the show (shout out to the comic timing of the whole cast, Jelka, Lone and John in particular). They give their characters such heart. Ferry Doedens plays Fred, a gay man, aching for fame and fortune. He believes the show will help him get there. The strong physical comedy combined with his facial expressions are hilarious, and his song where he pays a tribute to himself is one of the highlights of the show.
In the second act though, most nuance is gone. Big characters to begin with (such as Fred) are going to the top and over, hysteria all around. Though it's funny, it's also too much. It makes the characters less human and more cartoonish.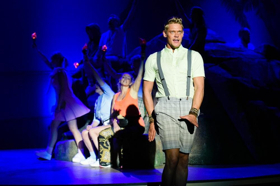 Finally, the grande finale of the game is all over the place and a little bit far-fetched. Though understandably it's to show how far we've gone in our madness and search for ratings, it seams like the easy (and bizarre) way out to finish the story.
Expeditie Eiland is a fun show with lots of recognizable characters, who no doubt will bring a smile on your face. At the same time it raises the question of how far we have gone in today's society...
For more info: https://rep.nu/productie/expeditie-eiland/
Photo credits by Roy Beusker

Related Articles View More Netherlands

Stories

Shows