BWW Review: CABARET Continues to Captivate On Opening Night at Nashville's TPAC
One thing becomes abundantly clear while witnessing Bailey McCall Thomas' emotionally charged rendition of the song "Cabaret" during a performance of the iconic Broadway musical of the same name: there is perhaps no "title song" quite so evocative, quite so stunning as John Kander and Fred Ebb's composition for Cabaret. For it is during that song, performed by Sally Bowles in a Weimar era nightclub in Berlin, that the show's entire focus - every theme that shapes the work in order to tell its totally engrossing and entertaining story - is brought sharply into view, set to a memorable melody that seems at once to be both joyous and mournful, ensuring that every audience member experiences a response unique to them.
Now onstage at Tennessee Performing Arts Center's Andrew Jackson Hall for an eight-performance run through Sunday, Cabaret returns to Nashville at the perfect time, a contemporary period that begs comparison to the excesses of the Weimar era in Germany between the two world wars, when social and class warfare seemed to be simmering beneath the surface of a hedonistic, decadent society in which anything seemed possible, yet nothing seemed probable.
In the halcyon days of Weimar Berlin - considered by many to be one of the most cosmopolitan and progressive cities in the world, if not the prime example of worldly sophistication - people shell-shocked by the events of the first World War struggled to come to terms with Germany's reduced station on the global stage, both economically and politically, and sought to create a new world order defined by its embrace of various political beliefs, numerous intellectual pursuits and sundry sexual dalliances that seemed to free people from the chains of a restrictive and repressive past. Little did they know that the impact of the stock market crash of 1929 and a general reluctance to see things as they really were would ultimately lead to the Nazis taking over their world, descending it into madness.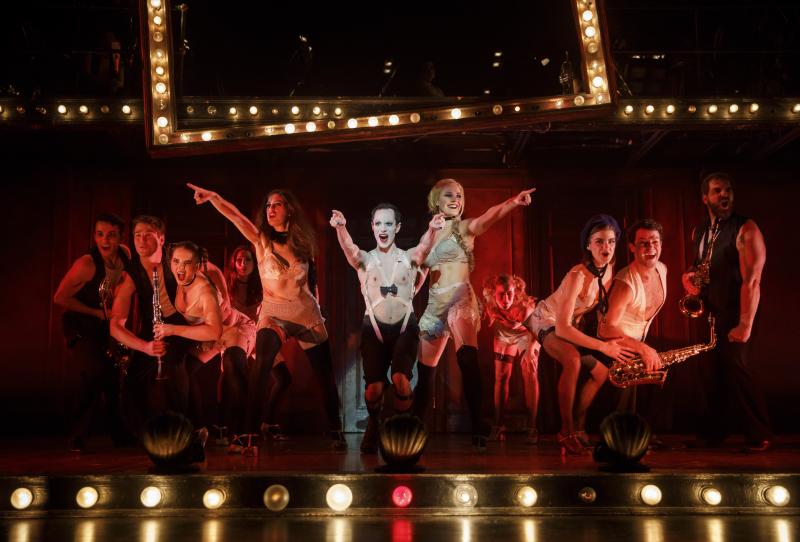 The non-Equity tour of Cabaret, which features direction by BT McNicholl, choreography by Jennifer Werner (both of whom recreate the original direction and choreography of Sam Mendes and Rob Marshall from their Tony Award-winning best revival of 2014) and musical direction by Eric Flaten, is enthusiastically performed, easily engaging its audiences, with the high-spirited antics of the Emcee and Sally ensuring their rapt attention. The story of the Kit Kat Klub, and the people who gather there every evening to party like its 1928, is presented against the tumultuous backdrop of global change and intrigue, spilling over into the private lives of the same individuals to which we are privy in the two-and-one-half hours of storytelling set to music.
Joe Masteroff's libretto, based upon John Van Druten's 1951 play I Am A Camera (which, in turn, was inspired by Christopher Isherwood's novella Goodbye to Berlin, published in 1939), creates a vivid portrait of the era and of the nightclub, creating characters that demand to be noticed in all their guts and glory. The character of Sally Bowles, one of the most iconic females to be found in all of musical theater, represents the amazing transformation of the role of women during the 1920s, both roaring and otherwise, while her suitor Clifford Bradshaw - a rather naïve young American expatriate seeking adventure in Berlin to help him achieve acclaim as a novelist - embodies everything the audience may find out about themselves over the course of the play. The Emcee of the Kit Kat Klub, whose given name we never learn and who appears almost cartoonlike (a caricature of the devil-may-care entertainer who lives only to cajole and comfort with an outlandish persona), proves to be a guide to the increasingly frenetic escapades that signal the total descent into fascism among the intelligentsia eager to try the next big thing and for the lower classes yearning to find an easy way out of their squalid lives.
Those three characters - and their contrasting ways with dealing with what life offers them - are brought together, perhaps by happenstance, to give us a view of a world that is deceptive in its purported glamour and excess, only to be revealed at show's end as something far more sinister and yet strangely captivating.
Thomas' portrayal of Sally Bowles is startling, capturing her sense of wonder and carelessness with equal parts grace and grit. A native of Knoxville, Thomas delivers a worldly interpretation of Sally while showing brief and fluttering glimpses of the characters' lack of guile and refusal to see the world around her. Her performance is electrifying throughout the play's two acts, and each of her musical numbers could be called "showstopping" lest that become redundant: "Don't Tell Mama" and "Mein Herr" are delicious nightclub production numbers performed to grand effect by Sally and the Kit Kat Girls, while "Perfectly Maravelous" could be considered a bit of musical comedy froth, if not for its underlying sense of desperation, and "Maybe This Time" is a terrific, theater-borne torch song that gives Sally a chance to claim her place among numerous showbiz legends. But it's "Cabaret" in which Thomas really stops the show - her performance is heartfelt and supremely dramatic, perfectly capturing everything that sets Cabaret apart from every other musical ever written.
Carl Pariso, cast as Clifford Bradshaw, might first appear as a stereotypical romantic lead, but he eschews the expected paint-by-numbers version of Cliff that we have seen previously, to instead give a more interesting and colorful character. Charming and handsome, yet wonderfully confident, Pariso allows every audience member to see the world created in Cabaret through his wildly innocent, American abroad persona, and we feel every emotion portrayed by him over the course of the story.
Clearly, however, it's Erik Schneider as The Emcee who takes control of the show from its very first moments and refuses to loosen his grip on their hearts (maybe even their very souls) until the musical's cataclysmic conclusion that leaves audiences breathless and uncertain of how to react. Schneider is by turns raucous and hilarious, appealing and somewhat frightening, depending upon what the script calls for from one scene to the next and he does it with such ease that it's staggering. Schneider's stage presence is compelling and his ability to win over the audience is nothing short of awe-inspiring, while his zany antics (delivered with over-the-top theatricality) ensures that "Wilkommen" launches the show with aplomb and style. In fact, his razor-sharp wit and impeccable timing are rather awe-inspiring.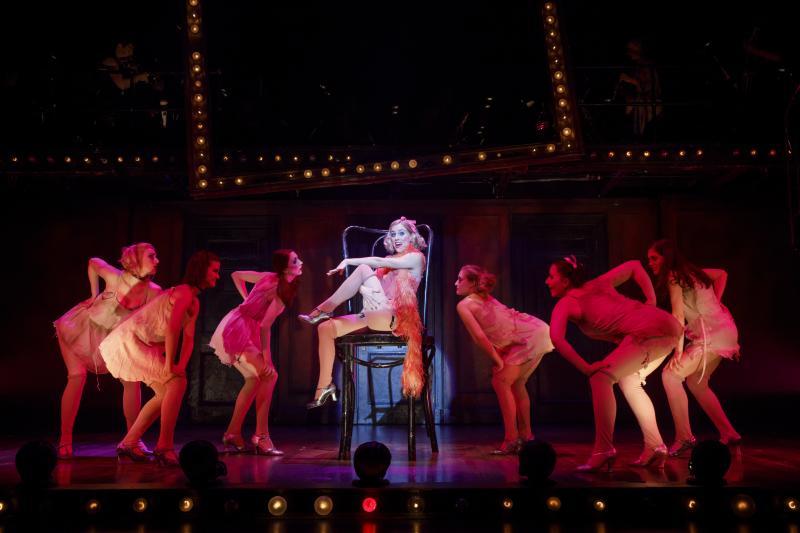 The leading trio is given support, both ample and robust, from the ensemble of performers who bring all the expected personages to life as Berlin dances precariously close to the edges of the Nazi era. Audrey Federici is lovely as the world-weary and somewhat circumspect Fraulein Schneider; Fred Frabotta is earnest and appealing as her pineapple-bearing suitor Herr Schultz; Adriana Milbrath is an alluring Fraulein Kost; and Richard Lafleur is alternately delightful and off-putting as the politically motivated Ernst Ludwig.
Musical director Eric Flaten's musicians are impressive in their dexterity: At one moment, they are providing rich interpretations of the memorable John Kander score, while perhaps at the next they are playing denizens of the Kit Kat Klub or neighborhood thugs, wastrels and other folks of questionable repute. Flaten and his band are given their own richly deserved moments in the spotlight at the top of Act Two and the music director himself is given the well-earned final bow at the end of the curtain call.
Robert Brill's set design remains compelling, particularly amid the dazzling lighting design by Peggy Eisenhauer and Mike Baldassari, and William Ivey Long's costume design helps to establish the production's time period with fashions that are both emphatic and exquisite. There were some sound issues on opening night at TPAC's Andrew Jackson Hall, but overall David Temby's sound design is well done.
The overall takeaway from opening night? Cabaret is a musical theater treasure - one that we love as much as anything ever written by Rodgers and Hammerstein, Sondheim, Porter, Styne, the Gershwins, Pasek and Paul, or any of the other members of the theatrical pantheon - in fact, what this production proves most effectively is just how beloved the show and its score are. Even if you've seen dozens of productions of Cabaret, or particularly if you've seen only a few or perhaps even none, it's a show that you really must experience to affirm your musical theater bona fides.
Cabaret. Book by Joe Masteroff. Music by John Kander. Lyrics by Fred Ebb. Based on the play by John Van Druten and the stories by Christopher Isherwood. Directed by BT McNicholl (based on the original by Sam Mendes). Choreography by Jennifer Werner (based on the original by Rob Marshall). Musical direction by Eric Flaten. Presented by APEX Touring at Andrew Jackson Hall, Tennessee Performing Arts Center, Nashville. Through Sunday, March 4. Go to www.TPAC.org for details or call (615) 782-4040 for tickets. Running time: 2 hours, 30 minutes (with one 20-minute intermission).
Related Articles View More NationalTours

Stories

Shows