Review: Studio Tenn's New FRANKENSTEIN Is Mesmerizing and Startling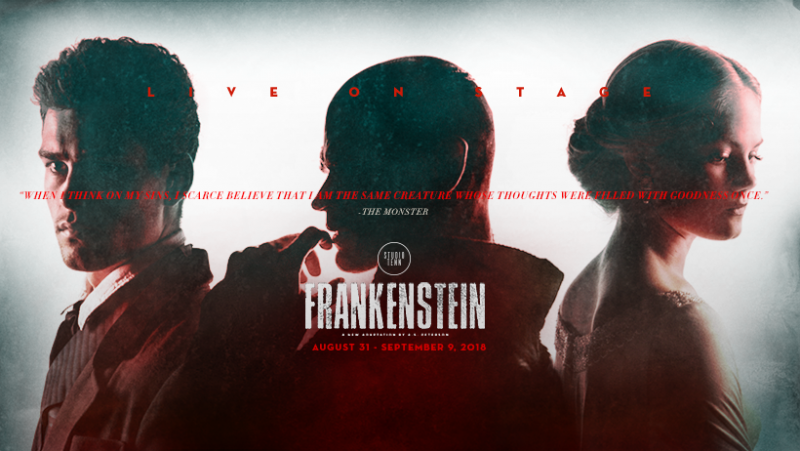 Remaining faithful to the original story conceived and written by Mary Shelley, Studio Tenn takes its audiences on an epic gothic - and highly theatrical - journey with Frankenstein, newly adapted by playwright A.S. Peterson and onstage at Jamison Theater through September 9. Mesmerizing and startling, it's a masterpiece of design and imagination.
Directed with his requisite flair by Matt Logan, Peterson's new take on Shelley's time-honored classic is brought to life thanks to the vivid performances of Logan's superb cast, led by Jared Reinfeldt and Euriamis Losada, in a production that fairly leaps off the printed page of the script to a stage awash in all manner of stageworthy magic that ensures the rapt attention of every audience member.
Beautifully designed by Logan and his usual team of artistic collaborators - which include technical director Mitch White, who built the director's gorgeously appointed set (which features Kathryn Walters' remarkable properties); Stephen Moss, whose evocative and atmospheric lighting design illuminates the work; sound designers Eliza Garrity and Darin Pegram, whose efforts ensure every word uttered is clearly heard even on the windswept terrain of a frozen northern sea; and the accomplished and skilled artisans whose hands crafted Logan's own exquisite costume designs - Frankenstein is a visual and auditory experience that continues to reverberate long after the final and climactic scene in which scientist Victor Frankenstein and his "abominable" creation find themselves face-to-face in a denouement foretold in the play's earliest moments.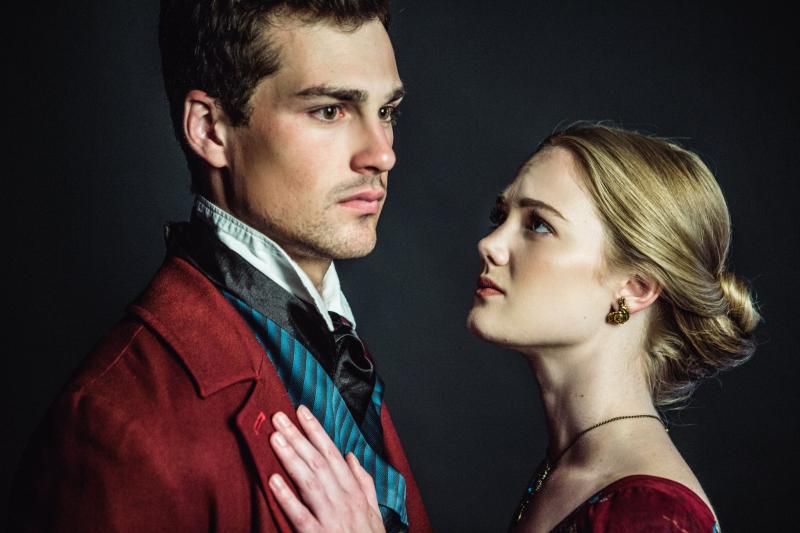 Frankenstein is a momentous and portentous opening to Studio Tenn's 2018-19 season and a worthy successor to all the productions from the still-young and evolving company that have come before. As with every Studio Tenn show, audiences can rest assured that Logan and his team will bring to the stage an immersive atmosphere certain to elict gasps and to provoke conversations still to be had. At intermission, a man seated behind me told his wife, "this is the best thing I've ever seen here" - daunting words, certainly, but words not entirely beyond belief. For Studio Tenn's Frankenstein is anything, if not provocative, and mesmerizing in the scope of the storytelling potential of the piece.
As its creator Mary Shelley told her story in epistolary fashion - she framed her tale of Frankenstein, or the Modern Promentheus, with letters written by a seafaring captain to his sister back home on the continent - Peterson tells his version in the same manner: The opening and closing scenes, and some intervening ones throughout the two hours-plus of the production, take place aboard Captain Winthrop's ship upon which he and his crewmates witness the fantastical tale from their frozen, unmoving perspective that heightens the suspense and offers a conduit for audiences to experience the story for themselves. Peterson's treatment is, perhaps surprisingly, rather to the point and the tale moves along at a brisk pace (which is notable considering the modern penchant for quickly moving entertainment), yet somehow he manages to keep a particularly poetic and literary mien for his version of the iconic story of a man who challenges every preconceived notion about the creation of life by marshalling his own godlike attributes to bring an inanimate creature, who has been cobbled together from the pieces and parts of cadavers robbed from their eternal resting places, "to life."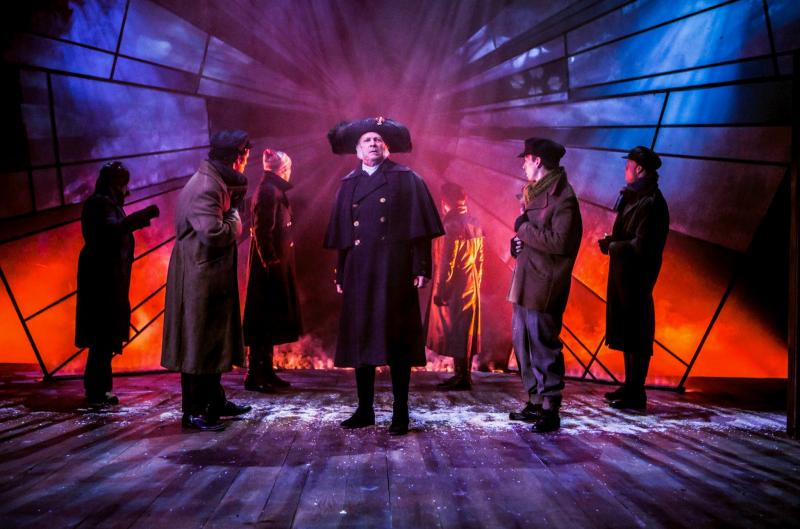 And with Shelley's book for inspiration, Peterson allows the story to unfold onstage from the different perspectives of Captain Winthrop and his ship's crew, Victor Frankenstein, and his strangely beautiful and sentient creature (who it might be conjectured is the very prototype for modern day home schooling, after a fashion). With Shelley's novel providing inspiration for any number of stage, film and literary reiterations since its initial publication in 1823, the tale has become somewhat convoluted and misunderstood in the process. Therefore, Peterson - by bent of remaining faithful (with some literary license, of course) to the original - gives his audiences what seems to be a fresh and uniquely contemporary take on the Frankenstein legend despite its progeny from a story written almost 200 years ago. But that is the magic of live theater and its ability to transport audiences to another time and place and to transform a tale - any tale, it would seem - into something vital, challenging and almost original in the way it is related.
Logan, truly a theatrical alchemist in much the same vein as Victor Frankenstein is portrayed in the story, has assembled a noteworthy ensemble of actors: A blend of local stage veterans and fresh-faced newcomers are brought together with journeyman actors from other regions to breathe life into the script-bound characters in a way that harkens back to the way in which Victor infuses his creation with the electrical impulses of human life.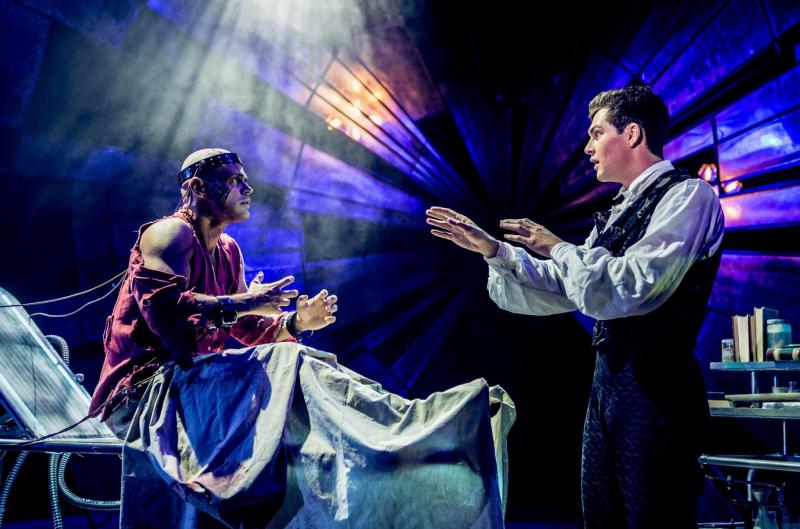 Jared Reinfeldt is ideally cast as the ambitious young Dr. Frankenstein. Self-assured and confident onstage, Reinfeldt plays Victor with a palpable sense of intellectual pursuit even as he questions his own motives in the creation of a new life form. More impressively, Reinfeldt reveals the passions that propel Frankenstein forward in his scientific endeavors, even while exposing his own inquisitive nature in contrast to the emotional heft of the consequences of his work. Dashing, handsome and charming (even if somewhat diffident in his way) in his scenes with Morgan Davis (stunning as his fiancée Elizabeth Lavenza), Reinfeldt is fiery and commanding, while somehow uncertain and imprecise in his manner.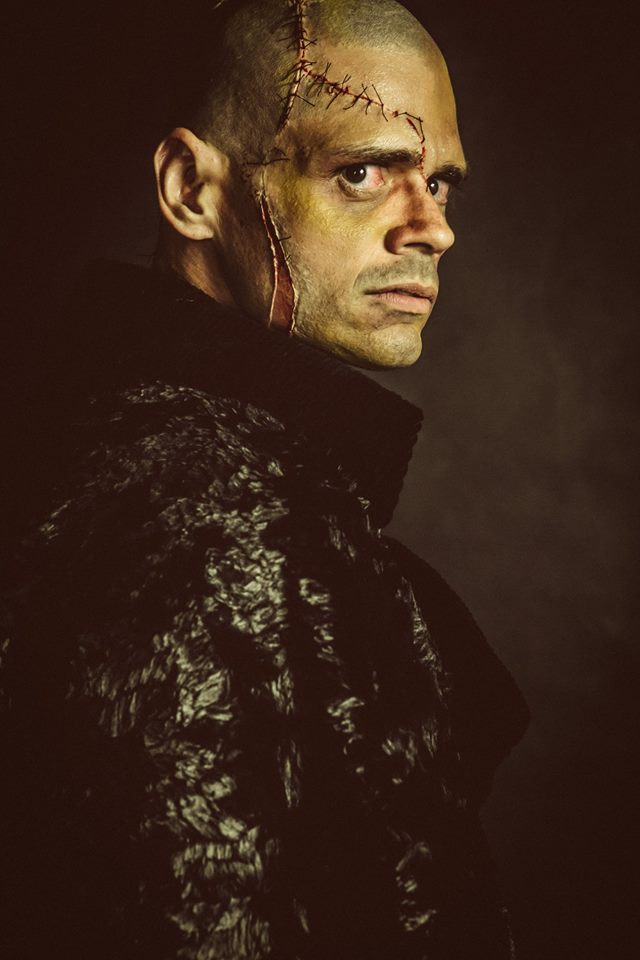 Cast as the hulking behemoth created by Frankenstein, Euriamis Losada gives an altogether breathtaking performance as the pseudo-human form put together from a collection of otherworldly remains. Broad shouldered and physically imposing, Losada's creature is almost unnervingly attractive and appealing - the soul of a poet, a seeker of truth and wisdom, may be glimipsed beneath his almost translucent skin that, revealing as it is thanks to the artistry of Blake Danford's make-up design for the creature, barely shields his musculature and organs (again, in a nod to Shelley's words that created the world in which such a fanciful tale seems normal and acceptable) - which makes certain that his story, however farfetched it may be at first blush, is believably authentic. Losada lumbers about the stage with a forcefulness that belies the creature's need to understand why he was created - and for what purpose he lives in a world ill-equipped to accept him - that brings him back to face Victor time and again. As a result, Losada's scenes with Reinfeldt crackle with an intensity that only underscores the action onstage.
As the doomed and beautiful Elizabeth, Davis is strikingly costumed in Logan's empire-inspired gowns and she creates a characterization that brings lightness to the general darkness of the dramatic proceedings and she does so without a hint of stagey artifice. Instead, her Elizabeth seems modern and forthright even in ethereal beauty.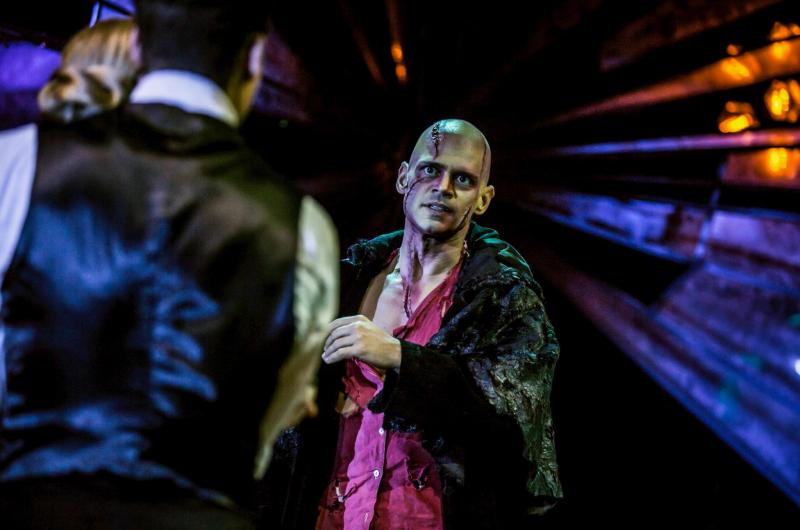 Among the supporting cast, Henry O. Arnold is superb as both Captain Winthrop and Frankenstein family patriarch Alphonse. Amanda Card is particularly compelling in her role as Justine, the governess to younger son William Frankenstein (Micah Williams is wonderful as the inquisitive youngster) and she manages to craft a sympathetic character in a short amount of time. Garris Wimmer gives yet another commendable reading of a character role, bringing to life the blind DeLacey (who offers refuge to the creature), and Austin Olive is impressive in a variety of smaller roles in which he shows off a dramatic range, heretofore untapped on local stages.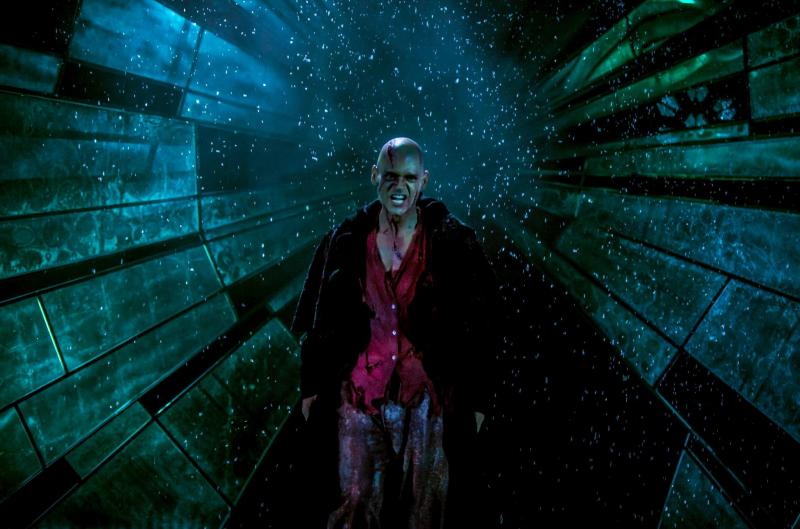 The remainder of Logan's talented ensemble - including Regan Holmberg, Matthew Rose, Margaret Rodgers and Liam Searcy - are to be commended for their focus performances and their commitment to bringing the Peterson's story to life.
Frankenstein. A new adaptation by A.S. Peterson, based upon the original novel by Mary Shelley. Directed by Matt Logan. Presented by Studio Tenn. At Jamison Theater, The Factory at Franklin. Through September 9. For details, go to www.StudioTenn.com; for tickets, call (615) 541-8200. Running time: 2 hours, 10 minutes (with one 15-minute intermission).
photos by MA2LA