BWW Review: Studio Tenn's Holiday Season Offering of BEAUTY AND THE BEAST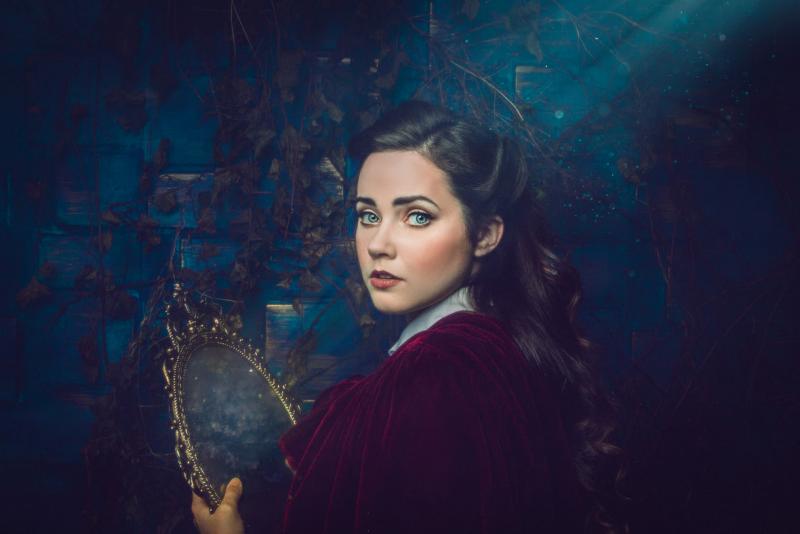 Before Broadway comes calling for Hatty Ryan King, the young Nashville actress with an enviable resume (the Lipscomb University sophomore is a Spotlight Award winner, was a finalist for The Jimmy Award, has worked with theater companies both community-oriented and professional and has proven herself a capable leading player along the way), you might want to get your tickets to see her onstage in Studio Tenn's ambitious, if woefully uneven, holiday season offering of Beauty and The Beast. In a role that could have been written for her, King shines as Belle, the ambitious and eager to learn and to embrace change young woman who is the heroine of the musical which features a score by Alan Menken, lyrics by Howard Ashman and Tim Rice and a book by Linda Woolverton.
Playing opposite Patrick Thomas, himself impressive in the role of the eponymous Beast, King shows off her estimable acting skills, while singing some of the show's most memorable tunes with confident artistry that belies her youth. There's little doubt that if she were in New York City right now, she'd be in the running for any number of theatrical roles that are an ideal match for her considerable capabilities.
For now, however, she's still pursuing her degree at Lipscomb and doing theater in her hometown - much to the delight of her family and friends, we have no doubt - and for audiences still to bask in the collective glow of her starpower and startling stage presence.
In Beauty and The Beast, King and Thomas bring the beloved title characters to life with conviction, exhibiting considerable onstage chemistry in their scenes together that are captivating, to say the least, despite technical issues and design flaws that plague the first-ever Studio Tenn production under the direction of interim artistic director Benji Kern.
To his credit, Kern has assembled an awe-inspiring ensemble of local theater luminaries to bring life to the stagebound script - and, for the most part, his talented cadre of actors deliver the goods, but their best efforts are undermined by artistic choices that sap the production of much of its expected "Disney magic."
There's much to like about Studio Tenn's Beauty and The Beast, but Stephen Moss' lighting plot for the show is so darkly atmospheric (who knew the play supposedly takes place in the Dark Ages?) that the musical's climactic battle scene at The Beast's castle seems to be played in the dark, making it near-impossible to follow the action, and Mitch White's beautifully constructed castle set (which shrinks the playing area of the Jamison Theatre stage to one-third its original area) are rather unforgiving and when scenes are played at the very highest point of the castle, actors become no more than talking heads. As a result, audiences may find it hard to follow the myriad plotlines transpiring onstage in front of them.
Blake Danford's costumes are gorgeous, but hard to appreciate in the dim light provided (in fact, Lumiere's costume looks as if it is built out of black, grey and white camo in his first scene - and its only later that you see it's a floral patterned fabric covering actor Bradley D. Gale) and the decision to forego the expected costume designs to show The Beast's castle servants in various stages of transformation is, quite frankly, confusing and confounding. When Mrs. Potts (played by the always luminous Nan Gurley) suggests she cannot wait until her son, Chip (played with great charm by young Micah Williams) is freed from his transformative state as a teacup so she can watch him run through the many corridors of the castle, laughing all the way, the line loses its poignancy. Chip, you see, walks around on two legs like any other young boy his age and he has, in fact, already run and laughed his way through "Be Our Guest" with the rest of the ensemble, some of whom look like they've dropped in from a bus-and-truck tour of A Chorus Line, in their (azure blue) costumes from a newly reimagined "One" production number, brandishing oversized cutlery better suited to a bountiful buffet in Vegas than to indicate they've been turned by fate into pieces from The Beast's flatware collection. Likewise, it's difficult to see the clock face on the lapels of Cogsworth's (Shawn Knight once again makes an easily recognizable role his own) frock coat until the show's finale when the lights come up to shine more light upon the subject.
More problematic, however, may be White's set which remains immobile throughout the two-and-a-half hours of the show. It fills the space, reducing the playing surface to a minimum and with sightlines that are detrimental to the enjoyment of the show by anyone not seated in the very center section of the theater, where audience members presumably pay an extra premium for the privilege. White's castle set is beautifully rendered and well-constructed, that much is obvious, but various characters pop out of cleverly hidden windows to deliver lines or lyrics - whatever is demanded of them by the script and director - much in the manner of the old Laugh-In television series of the 1960s, but with less obvious mugging. One scene, in particular, during which Belle reads the legend of King Arthur to The Beast, suffers from this artistic decision. King and Thomas enact the scene as best they can, from an Open Window that is obscured from view for audiences (and critics) seated on house left.
Anna Claire Perry's choreography, which is always a delight in her assignments for Studio Tenn, is hemmed in due to the smaller playing area and, as a result, the big numbers lack the familiar punch and visual impact we've come to expect from her work and, quite frankly, from productions of Beauty and The Beast.
Despite these obvious misgivings, Studio Tenn's Beauty and The Beast features strong acting (the wealth of talent on the stage is mind-boggling and astonishing, truth be told), lovely music (Stephen Kummer's orchestra performs the score with maximum professionalism and verve, to be sure) and palpable enthusiasm.
King and Thomas are sublimely paired as Belle and The Beast and Thomas excels with his blustery, sometimes menacing, portrayal that ensures his late in the second act transformation is impressively dramatic.
Paul Baswell is delightfully powerful and winningly oafish as Gaston, proving that misogyny can be played for laughs when everyone is in on the joke, and his stage presence ensures all eyes are on him in every scene he plays. As Gaston's bumbling sidekick LeFou, the multi-talented Curtis Reed makes the most of his time onstage.
Knight is perfectly unctuous and slightly overbearing as is the wont of Cogsworth, but he manages to create a characterization quite unlike what we've seen previously, which is refreshing. Gale provides all manner of flirtatious charm as the aforementioned Lumiere, working his "candle hands" (what would you call them?) with deft skill and impeccable timing, while Abby Docherty returns to Nashville as his winsome paramour Babette, who brings coquettishness to a new level with her performance. Jennifer Whitcomb-Oliva is archly over-the-top (as any operatic diva should be) as Madame de la Grande Bouche, and Matthew Carlton displays his ample paternal presence as Belle's slightly daft inventor father Maurice.
Young master Williams shows much promise as Chip, his already credible presence is obvious throughout his performance and Gurley's beautifully evocative performance of the show's title song is certain to send her heart soaring toward the heavens, not unlike her exquisite soprano.
Among the show's large ensemble, you will find some of the region's finest performers, including Garris Wimmer, Olin Davidson, Joshua Waldrep, Jairus Maples, Margaret French, Sarah Zanotti, Jamila Hunter, Chamberlin Little, Austin Querns, Devin Bowles, Macy Medford, Samantha Romero Flores, Emily Urbanski, Abby James Witherspoon and Kelsy Parker.
Beauty and The Beast. Lyrics by Howard Ashman and Tim Rice. Music by Alan Menken. Book by Linda Woolverton. Directed by Benji Kern. Musical direction by Stephen Kummer. Choreography by Anna Claire Perry. Presented by Studio Tenn at The Jamison Theatre in The Factory at Franklin. Through December 30. For details and ticket information, go to www.studiotenn.com or call (615) 541-8200. Running time: 2 hours, 30 minutes (with one 15-minute intermission).
Related Articles View More Nashville

Stories

Shows
Jeffrey Ellis is a Nashville-based writer, editor and critic, who's been covering the performing arts in Tennessee for more than 35 years. In 1989, Ellis (read more...)