Review: Noah Rice-led ANNIE Brings Spirit to The Keeton's Summer Show
Annie, the Broadway musical by Charles Strouse, Martin Charnin and Thomas Meehan, is something of a community theater warhorse - a show that is sure to bring in throngs of theater-goers despite the oftentimes scornful dismay of the theaterati - along the same lines as Steel Magnolias, Grease and, well, you catch my drift. There's nothing epoch-shattering, paradigm-shifting or cutting edge about Annie (or any of the other shows of its ilk), but in a Nashville theater season during which we've seen laudable revivals of those other two shows, it only seems logical that a new production of Annie could be equally as entertaining and a welcome diversion.
Now onstage at The Larry Keeton Theatre, under the confident direction of Noah Rice (who also serves as musical director of the production), Annie proves my point with a gaggle of young and enthusiastic orphans and some impressive lead performances from a coterie of experienced and capable musical theater performers. There may be nothing particularly new or inventive about Rice's Annie at The Keeton (and, seriously, why should one attempt to reinvent an already serviceable wheel?), but what audiences will discover is this: it's funny, it's great fun and you'll be smiling and tapping your toes from start to finish.
In other words, this is a production of Annie that you'll be glad to say you saw.
Thanks to the thorough commitment of the entire cast (from its youngest member to its "more experienced" thespian), The Keeton's Annie is certain to entertain, proving yet again that no matter how many times you see a particular show, if it is well-written and engagingly performed, you should leave the theater humming the cavalcade of songs from the show's score and recalling the superb performances of its ensemble.
Perhaps most surprising about Rice's mounting of Annie, however, is the fleet self-assurance with which the show is presented. The show is remarkably well-paced and, due in large part to the focused direction, each scene dovetails nicely into the next, giving the production an almost cinematic pace that is certain to delight audiences. Couple that pacing with great casting and you have a winner of a show, even if you thought you'd probably seen your last Annie, which is the tale of a comic strip heroine brought to colorful, engaging light onstage.
Young Ashleigh Massengill brings the titian-tressed "little orphan" Annie to life with her sharp-witted, well-sung portrayal, giving her plenty of spirit and spunk which make it obvious why her fellow orphans are so inspired by her. After 11 years in the squalor of a New York City orphanage, Massengill's Annie remains buoyant and hopeful, certain that her long-lost parents will return to claim their long-neglected daughter. Massengill's renditions of both "Maybe" and "Tomorrow" hit the musical mark, thanks to her clarion voice and strong diction.
Rice intelligently pairs Massengill with a bevy of adult actors who bring their own disparate characters to life, ensuring that this production is eminently watchable and wonderfully entertaining. Keeton veteran Elliott Winston Robinson is terrific as Oliver Warbucks, the millionaire - no, he's a billionaire, actually - industrialist whose gruff and businesslike demeanor masks a heart of pure gold. Robinson's silky singing voice ensures that every lyric he sings is heartfelt and genuine.
As Warbucks' fiercely loyal secretary Grace Farrell, Lisa Graham presents a coolly elegant New Yorker, dressed as if she stepped out of the pages of Vogue, circa 1933, and her beautiful soprano soars to the rafters in her altogether delightful musical numbers. "NYC," which features Massengill, Robinson, Graham (along with the show's talented ensemble) is among the show's musical highlights and includes a showstopping appearance by Danielle Threet, who steps out of the chorus to pin your ears back as "The Star to Be" who, with "two bucks, two bags, one me" perfectly embodies the showbiz razzle-dazzle that makes Annie a solid hit.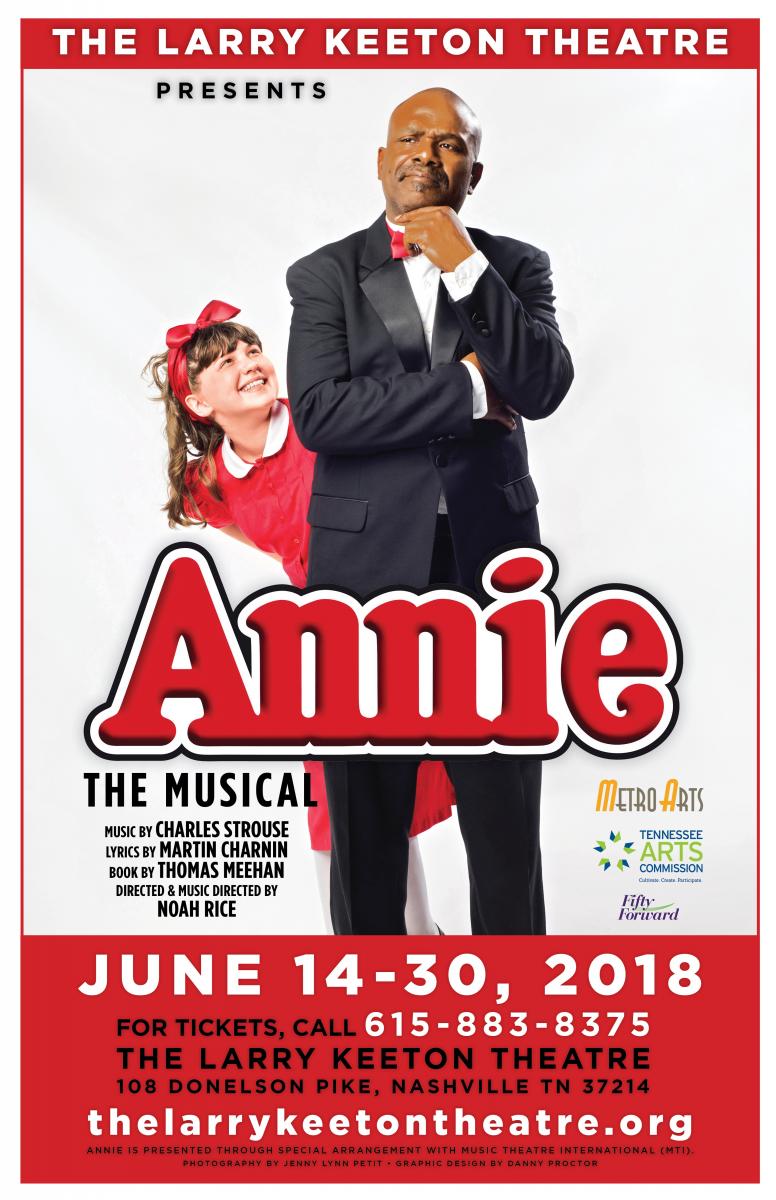 As the nefarious duo of Rooster Hannigan and Lily St. Regis, Kevin Raymond and Joy Baughman deliver perfectly scaled, if over the top, performances that show off their superb comic timing and Kennalee Davis' period costumes. Their "Easy Street" (which features another of Nashville's treasured stage veterans - but more about her in the next paragraph) is applause-worthy and, now that I think about it, actually does stop the show for a thunderous ovation late in Act One.
But it's Jamie Robbins London - the doyenne of The Larry Keeton Theatre, its administrator and artistic director, producer and chief bottle washer - who takes command of the stage and refuses to relinquish it from her very first step onto the stage until her character gets her justified comeuppance right before the show's spirited finale. As the dastardly, heavy-drinking Miss Hannigan (the keeper of the keys, in much the same way Matron "Mama" Thornton does in Chicago, another oft-produced period musical), London is flat-out wonderful, offering proof that London's real home in the theater is on the stage, not locked away in some office keeping track of expenses and all the other detritus associated with the business of theatrical production. London gives a no-holds-barred portrayal of the man-hungry barracuda known as Miss Hannigan that's replete with impeccable timing and unerring comic skill. Her "Little Girls" may even make you believe the song was written with her in mind.
Among the ensemble, special attention should be given to Larry Rhodes, Maggie Jackson, Cary Street, Katie Earl, Betsy Oleksa, Bryan Lelak and Omar Lagualdi and the throngs of other actors who people the environs, both fanciful and downtrodden, of New York City in 1933. And every audience member will want to adopt or, at the very least, give all the treats to Stevie, the golden doodle who plays Annie's beloved dog Sandy to the absolute hilt.
Annie. Music by Charles Strouse. Lyrics by Martin Charnin. Book by Thomas Meehan. Based on the Harold Gray comic strip Little Orphan Annie. Directed and musical directed by Noah Rice. Choreography by Holly Cannon-Hesse. Presented by The Larry Keeton Theatre, Donelson. Through June 30. For details, go to www.thelarrykeetontheatre.org. Running time: 2 hours, 15 minutes (with one 15-minute intermission).