Review: Lazzaro and Donegan Lead Dazzling JOSEPH... Revival at Cumberland County Playhouse
Powerhouse vocals from its two leading players (Anthony Lazzaro and Cassie Donegan), along with focused direction, spirited choreography, effusive music coming from the pit and an eye-popping visual design aesthetic combine to make Cumberland County Playhouse's most recent iteration of Joseph and the Amazing Technicolor Dreamcoat another in a long line of onstage hits sure to attract audiences eager to escape the sultry heat of a Tennessee summer.
Those audiences need only to enter the iconic theater in Crossville, Tennessee, to be immediately whisked away by director Britt Hancock's enormously talented and awesomely committed cast to a Biblical world that seems timeless, thanks to the universal appeal of the Andrew Lloyd Webber-Tim Rice musical and the eye-popping visual spectacle onstage thanks to the efforts of a team of creative and imaginative designers charged with bringing the show to life.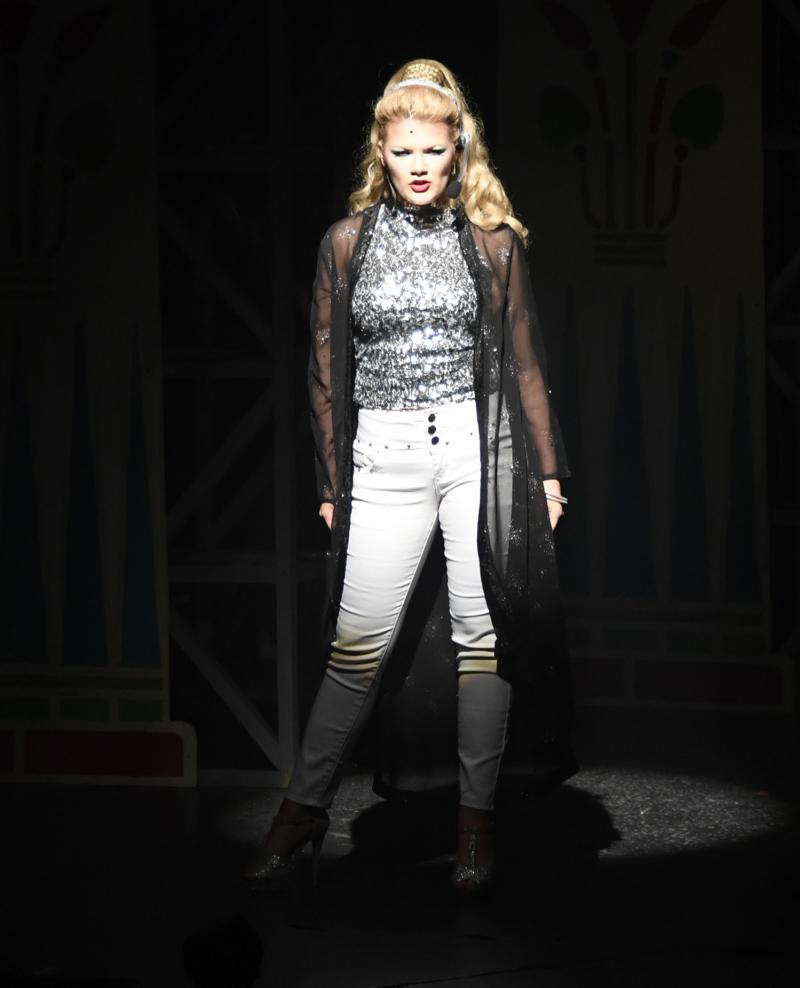 Slick and professional on every level, the 2019 version of Joseph and the Amazing Technicolor Dreamcoat at CCP is just the latest edition of the musical to be given stellar productions over the years. In fact, we've reviewed CCP's Joseph... in both 1997 and 2012 (in fact, that year's show won the 2013 First Night Award for Outstanding Musical) and, we're happy to report that this most recent mounting is as colorful and engaging as any to come before it. And thanks to the spectacular performances of Lazzaro, Donegan and the bevy of talented performers with whom they are surrounded, audiences are likely to find themselves wanting to book a return visit for yet another tremendous CCP experience.
Exhilarating and packed to the rafters with dazzling performances, 2019 Joseph... is stunningly designed and moves so quickly (in a decidedly cinematic fashion due to Hancock's expert direction) that you're left breathless by the show's uproariously rollicking conclusion with the all-hands-on-deck (and perfectly named) "Joseph MegaMix." Perhaps it's Leila Jones' athletic choreography that leaves you panting, Austin Blake Conlee's stunning costumes, Christopher Van Tuyl's Vegas-worthy lighting design or the music performed with professionalism and enthusiasm by music director Ron Murphy's ten-member orchestra - whatever it is, audiences become so immersed in the theatrical proceedings they exit the theater feeling as if they've played a vital role in the storytelling which has played out before their very eyes.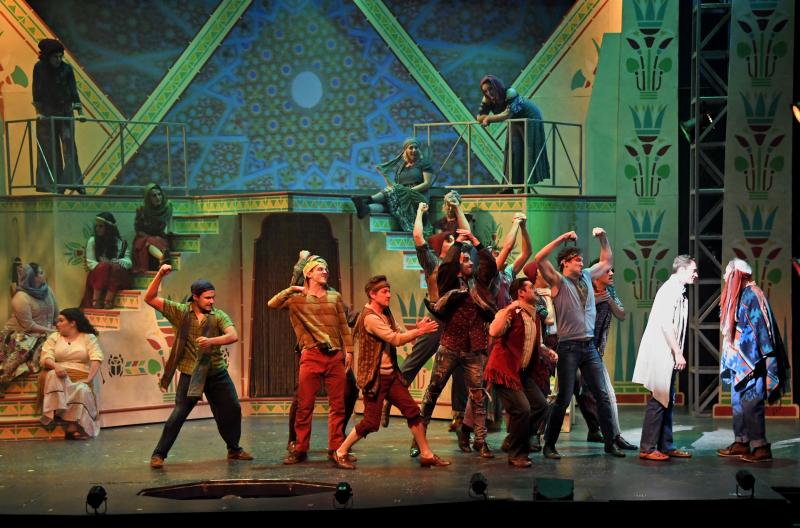 Based on the Biblical tale of young Joseph and his many-colored coat bestowed upon him by his doting dad Jacob, Webber's first musical was initially intended for a school performance and has taken on more gravitas, more music and more dialogue over the years to become a contemporary musical theater staple. With a score that features a plethora of musical genres (from rockabilly and country-western, to French ballads and Caribbean-influenced tunes - and virtually everything in between), Joseph and the Amazing Technicolor Dreamcoat is an audience favorite around the globe with its family-friendly plotline (although you have to wonder about the whole bugaboo of fratricide and selling one's brother into slavery) and the relative ease clever directors like Hancock can give the tale their own unique spins.
Thankfully, Hancock and company don't foist a too outlandish concept upon Webber and Rice's musical, instead relying on the story and their performers to do what they do best: entertain, enthrall and engage. Everything else - the choreography, the musical accompaniment and the award-worthy production design - seems a lagniappe of sorts; something extra at the end of a particularly bounteous buffet of theatrical delights.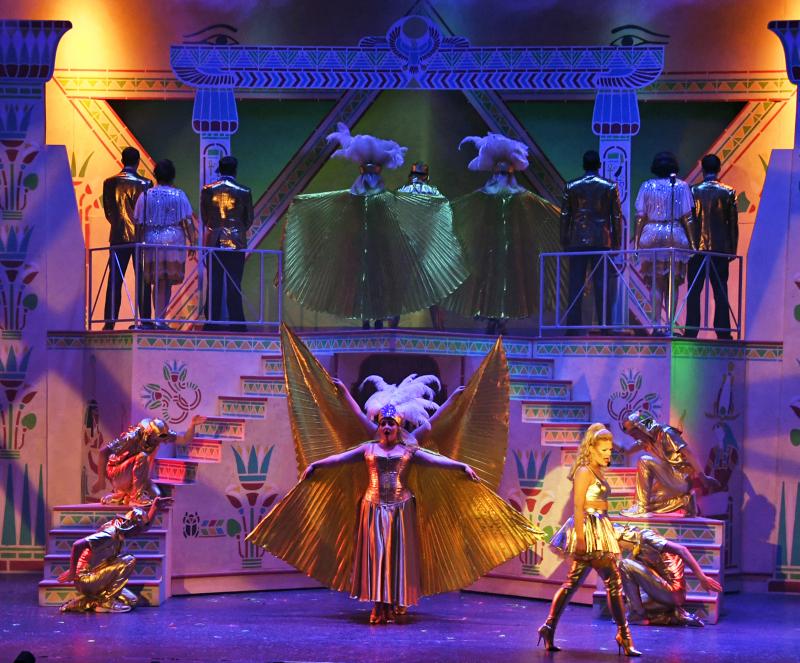 In their CCP debuts, Lazzaro and Donegan proves themselves capable of holding their audience in thrall, performing their roles with verve and delivering the goods musically every time they open their mouths to sing. Lazzaro is handsome and charming (as any Joseph worth his salt should be) and there's an almost chemical reaction when he looks straight into the audience and welcomes every person seated n the dark to join him on his comical, riotous, somewhat intoxicating and rather daunting adventure. Likewise, Donegan (as the narrator) finesses her way through a glittering, showstopping performance that wins over the collective heart of her audience with a professional flair and stage presence that's almost palpable.
Both actors look like a million bucks or more in Conlee's stylish costumes, which includes at least two of the aforementioned technicolor dreamcoats for Lazzaro and Donegan's chic white trench coat and multi-colored sequined dress underneath - in the best Project Runway fashion, they are both elegantly clad in costumes that would work just as effortlessly offstage.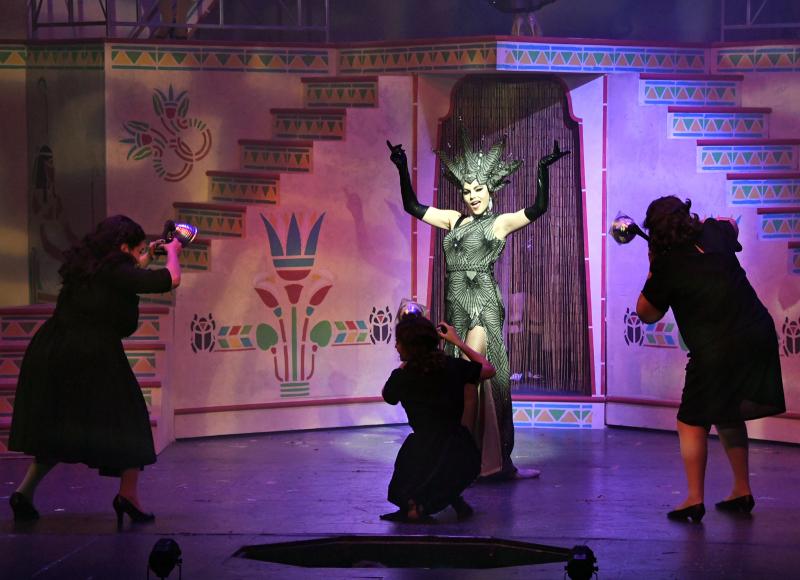 Bill Frey is delightful as the aging Jacob (and gives a particularly raucous turn as Potiphar) and Grayson Yockey essentially steals the show - thank you very much - as an Elvis-inspired Pharaoh (who knew the estimable actor that is Yockey could be so downright appealing in all of the King's hip-swiveling sexiness?). Among Jacob's other sons, Daniel Black, Michael Ruff, Nick Sterling, Ross Griffin, Chris Hallowes, Charlie Munday, Justin Burr, Malachi Banegas, Cory Clark, Zachary Taylor and Yockey put a vast array of talents and versatility on display to win the hearts of their audience even while plotting to rid themselves of an irksome brother who likes to interpret dreams and wear flashy outerwear. Each actor is given a chance to shine and they do so with unequaled aplomb.
Among the women in Hancock's ensemble, Fiona Mowbray is probably the best Mrs. Potiphar we've ever encountered (and, truth be told, we've seen a lot of Josephs... and Mrs. Potiphars over the years), creating an indelible impression (and wearing yet another stunning Conlee gown). Lauren Marshall and Patti Payne acquit themselves admirably, along with a particularly winning coterie of outstanding actors, including Jensen Crain-Foster, DeAnna Etchison, Jess Griffin, Hannah Hays, Rachel Lawrence, Heather McCall, Caitlin Schaub and Larren Woodward.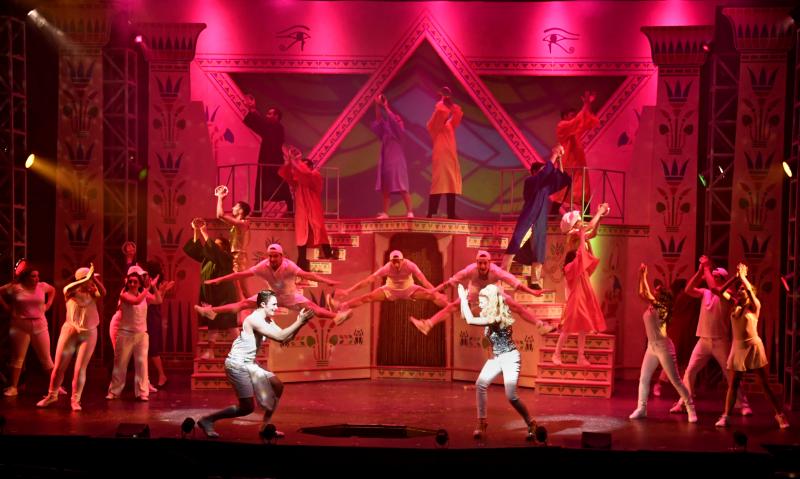 During any given summer season, actors may be seen in multiple roles in an array of productions at Cumberland County Playhouse. But 2019 seems especially noteworthy, what with Bright Star, Matilda, Red White and Tuna and Joseph and the Amazing Technicolor Dreamcoat on the current bill. Watching the CCP company seamlessly move from one beautifully conceived and ideally produced show to the next, one compelling and exacting role to the next, is nothing short of wondrous, shining a spotlight on each actor in order to showcase his or her individual skills to perfection and showcasing each performer's stageworthiness.
Once again, CCP proves that musical theater is alive and well on the Cumberland Plateau and that Tennesseans may count themselves very lucky to witness such talent live and onstage. What a wonderful respite from the troubles of the real world - when can we go back to Crossville?
Joseph and the Amazing Technicolor Dreamcoat. Lyrics by Tim Rice. Music by Andrew Lloyd Webber. Directed by Britt Hancock. Choreographed by Leila Jones. Musical direction by Ron Murphy. Presented by Cumberland County Playhouse, Crossville. Through September 5. For tickets or for more information, call (931) 484-5000 or go to www.ccplayhouse.com