Click Here for More Articles on OPERA - NASHVILLE
BWW Review: Arts Center of Cannon County's Stunning and Sumptuous TITANIC Sets Sail in Woodbury
Even though its story dates back to the early 20th century, the fate of the RMS Titanic continues to fascinate maritime scholars and historians - and the general public - with the tragic tale of its ill-fated maiden voyage, during which more than 1,500 passengers and crew members perished in the frigid waters. Viewed through a decidedly different and 21st century lens, the captivating story of Titanic - a veritable floating city more than 11 stories tall - still engages audiences, whether on film, in books or, more to the point, onstage, thanks to the thoroughly thought-provoking Peter Stone-Maury Yeston musical Titanic.
Now onstage through August 25 at Woodbury's Arts Center of Cannon County, in a sumptuously mounted production helmed by director Kim Powers, with producer Brittany Goodwin, musical direction by Allison Hall and choreography by Julie Wilcox, Titanic takes its audience on an intriguing, emotional journey of their own, during which the legend of the mammoth ocean liner is writ large onstage, even as it becomes a more intimate tale of lost lives and the dissolution of dreams and aspirations set in relief against a backdrop of grandeur and greed.
As presented by Powers, Hall, Wilcox, Goodwin and the rest of their ACCC creative team, Titanic - which won the 1997 Tony Award for best musical - proves again the timeliness of the larger story of a doomed ocean liner that was designed to rewrite maritime history and the universality of the smaller, yet somehow more potent, personal stories of the disparate souls who bought tickets for a trans-Atlantic crossing.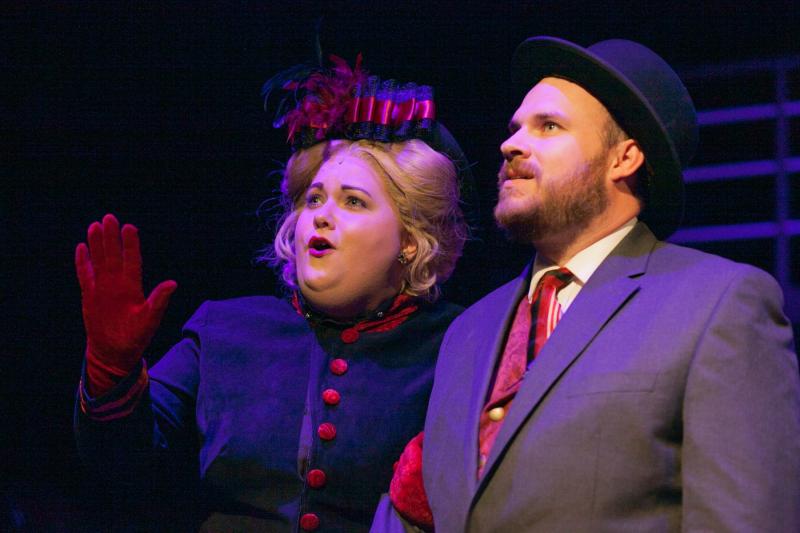 ACCC's Titanic is epic in scale, thanks to the myriad stories related in the more than two hours during which the musical is performed - all linked together by time and circumstance - and because of the vision of Powers and her collaborators, it may well be the finest stage production we've ever witnessed at ACCC. Moving, emotional and exhilarating from its very first moments, Titanic grabs you by the heart immediately, guiding you through the byzantine corridors of the ship, along the promenades of A Deck, taking you from the grand salon of first-class downward into the belly of the beast, as it were, to the gathering spaces where third-class passengers revel in their adventurous journey to a new life in America.
The stories that emerge from the rich tapestry of history woven throughout the legend of the 1912 tragedy are fraught with emotion and made more powerful by the knowledge that much of what you're seeing onstage comes from truth, ensuring that the impact of Titanic is more deeply felt, more heartrending and far more impactful than some dry and didactic history lesson could be. Peter Stone's story and book has all the hallmarks of epic literature: larger than life-sized characters engage in matters of life and death (seriously, what can be more compelling than that?). Yet his libretto for Titanic manages to keep the story on course, as it were, by offering glimpses into the lives of the individuals on-board for the fateful cruise.
But it's Yeston's lush and beautiful score that sets Titanic apart from other musicals of its late 20th century era. As grand as the ship itself, Yeston's score is at once hauntingly romantic and heartfelt, while sweeping and near-operatic in both tone and scale. Yeston's tuneful evocations of the dramatic events unfolding aboard the Titanic are sure to elicit genuine emotional responses from the audience, enveloping them in vaguely sentimental motifs that can just as adroitly send their spirits soaring with the sheer grandeur of the melodies. Is the music manipulative in its way? Of course, but don't we expect that - don't we demand that? - from the very best of musical theater? There are certainly worse ways to spend a few hours in the dark than by musical manipulation of our emotions.
In fact, if truth be told in a review, I must freely admit that I was almost moved to tears during the opening montage of the musical during which the cast of characters make their way up the gangplank to join the cavalcade of history in a series of eye-poppingly gorgeous tableaux that set the tone for the show. And, later, during the show's stirring finale I had to stifle involuntary sobs - even as I heard a cacophony of sniffles, gasps and tears coming from those audience members seated near me - so completely emotional are the final moments aboard Titanic, both the ship itself and ACCC's exquisite musical production. Yeston's melody and the characters' exhortations to "Sail on, Titanic" and "Godspeed, Titanic" are beautifully rendered and powerful.
Music director Hall's efforts are commendable - the singing of the ensemble is startlingly effective throughout - and Jacob Miller's five-member band perform Yeston's score with commitment and focus. Wilcox's movement for Titanic (it's not a particularly danceable score, after all) creates some lovely visuals for the production and her actors respond favorably to her creative sensibilities.
Brittany Goodwin's set design transforms the whole of the theater into the RMS Titanic, creating the perfect backdrop for the onstage action, while Ryan Daniel's lighting design (which is, arguably, the best lighting we've seen at ACCC in all the many years we've reviewed shows there) creates a beautiful play of color and light upon the set.
The production's costume design - credited to Cat Arnold, Laura Higgins, Natasha Jones and Jennifer Klein, all of whom were brought on late in the creative process to provide the cast with stunning period clothing to help them create believable characterizations - is absolutely beautiful. In fact, it's amazing how true to the period their designs prove to be and the cast is to be applauded for their quick-change artistry that allow them to become one character after another.
Powers' talented ensemble bring to vivid life the various characters onboard RMS Titanic and thanks to her inventive staging, her retinue of actors often are double-cast (some even triple-cast or quadruple-cast), leaving audiences with the impression that the ship is fairly teeming with humanity, and she employs such theatrical legerdemain to achieve the impossible. Perhaps more to her credit, she artfully assembles a cast of all ages (ranging from children to adults) that allows for the suspension of disbelief. Or perhaps it's the estimable talents of her actors that should be credited: audiences will easily accept a younger actor playing opposite someone many years his senior with total believability and a palpable authenticity.
As it is written, there are no easily discernible stars among the cast of characters. Rather, all of the personalities seem vital to the storytelling process and, in reality, every person who booked passage on the Titanic was a living, breathing participant in its history and incipient legend. And so it may be written that every member of the Titanic cast is on equal footing, even if there are some cast members whose performances are particularly notable.
First and foremost, two young actors give exceptional performances that set them apart: Nicholas True, as radio man Bride (among a clutch of roles he plays with equal grace), and Elisha McFarlin, as stoker Barret (just one of the three characters he's assigned) are given the opportunity to show off their vocal chops in "The Proposal," one of the best duets for two men to be found in musical theater, during which each of the two expresses his passion. True and McFarlin deliver stunning performances, in a show filled with them, and they do so with confidence and aplomb.
With "The Blame," a chilling and awesomely dramatic musical number during which the ship's captain E.J. Smith (played by Andrew Oppmann), its designer Thomas Andrews (Robby Craze) and chairman/managing director of the White Star Line J. Bruce Ismay (John Goodwin) confront one another to assign responsibility for its demise - another passionate display of musicality and superb acting - Powers shows off an impeccable sense of the theatrical, staging the number with almost balletic ease. Each man defends his decisions with force and some alacrity, crafting one of the show's dramatic highlights. Oppmann's Captain Smith is a stern taskmaster, self-assured in his command of the ship, while Craze vehemently defends his own shipbuilding skills and mental acuity and Goodwin, playing the arrogant Ismay with an edge of gilded age artifice, betrays his character's cowardice and avarice in the process. It's a stunning sequence that plays out centerstage.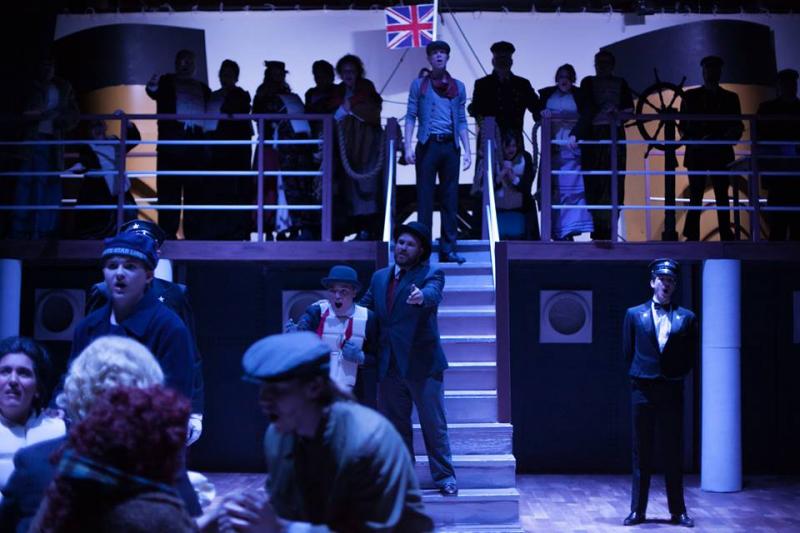 Kobe Hermann, as journalist Charles Clark, and Peri Watson, as his fiancée Caroline Neville, are standouts among the guests in second class, while Allison Hall (who does double-duty as musical director) and Ryan Daniel, cast as a middle-class couple from Indianapolis - the hardware store-owing Edgar Beane and his ambitious wife Alice - provide some much-needed comedic respites from the encroaching drama. Gary Davis, as Isidor Strauss (the owner of Macy's Department Store) and Kelly Sekuterski (as his wife, Ida) give particularly vivid portrayals of the devoted couple, joining together for a heartstopping duet in "Still" that comes very near to the end of Titanic.
Jared Taylor, a veteran of theater throughout Middle Tennessee, has never been better than he is as Henry Etches, the first class steward, who serves as the audience's guide throughout the intricate storytelling process. Taylor is charming, quick-thinking and fleet of foot as Etches and, in the process, creates a thoroughly memorable character.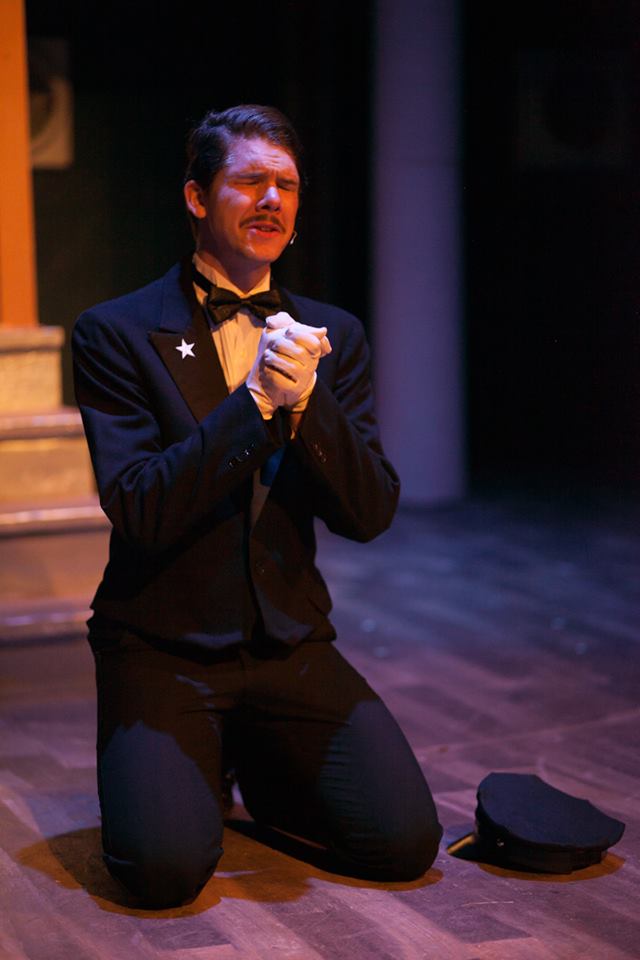 Jack Jones is quietly effective as a 14-year-old bellboy, with Slate Bowers (who we first noticed in a stunning performance of 1776 at Center for the Arts in Murfreesboro two years ago) impressive in a variety of supporting roles, and Todd Nichols plays First Officer Murdoch with unexpected grit.
Janice Denson, as Kate McGowan, proves a force to be reckoned with, while Stephanie Jones (as Kate Murphey) and Melissa Ming (as Kate Mullins) complete the trio of Irish lasses heading to America, with style, charm and a convincing Irish lilt in their voices. Bobby Dunning is good as Jim Farrell, the object of Kate McGowan's affections.
Titanic continues through Sunday, August 25, at Arts Center of Cannon County, which means there are but two more performances for you to witness the glorious efforts of Powers and her extraordinary team of artists. Heed my advice and book passage as quickly as possible, before the ship makes its final voyage.
Titanic. Book and story by Peter Stone. Music and lyrics by Maury Yeston. Directed by Kim Powers. Music direction by Allison Hall. Choreography by Julie Wilcox. Produced by Brittany Goodwin. Presented by the Arts Center of Cannon County, Woodbury. Through August 25. For details, go to www.artscenterofcc.com, or call (615) 563-ARTS. Running time: 2 hours, 20 minutes (with one 15-minute intermission).