BWW Review: Faithful and Funny Updated PIRATES OF PENZANCE at Park Square Theatre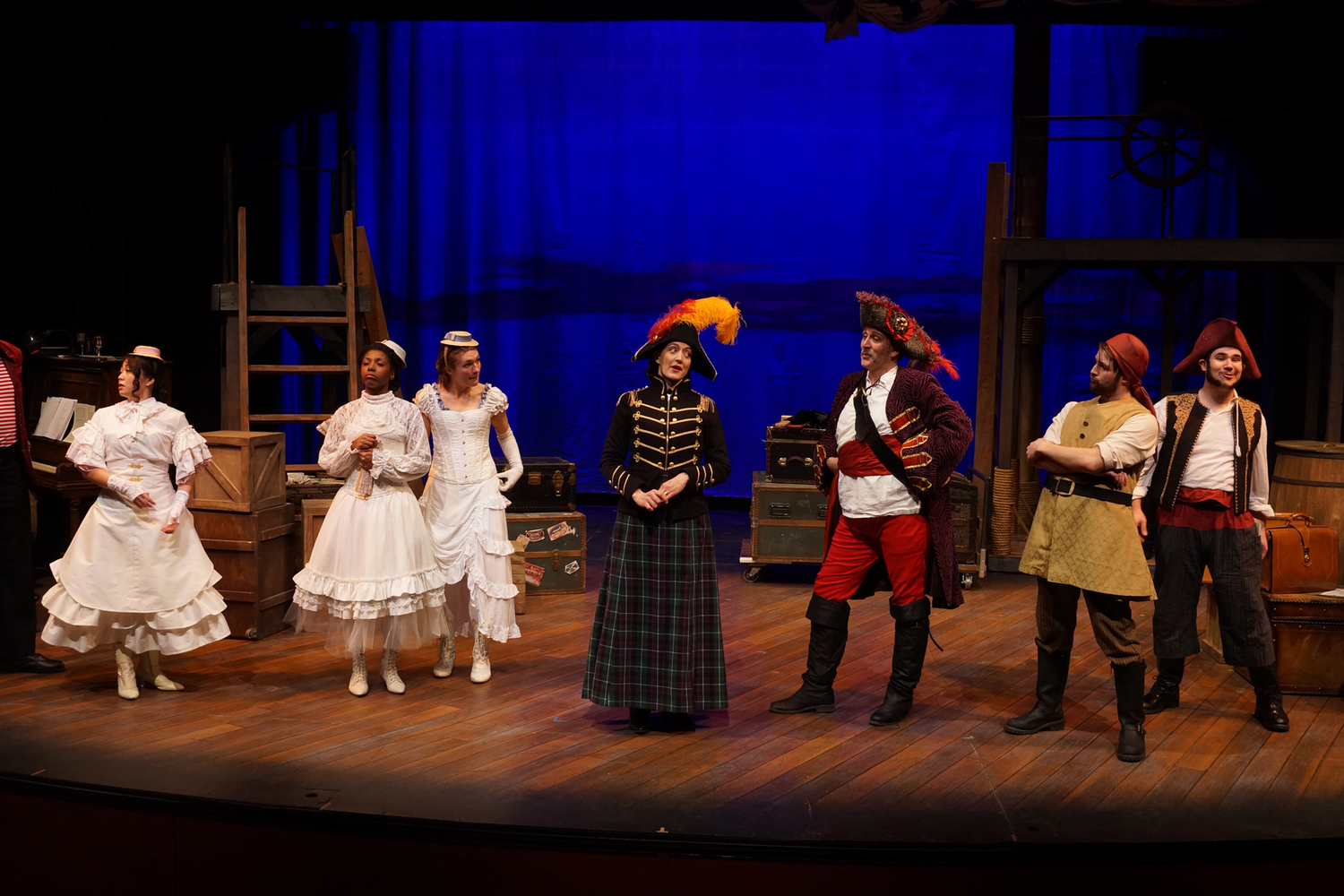 "History is something that we can and should improve upon" sings the modern Major General in an added lyric in this cleverly refreshed production of the Gilbert & Sullivan classic. The laugh-out-loud show remains faithful to the original while integrating historical asides and contemporary political memes, all with a knowing wink at the audience, which had a roaring good time on opening night.
The premise owes much to actual historical events, apparently. In 1879, PIRATES officially premiered in the US instead of England, precisely because the duo's first triumph, HMS PINAFORE, had been a hit in the colonies with more than 100 unauthorized productions that paid no royalties to Gilbert or Sullivan, since at that time US law offered no copyright protection to foreign writers. By premiering PIRATES in the States themselves, G&S hoped to forestall copycats and make a killing.
But there was a hitch. Composer Sullivan realized, upon arrival in New York, that he'd left the (unfinished!) score for Act 1 behind in London. As the story goes, he finished reconstructing the music only on the day of final dress rehearsal.
Such are the fun facts that led director Doug Scholz-Carlson and actor Bradley Greenwald to create a new adaptation that keeps what's great about PIRATES, lets some of the outdated bits go, and inserts present day sensibilities into a plot which, after all, does turn in part on men grabbing women without their consent.
At lights up, we are on board ship, two hours out of New York, with Gilbert, Sullivan, their producer Helen Lenoir, their conductor Alfred Cellier and most of The Acting Company. It's just then that Sullivan discovers he's left the score behind. So the enterprising band of nine actors and three musicians proceed to invent the show before our eyes in a madcap rush of inspired genius.
But there's no slavish adherence to realism here, rest assured! Early on at various points a chime sounds, lights shift, and we're offered a tidbit of historical fact before returning to the immediate matter. Ursula Bowden's clever set morphs mid-action multiple times to suggest shipboard and pirate lair and eventually the proscenium arch of a small theater. Visually, the show is ever changing and kinetic. Costumer Rebecca Bernstein has dressed the company in Victorian whimsy while setting up quick change options that work nicely since everyone is playing at least two parts, and often three.
The very busy troupe of actors are led by two of the Twin Cities' greatest: Bradley Greenwald as both Sullivan and the Pirate King, and Christina Baldwin as Helene Lenoir AND the Major General AND the Sergeant of Police. They are an absolute treat to watch, and both have the specific and unteachable actorly charm that instantly recruits an audience to their side. Their singing is terrific, and bravura at times: Baldwin does the famous MaJor General's patter song three times, each time at a faster tempo, and every syllable remains distinct.
The rest of the company rockets along with their intrepid leaders, singing their hearts out while climbing over steamer chests, up and down ladders, and performing intricate comic choreography devised for them by director Doug Scholz-Carlson and movement specialist Brian Sostek. Special mention should be made of Max Wojtanowicz as the hapless Frederic, who is a better comic actor than he is a romantic tenor, though he sings the part credibly enough. It's just that he comes up a little short compared to the voices around him, including both Elisa Pluhar as Ruth and Alice McGlave as Mabel, who are grand. Still, his willingness to play full out besotted and lots of other emotional notes gets him high marks.
This is a nearly non-stop romp, replete with occasional modern references (yes, she persists!) and would be fun for the whole family. With one intermission, it runs just under two hours fifteen minutes. It will play on Park Square's proscenium through March 25, while their acclaimed production of RAISIN IN THE SUN returns to the basement space. Thanks to the adaptation, this is no musty museum piece, but a hilarious evening with contemporary references, much in the lineage of Aristophanes, that irreverent Greek who pioneered political comedy, and who Gilbert names in his lyrics. Give yourself a treat and go.
Photo credit: Petronella J. Ytsma