BWW Review: CTC Spectacular Style Inhabits Superlative World Premiere THE HOBBIT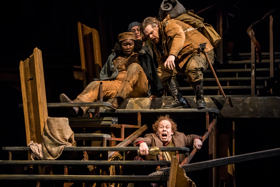 On a middle of the month March weekend, Children's Theatre Company (CTC) of Minneapolis on the United Health Group Stage, offered their audiences a Middle Earth journey when they presented the World Premiere The Hobbit. Based on one of J.R.R. Tolkien's bestselling novels, the British actor, director and playwright Greg Banks adapted and then directed the production, which featured an original musical score by fellow Brit Tom Johnson. The classic story of Middle Earth Dwarves reclaiming their culture and treasure stolen form them by a fire breathing creature conjures adventure and exhilaration galore, enough to last an entire evening and long after the actors leave the stage.
From the first moments of the story when Gandalf, the wandering wizard, recruits the humble Hobbit Bilbo Baggins on an adventure of his lifetime, The Hobbit dazzles with humor and thrills---Only five actors play eagles, elves, goblins, gnomes, spiders and trolls in the non-stop, action paced adaptation ensconced on an innovative and imaginative set. Scenic Designer Joseph Stanley mesmerizes audiences with this transformative stage of a fantasy world where anything and everything happens for theatergoers of any and all ages.
Costume Designer Annie Cady adds a unique take on these displaced dwarves after being burned out of their homes by Smaug, the deadly dragon living on Lonely Mountain. This creatures' costume offers a show stopping moment in the second act, although how Cady quickly adapted the actors to all these various creatures in the production delights the audiences, too.
In the seminal role of Bilbo Baggins, Dean Holt offers a nuanced and rich performance encompassing a multitude of emotions. As Bilbo enters the adventure as an unlikely "treasure burglar" and hero, his persona transforms into a courageous Hobbit who surprises Thorin, the Dwarf King, and most of all himself. A rewarding relationship develops between Bilbo and Thorin, played by Reed Sigmund, which gives the production a heart wrenching centerpiece to build on.
Inhabiting several significant roles, Joy Dolo plays a marvelous Gandalf and Elven Queen with her charismatic stage presence. Each of the other two actors, H. Adam Harris and Becca Hart contribute with magnetic performances and singing voices under the detailed direction of Banks. He paces the story with near perfection allowing Johnson's music, played by Victor Zupanc and Bill Olson, to integrate seamlessly into the story. Lighting designed by Nancy Schertler along with sound design by Sten Severson help create a completely mystical theatrical world.
While these accomplished actors sing and ward off every imaginable disaster to continue their journey for treasure, the characters realize determination, perseverance and teamwork achieve their goals over the two hour evening. When the Dwarves finally place their hands on a gold goblet found in a cave of Lonely Mountain, the characters need to decide what might be more important? Hoarding the glory and wealth from their fellow Middle Earth inhabitants or being devoted to friendship and principles that inhabited their journey to begin with, which might require sacrifice.
CTC presents an otherworldly production with plenty of wonder that the technical teamwork brought to life this superlative The Hobbit. This literature and theatrical adventure immerses the audience in Middle Earth for the entire evening, in part, because Banks' collaboration with Artistic Director Peter C. Brosius and CTC form a creative alliance that in the future continues an 18 year tradition of translating classic literature into transformative productions.
This memorable The Hobbit might also invite theatergoers into contemplating what friendship and wealth, along with a multitude of merrymaking, bring to their lives in an extraordinary way. Experience The Hobbit once, then experience The Hobbit twice, for an unforgettable adventure into how people's lives under courage, persistence and resilience. A personal journey everyone might begin when the standing ovation concludes.
Children's Theatre Company presents a World Premiere The Hobbit in the United Health Group Stage through April 14. For performance information or tickets, please visit: www.childrenstheatre.org.
Related Articles View More Minneapolis / St. Paul

Stories

Shows