Video: JUNK by Ayad Akhtar Comes to Milwaukee Rep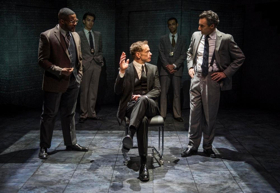 Milwaukee Repertory Theater presents Junk, the hit Broadway play by Milwaukee native and Pulitzer Prize-winning playwright Ayad Akhtar in the Quadracci Powerhouse now through February 17, 2019. Since its Broadway premiere at Lincoln Center last year, Ayad Akhtar along with Artistic Director Mark Clements have continued to hone Junk to bring Milwaukee audiences a new, two hour no intermission riveting story set in the financial world of the 1980s.
Junk features one of the largest casts ever on the Quadracci Powerhouse stage and includes Milwaukee native N'Jameh Camara (The Color Purple, Nat'l tour) as Jacqueline Blount, Dominic Comparatore (A View from the Bridge, Broadway) as Giuseppi Addesso, Matt Daniels (Man of La Mancha, Milwaukee Rep) as Maximilien Cizek, Todd Denning (A Christmas Carol, Milwaukee Rep) as Corrigan Wiley/Union Leader/Kurt, DiMonte Henning (Our Town, Milwaukee Rep) as Kevin Walsh, Rebecca Hirota (Jane Eyre, Milwaukee Rep) as Judy Chen, Justin Huen (One House Over, Milwaukee Rep) as Raúl Rivera, Gregory Linington (Blind Date, Goodman Theatre) as Robert Merkin, Brian Mani (Death of a Salesman, APT) as Leo Tresler, Michael Milligan (La Bete, Broadway) as Mark O'Hare, Norman Moses (Holmes and Watson, Milwaukee Rep) as Murray Lefkowitz,James Ridge (Our Town, Milwaukee Rep) as Thomas Everson, Rachel Sledd (The Shape of Things, St. Louis Rep) as Amy Merkin, Demetrios Troy (2666, Goodman Theatre) as Israel Peterman, and Jonathan Wainwright (A Christmas Carol, Milwaukee Rep) as Boris Pronsky.
Junk is directed by Artistic Director Mark Clements with set design by Rep Associate Artist Todd Edward Ivins (A Christmas Carol, Milwaukee Rep), costume design by Theresa Ham (The Little Mermaid, Chicago Shakespeare Theatre), lighting design by Thom Weaver (The Royale, Milwaukee Rep), original music and sound design by Lindsay Jones (Through the Night, Geffen Playhouse), projection design by Jared Mezzocchi (American Song, Milwaukee Rep), dialect coaching by Clare Arena Haden and stage managed by Laura F. Wendt.
Junk is hailed by critics as "an epic, strutting, slam-bang-wham piece of work" by Chicago Tribune, and a "high-stakes thriller with light comedy and space for the characters to consider how high finance both deviates from and reflects traditional American values" by AM New York. It is inspired by the real junk bond kings of the day, where magnates are pitted against workers, lawyers against journalists, and everyone against themselves. With Junk, debt is an asset, and we see from the inside how money became the only thing that mattered.
Junk is presented by Christine Symchych and Jim McNulty and sponsored by Associated Bank with Executive Producers Rhonda and Greg Oberland and Caran and Joel Quadracci. The Media Sponsor isMilwaukee Business Journal. The Rep is sponsored in part by The United Performing Arts Fund.
Junk runs January 15 - February 17, 2019 in the Quadracci Powerhouse. Opening night is set for Friday, January 18 at 8pm. Purchase tickets at www.MilwaukeeRep.com, by calling the Ticket Office at 414-224-9490 or in person at 108 E. Wells Street in downtown Milwaukee.