THE PLAY THAT GOES WRONG Comes to the Sauk This Week
Performances of The Play That Goes Wrong are at 8 p.m. February 2-4 and 9-11 with 3 p.m. matinees on February 5 and 12.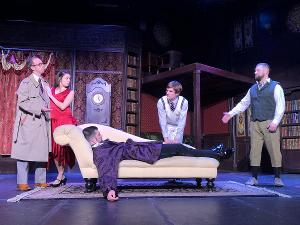 One of the funniest plays ever written will open The Sauk's 2023 season this weekend and next at the Sauk Theatre in Jonesville. The Play That Goes Wrong will be performed February 2-5 and 9-12.
Welcome to opening night of the Cornley University Drama Society's newest production, The Murder at Haversham Manor, where things are quickly going from bad to utterly disastrous. This 1920s whodunit has everything you never wanted in a show-an unconscious leading lady, a corpse that can't play dead, and actors who trip over everything (including their lines). Nevertheless, the accident-prone thespians battle against all odds to make it through to their final curtain call, with hilarious consequences!
The Sauk production features Michael Krebill as Chris, Derek Garden as Robert, Gianna Green as Sandra, Joshua Lightner as Max, Jacob Weldon as Dennis, Timothy Green as Jonathan, Tiffany Thatcher as Annie and Dylan Collier as Trevor. Mandee Leigh Howard and Kenny Hong play stage crew members. Krebill, Garden and Weldon are all making their Sauk and stage acting debuts.
Trinity Bird directs the production with Allison Tappen serving as stage manager. The design team consists of Meaghan Bryant (costumes), Angela Forant (lighting), Joella Hendrickson (sound) and Cyndi Baldermann (properties). The set comes from Circle Theatre Grand Rapids and Rockford High School.
Performances of The Play That Goes Wrong are at 8 p.m. February 2-4 and 9-11 with 3 p.m. matinees on February 5 and 12. The February 2 performance is a Pay What You Can Preview. Tickets for other performances range from $10 to $14. All senior tickets to the February 9 performance are $5. Tickets can be purchased at www.thesauk.org or by calling 517-849-9100. The Sauk Theatre is located at 240 E. Chicago in Jonesville. The Sauk is Hillsdale County's community theatre.
The Play That Goes Wrong is sponsored by State Farm Agent Jason Adcock. The Sauk's 2023 season sponsor is Joyous Journey LLC and the 2023 media sponsor is WCSR Radio Hillsdale and 99-5 The Dale. The Sauk is supported by the Michigan Arts and Culture Council and the National Endowment for the Arts.