Grand Rapids Civic Theatre Announces 2023/24 Season and New Accessible Programs
Learn more about the lineup here!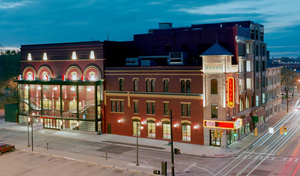 Grand Rapids Civic Theatre announced the '23/'24 season lineup, which features multiple area community theatre premieres and a family favorite as a part of next season's offerings, in addition to exciting new efforts to make live theatre more accessible for all.
The season will begin with a Grand Rapids community theatre premiere adapted from an iconic Nickelodeon series! The stakes are higher than ever in this dynamic stage musical, as SpongeBob and all of Bikini Bottom face the total annihilation of their undersea world. Chaos erupts. Lives hang in the balance. And just when all hope seems lost, a most unexpected hero rises up and takes center stage. The power of optimism really can save the world in The SpongeBob Musical. The show will run September 15 - October 8, 2023.
For the holiday show, a beloved tradition in West Michigan, Disney's Beauty and the Beast returns to the stage after debuting at Civic in 2016. Based on the Disney film, the enchantment never ends with this romantic and beloved take on the classic fairytale with iconic music by Alan Menken and the late Howard Ashman, along with new songs by Mr. Menken and Tim Rice. Civic's holiday show will run November 17 - December 17, 2023.
To kick off 2024, Civic will produce the riveting new play Clyde's. In Clyde's, a truck stop sandwich shop offers its formerly incarcerated kitchen staff a shot at redemption. Even as the shop's callous owner tries to keep them under her thumb, the staff members are given purpose and permission to dream by their shared quest to create the perfect sandwich. The 2022 Tony-nominated play is written by two-time Pulitzer Prize winner Lynn Nottage. Civic is thrilled to introduce "Pay What You Want January"! For each and every performance of Clyde's, audience members can choose to pay what they want to attend. Grand Rapids Civic Theatre is excited to invite you to experience this stirring new play, and "Pay What You Want January" allows the community to invest in a new theatre experience with a manageable price point that YOU decide. Clyde's will run January 19 - 28, 2024.
Based on the popular Disney Channel Original Movies, Disney's Descendants: The Musical is an exciting new show jam-packed with comedy, adventure, Disney characters, and hit songs from the films! Imprisoned on the Isle of the Lost - home of the most infamous villains who ever lived - the teenaged children of Maleficent, the Evil Queen, Jafar, and Cruella De Vil have never ventured off the island... until now. Written for both the young of age and the young at heart by Nick Blaemire, Disney's Descendants will run March 1-17, 2024.
In the spring, Ken Ludwig's clever adaptation of Agatha Christie's Murder On The Orient Express will take the stage at Civic. This exciting mystery boasts all the glamour, intrigue and suspense of the celebrated novel, with a healthy dose of humor. Just after midnight, a snowdrift stops the Orient Express in its tracks. The luxurious train is surprisingly full for the time of the year, but by the morning it is one passenger fewer. An American tycoon lies dead in his compartment, stabbed eight times, his door locked from the inside. Isolated and with a killer in their midst, the passengers rely on detective Hercule Poirot to identify the murderer - in case they decide to strike again. Murder On The Orient Express will run April 19 - May 5, 2024.
Returning May 17 - 18, 2024 is Ten For All: an original program of Grand Rapids Civic Theatre. For the 4th Annual Playwriting Festival, local playwrights submit their original works for a chance to be fully produced on stage for the first time. New directors, stage managers, and local actors bring the scripts to life, and audience members vote for the coveted Audience Choice Award.
Closing the '23/'24 Season is the West Michigan community theatre premiere of Beautiful: The Carole King Musical. Before she was hit-maker Carole King - she was Carole Klein, a spunky, young songwriter from Brooklyn with a unique voice. From the chart-topping hits she wrote for the biggest acts in music to her own life-changing, trailblazing success with Tapestry, Beautiful: The Carole King Musical takes you back to where it all began - and takes you on the ride of a lifetime. Featuring such unforgettable classics as "You've Got a Friend", "One Fine Day", "So Far Away", "Take Good Care of My Baby", "Up on the Roof", "You've Lost That Lovin' Feeling", "Will You Love Me Tomorrow", and "Natural Woman", this Tony and Grammy Award-winning musical phenomenon is filled with the songs you remember - and a story you'll never forget. Beautiful will take the stage from June 7 - 30, 2024.
In addition to these exciting titles, an equally special announcement is the introduction of "Pay Want You Want Wednesdays". Throughout the entire 2023-24 Season, Civic will offer a "Pay What You Want" performance to the public each Wednesday. The amount patrons pay is based on what they are able and willing to give the production, whether that is the cost of a small coffee or the bill for a large dinner. "The important thing to us is that we are able to share impactful live art with the community, without the burden of a price point," said Jess Burke, Audience Experience Manager. Seats will be able to be reserved online, via phone or in person as soon as individual tickets go on sale, or 2023-24 Season Passholders can choose their seats after purchasing their Season Passes. This program replaces the longstanding tradition of "Preview Night" or "Final Dress" where patrons would attend a dress rehearsal at a discounted rate. "We're so excited for this experiment," said Allyson Paris, Civic Theatre's Artistic Director, "Pay What You Want Wednesday and Pay What You Want January offer our community the chance take a risk on a play that they might not be familiar with, allowing them the opportunity to discover new art without breaking the bank."
Grand Rapids Civic Theatre continues their accessibility efforts with a wide variety of accessible programs and resources, ranging from special performances for the Deaf and hard of hearing community, Low Sensory Performances specially designed for individuals with diverse sensory needs, to Relaxed Environment Performances which are ideal for anyone who benefits from being able to make noise or leave and return to their seat frequently during the show. A full description of Civic Theatre's new and existing accessible programming and resources along with dates for accessible performances in the coming season can be found at grct.org/accessibility.
Season Passes with Early Access pricing are available now at grct.org. By taking advantage of this deal, patrons can save up to $15 per ticket when they choose a 4-pack or 6-pack of tickets. Other benefits to purchasing a Season Pass along with more information about the upcoming season can be found at grct.org/the23-24season/.