A Conversation With Dr. Khalilah Ali Comes To Kalamazoo's Miller Auditorium
The event is on Monday, March 20, 2023 at 7 p.m.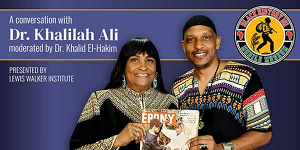 Dr. Khalilah Camacho Ali is an actor, martial artist, author, motivational speaker, aviator, and film producer. She is also known for being the former wife of boxer Muhammad Ali.
Dr. Ali has studied karate and earned a ninth-degree black belt. Khalilah studied under Jim Kelly, Steve Saunders, Bruce Lee, George Dillman and James W. DeMile. She is a graduate of the Muhammad University of Islam #2. She went to Capitol, Hill, and successfully took the name "Muslim" off of the travel ban in 2017. She is the author of the award-winning children's book series Color to Learn, which teaches etiquette and manners. She is also a motivational speaker, making appearances at churches, mosques (Masjid), temples, colleges, and universities.
She appeared on the cover of Ebony Magazine seven times. She appeared in the Jane Fonda film The China Syndrome.
Founded by Dr. Khalid el-Hakim, the Black History 101 Mobile Museum is an award-winning collection of over 10,000 original artifacts of Black memorabilia dating from the trans-Atlantic slave trade era to hip-hop culture. Dr. el-Hakim has been called the "Schomburg of the Hip-Hop generation" because of his passionate commitment to carry on the rich tradition of the Black Museum Movement.
As the nation's premiere Black history traveling exhibit, the Black History 101 Mobile Museum has visited 41 states sharing "our story" at over 1000 institutions reaching tens of thousands of visitors in diverse spaces including colleges, K-12 schools, corporations, conferences, libraries, museums, festivals, religious institutions, and cultural events.
WMU Faculty, Staff & Students get one complimentary ticket per valid Bronco ID.
More information is available by calling (269) 387-2300, online at millerauditorium.com or by visiting the Miller Auditorium Ticket Office.