MusicWorks Presents THE BUCKINGHAMS & THE BOX TOPS At The Parker, February 17
MusicWorks is inviting fun-loving fans of Classic Folk and Blue-Eyed Soul to another memorable concert next week at The Parker.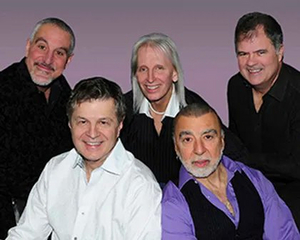 MusicWorks is inviting fun-loving fans of Classic Folk and Blue-Eyed Soul to another memorable concert next week at The Parker, an intimate 1,168-seat theater located at 707 NE 8th Street in Fort Lauderdale (33304).
February 17 at 8 pm (Friday)
The Buckinghams
& The Box Tops
+ The Buckinghams formed in 1965 at the height of the British Invasion. After winning a "Battle of the Bands" contest in Chicago, the group recorded covers of hit songs before the debut of their first national hit Kind of a Drag, which went to #1 on the national pop charts. After signing with Columbia Records, they had back-to-back hits with Lawdy Miss Clawdy and Don't You Care, began appearing on such programs as The Ed Sullivan Show and American Bandstand, and later released a hit remake of Mercy, Mercy, Mercy, followed by Susan, Hey Baby (They're Playing Our Song), and What is Love. In 1967 Billboard Magazine named them "the Most Listened to Band in America," with the distinction of having three hits on the national Top 10 at the same time. To view The Buckinghams, please visit https://www.youtube.com/watch?v=lMV2BE8DCVg.
+ The Box Tops are members of the Memphis Music Hall of Fame and were once considered America's premier blue-eyed soul group. Best known for hits like The Letter, which sold over four million copies and earned two Grammy Award nominations. Later hits included Cry Like a Baby, Neon Rainbow, I Met Her in Church and Sweet Cream Ladies, Forward March, all of which are considered minor classics.
Tickets start at $38
Tickets are now available for purchase for all six concerts by calling 954.462.0222, press 1 or by going online at https://www.parkerplayhouse.com/events.
Other upcoming MusicWorks concerts at The Parker in Fort Lauderdale include:
February 25 at 8 pm (Saturday)
Stayin' Alive:
One Night of The Bee Gees
This concert offers audiences the songs and sights of a full Bee Gees play list, singing blockbusters such as Night Fever, Jive Talkin', How Deep Is Your Love, You Should Be Dancing, Nights on Broadway, and Stayin' Alive. In addition, they perform softer poetic ballads such as I Started a Joke, Massachusetts, Fanny Be Tender, Words, and To Love Somebody among other great hits. Offering big screen video clips, photos, and dazzling imagery. Stayin' Alive is the quintessential tribute band to the Bee Gees, capturing the excitement of live performance and the tender subtleties of the human voice.
Tickets start at $28
March 10 at 8 pm (Friday)
Beginnings:
The Ultimate Chicago Tribute Band
Beginnings formed in 2002 as a musical tribute to the super-group Chicago. The band performs accurate versions of Chicago's classic chart-smashing hits (and even a few rare gems) from across their 50+ year songbook. Fueled by world class musicianship and a passion for performance, the band is a live music experience not to be missed. The group's love of the music, their fans, and each other makes for an outstanding and electrifying show every time. Come see the band live, and they promise to Make You Smile.
Tickets start at $28
March 21 at 8 pm (Tuesday)
Eaglemania:
The World's Greatest Eagles Tribute Band
EagleMania has dedicated themselves to faithfully reproducing the music of The Eagles. Since their inception, EagleMania has been thrilling audiences all over the country with their stunning five-part harmony and their uncanny ability to emulate the unmistakable sound of The Eagles. Their show consists of the Eagles' greatest hits, as well as some of the solo work of Don Henley, Glenn Frey, and Joe Walsh. The group has spent countless hours breaking down everything The Eagles recorded on their albums and faithfully reproducing those unforgettable songs in the most authentic way possible. The audience is given a chance to experience the music the way it was meant to be heard and it's done live on-stage night after night.
Tickets start at $28
MusicWorks specializes in producing live entertainment events in Florida. For more information, please visit Click Here.