BWW Previews: WILD PARTY at Area Stage Company
"Embrace the sin," Giancarlo Rodaz says, hands firmly out in a gesture of controlled chaos. "It's about the consequences now." The cast, out of costume and in the 1920s, circles a fisticuffs brawl with devilish grins and witty quips flying. The scatting, the clown noses, and the gruesome content all bounce through the asymmetrical loft as Rodaz plays with his Wild Party just one final time before he unleashes the orgy upon the world.
The Wild Party is certainly an unorthodox choice for Rodaz, and the Area Stage Company. A gratuitous jazz piece featuring just as many technical challenges as explicit content warnings, the cult 1999 hit is unmanageable to most companies in sheer musical size. The typical tech week tension is present, but Rodaz seems to be breathing as well as any director would be- not to mention his functions as creative designer on lights and set to boot. There's a sense that his comfort comes from his cast's boundless talent, a support that any director would kill for.
Although she doesn't get a moment of reprise in the show, nor in the touch up rehearsal, Josephine Phoenix never lets her bubbling energy spill. As Queenie, she's dripping with the dangerous seduction and tempting levels; watching her drop in and out of character between holds became an exercise in disbelief. Phoenix's voice extends this beautiful grace, an impeccable classic soprano who carves a swath of stage anytime she steps over it.
Queenie's role functions as narrator and lead, the lover of Ryan Bauta's Burr (also narrator), who decides to throw the titular get together in an attempt to reignite the relationship. As romances cross with Jose Vazquez' Mr. Black, Emily Howard's Kate, and the entrance of an entire infantry of party-goers, the night descends into colorful chaos.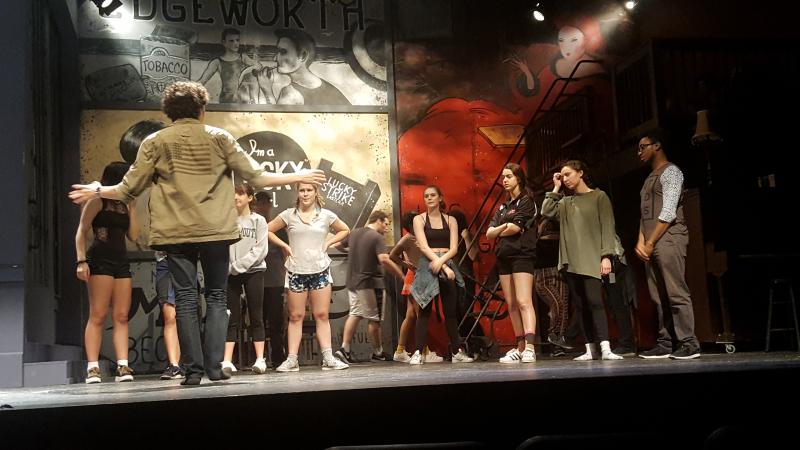 "Can the girls not being raped, try to help those who are?" Rodaz calls out. "More realistically?"
Wild Party can never be called 'safe'.
Although this night did not offer the ten piece jazz band, the eighteen piece cast was bounding through their choreography and harmonies nonetheless. 'Queenie Was a Blonde' is a showstopper when running at half capacity, and Bauta's 'Let Me Drown' just as thrilling.
At this point, Bauta is holding Phoenix down by her wrists ("Careful with the wrists!" she whispers before faux-kneeing him in the crotch), an ensemble member is viciously scatting over the music, and Rodaz' fingers flick furiously over the light board.
The light show strobes wildly throughout, high energy performances being matched with high energy lighting. Buttons were being set against buttons, especially during the thrilling Victor Valdeon x Ryan Bauta fight sequence of the second act, and pieces were falling smoothly into place.
Bauta himself is just as ferocious as his counterpart Phoenix, with his villainous violence giving him a dark twinge through the scenes played out. Swinging pool cues, self-pleasuring through self-depricating, and rocking out his voice to the music with sway. Seeing his clown act under full performance costuming will be a huge sell, as even without it, Bauta is a joy of a performer.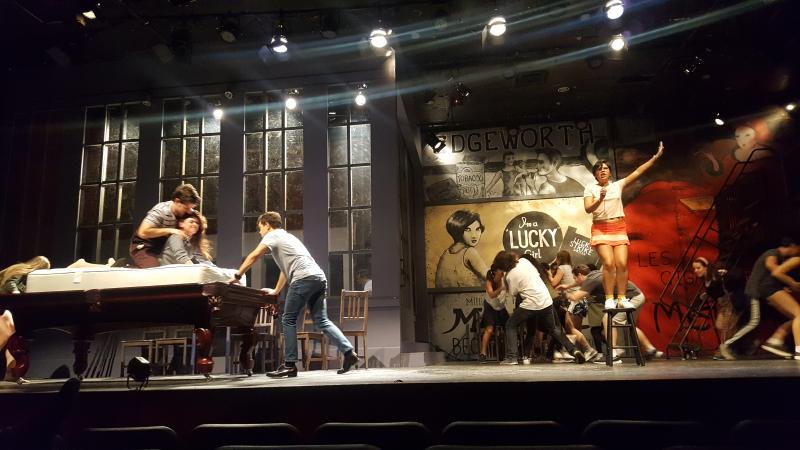 "Do I take the knife? Leave the knife? What do I do with the knife?"
Daniela Vasquez leaps from a stool and joins the wings as pieces rotate the stage. Rick Kaydas, conductor and musical director, is working hard behind the walls of Rodaz' scaled set. At this point, Phoenix is swinging a knife while Bauta lounges on a mattress suspended over a pool table.
There's no lack of excitement, and we still haven't left the opening musical sequence.
Above Bauta and Phoenix, Jose Vazquez and Emily Howard crack jokes on a sofa lodged on a raised tier. Between breaks, Vazquez and Howard are focused and raring to go at the main duo. By the time they're intertwined around a ladder, they're exploding in song and performance. Despite being a rehearsal, Vazquez leaves little behind, giving his heart and soul to Phoenix. Howard is bursting too, riffing wonders around the cast during her brief flashes of the night. Neither she nor Vazquez was given much time to showcase how they'll be taking on the Wild Party with Rodaz, but the glimpses captured are captivating.
Without the costuming, makeup, or full jazz band, it seems as though I saw Rodaz' show without its metaphorical clothes on. Despite this, the show is as sharp and poignant in performance as possible with such a young and varied cast. Individual ensemble members poke their heads through, the continually violent motifs guarantee drama, and the elements of riotous success are laid. Once the doors open, I'm sure the party will be jumping.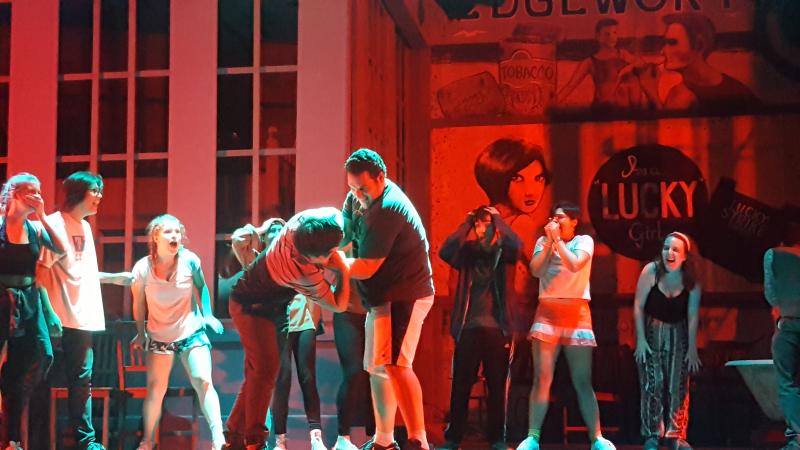 The Wild Party plays August 4th-27th at Area Stage Company. Tickets can be bought online or at the door.
Related Articles View More Miami

Stories

Shows
Trevor Durham has been covering theatre for years, starting off as a Cappies Critic before he became a staff writer for ULoop, the FSView, working (read more...)