BWW Interviews: SHREK THE MUSICAL Cast on Creating Something Unique, Remaking a Classic, and Truly Telling A Story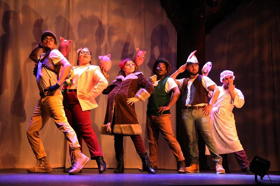 Miami theatre patrons know Area Stage Company to be a venue pushing the boundaries of expectation. Fans of Giancarlo Rodaz know him to be a creator who ignores boundaries to create his own rules. His newest production, a seven-person rendition of Shrek The Musical, shatters what even the most die-hard theatre-fans could think to find on stage. Now entering its final weekend of performances, the show has been met with acclaim, shock, and awe-struck houses of both adult and adolescent viewers. Combining shadow puppetry, flexible costuming, and a wisely utilized rewrite of the orchestration gets his design about halfway - the rest is handled by his passionate cast.
Any show will eventually lean on its cast for quality and the 'it-factor', but this maxi-minimalist concept needs perfection from its cast. Ryan Bauta's Shrek and Michelle Gordon's Fiona are but a miniscule task in this abstract reimagining- Giorgio 'Gio' Volpe plays dozens of characters, voices for various puppets and objects, while still providing bass and guitar for a large percentage of the show (often while in an outrageous character from the scene). There's Malik Kamau-Archibald's quick witted Donkey, his boisterous ukelele strumming, and his powerful tenor. Look to Corey Vega's performance as Lord Farquaad, shadowy characters, and outrageous fairy-tale creatures. Jeana Montgomery plays the dragon, a role usually created in towering puppets and voice-over work, while using simply the power of her own body. And of course there's Isis Palma, whose hilarious voice-effects and flooring vocals as Gingy seem sadly underused in a production overflowing with excitements.
Between a Saturday matinee and the evening show, after a quick snack break and session of notes, the cast gathered together around a table, laughing and joking over the insanity of such a creative reimagining being helmed by a small group of artists. Katie Duerr, music director and a small set of characters in the show herself, joined the leading players while Giancarlo Rodaz worked in the background and prepared for the evening's performance.
Sitting with a group of contracted, professional artists whose ages ranged from only seventeen to early twenties, seemed surreal as the show they aspired to perfect. Each question was target for their sharp tongues and good humor, proving their bonds and passion for the project, and, in turn, giving one of the most riotous interviews in Miami's theatre scene. Between all their accents, off-hand references, and contagious energy, the group seemed more at home than could be expected by a group being asked to expose their process. Despite the heavy questions and varied topics, the interview only necessitated one humorously pointed and sarcastic editor's note. Read the cast's process, thoughts on art, and their personal journey's below.
BWW: For many of you, this may be your first professional production you've contracted to. What has this process been like, as opposed to a non-professional, or community production?
Michelle GORDON (Fiona): It's been a lot more organized, and [there is] a lot more responsibility on us- not just as actors, but backstage too. We're the ones in charge of putting our set together, fixing the lights, doing shadow puppetry- it's been, not so much demanding, as more shaping us as people.
Corey VEGA (Lord Farquaad/Ensemble): It's very hands on. In the show, we're all taking different roles behind the scenes as well. Team-work makes the dream work.
Isis PALMA (Gingy/Ensemble): Absolutely. As a cast we all really make sure to leave the drama out, we make sure to be on each other's good sides, because that makes the show even better. It makes the group dynamic work so well, and since we're doing so much as a group, we're doing a job, we're here- we're working together.
BWW: Many of you are on the younger side of doing professional theatre. How has it been balancing: school, or a job, and one of your first professional productions?
VEGA: I have a teaching job, and it's been great. JonJon (Giancarlo Rodaz) is very good at scheduling and making sure we never have like, issues, where it becomes too crazy. We're usually all very good about working around each other, and each other's schedules. I think we're very cool at figuring out and micromanaging our time, being aware of like, we're not going to have this person here and this person here. It's been very easy and very rewarding to work like that. Very organized, like you said.
GORDON: Yeah. I'm the youngest in the cast, and I go to a school downtown, so my commute: I have to leave by 6am. I come straight from school to here, rehearse until 10. So it's a bit of a struggle for me. I don't get as much sleep as I should... that's the only obstacle I've had in this process. But it's been very easy to manage, it's such a good cast.
PALMA: Even though sometimes some of us may struggle with time, and stuff that we do, we all just make up for it. All of us are like let's do this instead or let's do this. We all just make it easy... Solutions! We all come up with solutions for it.
(the group looks around and laughs)
BWW: Broadway in 2018 is big. Frozen. Mean Girls. Shows with multi-million dollar tech, outlandish sets and costumes, and scores of dancers. Shrek is one of those big shows. (The cast laughs) But you guys have imagined it as an abstract, minimalist piece.
Group: Yes!
VEGA: That's a big part of it is JonJon, he has this vision, and once he sticks with it, he sticks with it. When he first told me about it, I was like, "That's crazy. You're crazy man. It has forty six characters-"
Jeana MONTGOMERY (Dragon/Ensemble): Forty-seven!
GORDON: We were like "That's not gonna happen!"
VEGA: But I mean, it works. What I love about this project, these people, we've all come together and put in our ideas. We meld together very well.
GORDON: It's our show.
VEGA: It's all of our humor, our side jokes. He's very good at like working together WITH us. It's not just [that] he has his ideas and his vision, but he works with us. It's us essentially messing around, goofing around in rehearsal, and finding things that work.
Giorgio 'Gio' VOLPE (Pinocchio/Ensemble/Guitar/Bass): I would say Broadway needs more shows like this. I think that it makes theater more accessible for people. You don't need the whole extravagance. Putting on all this-
VEGA: With Shrek, putting on these prosthetics.
PALMA: When you pile on costumes and all this fake stuff, it's harder for an audience member to relate to the actor on stage.
MONTGOMERY: When there are forty-something actors on stage, how do you connect with one person? With seven of us doing all these different roles, it's a lot easier for somebody sitting in the audience to go, "Oh, them. Cool. Look, they can do all those things."
GORDON: It's not about really the show, really the people. That's what we've been told to focus on telling, relating to the people. Having the audience feel for them.
PALMA: Be a story teller.
VEGA: I think it's really, really cool concept.
PALMA: It's more the story, rather than [just] what you're SEEING on stage.
Ryan BAUTA (Shrek/Guitar): It's about the messages, and the people portraying those messages and those scenes.
VEGA: I think it's fun. If I was an audience member, I would like to see this show just to see the transformations and the actors juggling different characters
Malik KAMAU-ARCHIBALD (Donkey/Ukelele): And actual juggling!
MONTGOMERY: I wish we could watch this!
VEGA: Katie is our music director, but also plays Thelonious and a bunch of different characters, while she's playing, and then she runs back... it's really fun. I think it's really cool.
Katie DUERR (Music Director/Piano/Thelonious/Ensemble): I think it's also a testament to what we can do: what's normally done with a however-many piece orchestra, done with me, Gio, our drummer Ryan Hecker, and Ryan Bauta. And that's it. And it sounds fantastic. It's great!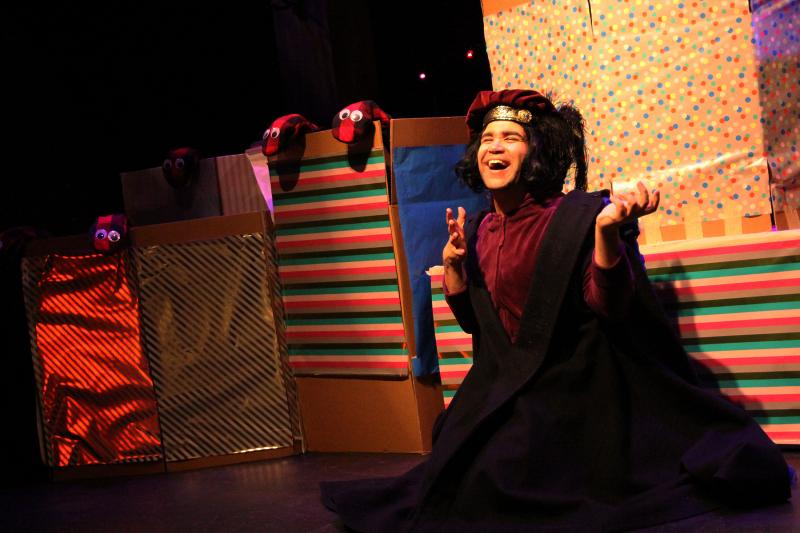 BWW: The next question I have is directly about this... One of the biggest challenges in 'minimalizing' the original show from Broadway was the dragon. From that towering original, it became an off-stage single voice and four-person puppet. Now, it's just you. How are you breathing the fire of the dragon woman?
MONTGOMERY: I think that the issue with the puppet is, connecting to an audience. I think that making it one person makes more of a character and less of this big thing going like this (she snaps her arms up and down).
VOLPE: The spectacle of a puppet lasts like a couple of seconds.
MONTGOMERY: Yeah, it's cool to look at for a second, but after a while, it's just - it -
BAUTA: It becomes distracting, almost.
MONTGOMERY: Yeah, I would say that.
PALMA: [This] makes the dragon like a person, somebody.
MONTGOMERY: If you watch some of the versions out there, you don't see the person, really. They're not lit well, or you don't get to see them. It's about the puppet more than the actors.
VEGA: What I like about our version, it fits with the concept of this show, where a bunch of performers turn trash into treasure. The wings are brooms, that have a bunch of fabric draped on it, and it's really cool. It sounds very WAHN-WAH, but it's really cool.
BWW: You can transform a lot when you bring passion into a piece. When you're taking this passion and 'minimalizing', I'm wondering how it feels to play both a lead and help with orchestrations and music underlying the show. Can you tell me more about how that process is for you?
BAUTA: Well, [it's] certainly a huge responsibility to carry that kind of weight on your shoulders. It also adds to that whole realism aspect of the production, where it's like, "Oh, I'm not an orchestra member, I'm not an actor, I'm just a person - Well, yeah I'm an actor playing guitar and telling this story!" It's definitely a lot to juggle, but we're able to portray the strength of our cast and our many talents as well.
VOLPE: Him being a lead, me being a little more of the guitar stuff effects wise being in the background. (gestures to Bauta) 'Cause you're usually singing when you're playing. What I love is watching the audience while I'm playing and they're not looking over at me and Katie. They're looking at whatever is happening on the stage and I love that. They don't care that, yeah, one of the actors is playing guitar, they just care that- Oh, well, it isn't in their frontal lobe.
VEGA: At the same time I've noticed audience members be like, (whispers) "Oh he's playing guitar!" It's a juggling act. It's almost like a circus.
PALMA: They can set their own mood, set their own atmosphere with the music.
DUERR: Working with them has been amazing. We knew, going into this, that we wanted to use our actors and utilize every single talent that they have, and incorporate [them] into it. I remember we added a whole week of rehearsals that weren't even scheduled to begin with, because we wanted to start on music as fast as we could. Not only do we have a stripped down orchestra, but we have a stripped down cast, that [has] harmonies that are usually six people, and what, we have seven? We had to make that work, and try to shape it to our needs. JonJon asked from the beginning, to make the overture completely acapella-
VOLPE: Spoiler alert. (They laugh)
DUERR: Just as an introduction. An introduction to what we're doing. This is not like any Shrek you've seen before.
BWW: On that note, the film is one of this generation's most praised and beloved and iconic. What is it like reinventing the wheel in this colorful production, of making Shrek a piece of realism?
VOLPE: This is a great means to take something full circle. You had a really successful movie, and it's hilarious, people loved it. Now [it's] became sort of a cult meme on the Internet. But waaaait a minute guys. I feel like this production is bringing it to, "Wait, these are the actual themes; the meme is funny, but this is really good story. Genuinely has really good themes and a message." It's a nice wrap up. Remember what the actual movie was, not just "OGRE!" "ONION?"
Giancarlo RODAZ (Director): It's a meme! (the cast laughs)
PALMA: The Broadway one is like, we're goofy! We're characters!
VOLPE: We're a meme still!
MONTGOMERY: And it worked for them!
PALMA: Great, it works for them. JonJon really wanted Shrek to be a person. Wanted Donkey to be a person.
KAMAU-ARCHIBALD: IS a person!
PALMA: That's what they did with the movie. Made them people. They are characters, but they struggle with real problems that everyone else has.
VEGA: That's what's so endearing about fairy tale characters. Especially the ones in the swamp, they're the classic fairy tale characters you love. But they're watching TV, a cross dressing wolf, and Pinocchio has a 'Lyme' problem-
BAUTA: At the root of everything, you take all the fancy costumes away, you take away all the twenty-seven characters, this is just a story about people finding their identity and being okay with it and not -
KAMAU-ARCHIBALD: (whispers) 'Freak Flag'.
BAUTA: (laughs) Not adhering to societal expectations or going with the flow.
GORDON: Our show isn't about showing off the talent, but showing off their stories. I remember when we started on 'Freak Flag', JonJon was like, this number was, "But we can sing too! We're talented!" That's not what it's about.
VEGA: It's about the characters telling a story.
PALMA: Even though we're different, we're all just the same.
VEGA: It totally speaks to like right now, what's going on in the world now. It's a very unifying show.
BWW: This is a multicultural and multitalented cast sitting in front of me, in a country that seems to be conflicted on remaining multicultural. What makes Shrek The Musical a musical for 2018?
(the cast starts murmuring)
VOLPE: (gasps) Trevor!
KAMAU-ARCHIBALD: I genuinely think it's because we all come from such different walks in life, different experiences that happen just to us and people we know, and we bring it to our characters. We make them more personal, more real. That helps bring us together as a group. And also as a cast.
VEGA: I think theatre in general is about human empathy, the human experience. Putting yourself in other peoples' shoes. You take these characters that you think you know, and we put our own human spin on this. Hopefully, as an audience, you come back from the show like "Wow! They're all so different." 'Freak Flag' is an anthem to being different. To not caring about what other people think. You Take That and you leave the show and you're like "Wow! It's okay to be different." What is it, "I'm wood I'm good get used to it!"?
VOLPE: (jokingly frowns)
PALMA: Right now, there's so many arguments and conflicts. Negativity towards others' beliefs or sexuality or ideas. Really, this show is basically, "We're all different, but we all love each other no matter what."
GORDON: Shrek is about acceptance. Life, the easiest way to go by it, is to accept what's thrown at you. America right now is sort of missing that acceptance.
BWW: Underneath this blistered and emerald exterior, it is good to remember that Shrek is about passions and truths. To put it bluntly and simply, Shrek IS love, Shrek IS life.
(cast bursts into laughter, while Rodaz begins a slow clap in the background)
VOLPE: He wanted to put that in there!
KAMAU-ARCHIBALD: If HE didn't say it, I was gonna say it!
GORDON: That was good, that was good, that was good.
VEGA: Goals.
BWW: How do you all bring out the undercurrents of those passions?
(cast pauses and laughs again)
VOLPE: After the meme we get real!
GORDON: Oh jeez. We all got swiped.
VEGA: We're all just being goofy on stage. That's really what it is. We're all super close. We're really good friends.
MONTGOMERY: We've gotten a lot closer. There are people we just met during the show.
PALMA: We're all just super close friends. It's funny, over the rehearsal process, we'd be doing a scene, and then somebody would do something so ballistic and crazy. We'd be like, "Let's add that!" It's just us being crazy and goofy on stage.
BAUTA: It's authentic, that's what it is.
VEGA: And that's what passion is. What you do, you love. Loving what you do, it doesn't feel like a job, it doesn't feel like work, it feels like we're creating something special. That's what I love about what JonJon has created, he's allowed us to take this show and make it our baby.
MONTGOMERY: It's all of our passion project.
PALMA: It's like a little camel, our little camel.
(a pause, and the cast bursts into laughter)
MONTGOMERY: (laughing and confused) What camel?
BAUTA: (sarcastically) Oh, a camel...
PALMA: Like, you know what it means when you have a bunch of ideas and mash it up together?
MONTGOMERY: No.
VOLPE: Oh, a camel... A camel of horse committee or something like that?
VEGA: Oh, that was SO far off!
KAMAU-ARCHIBALD: Nothing to do with anything!
PALMA: I swear it has to do with something*!
(laughter)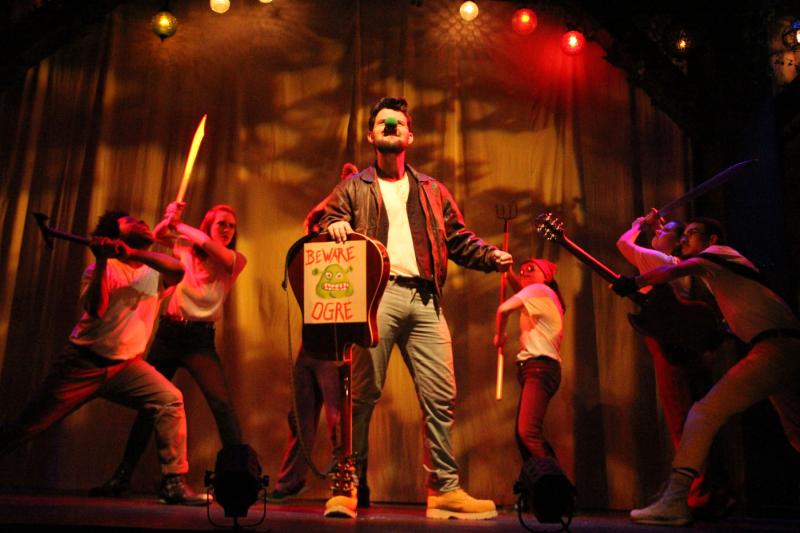 BWW: I'll ask the leads of this show - why should the students, families, and crowds of south Florida see Shrek?
RODAZ: (passing by in the background) Oh, they shouldn't.
(laughter)
KAMAU-ARCHIBALD: I think they should because this is - I'm going to sound really cringe-y right now... It's a family show! It's a show about togetherness and unity and don't laugh at me. (Gordon laughs anyway) Coming together despite your differences and despite all the arguments you've had in your entire life. Just - love each other at the end of the day
VEGA: I think it's fun to be able to go to a theater and expect something - and not get what you're expecting. I love watching reactions of people going, "That's not what I thought!"
PALMA: It's just so different. So different and so unique. You show up thinking you're going to see a big old ogre with ears, but it's just a guy with a clown nose-
BAUTA: It's just me in a clown nose!
PALMA: It's just a guy, it's Shrek, it's great!
MONTGOMERY: I teach pre-school, and one of my kids came to see the show, and he was like, I thought it was gonna be a monster! But it was just Mr. Ryan. It's okay. That made me feel better.
(laughter)
MONTGOMERY: He was really scared about it!
VEGA: That's what it is, taking this monster, Shrek, and making him human.
MONTGOMERY: The monster is just a person.
GORDON: You don't get to see a lot of original work with a show that's so famously known like this.
MONTGOMERY: When most people do it, it's usually an attempt at a copy of the Broadway. I like how we said, "That's not happening! We're going to do our own."
KAMAU-ARCHIBALD: We gave it layers! (a laugh)
PALMA: Everybody tries to copy, everybody tries to copy and paste. "Let's do that!" But what we did, we said, "Let's scrap and make new."
VEGA: Even towards the end of the rehearsal process, JonJon [said], "I like that idea in the beginning but let's scrap it again." We kept refining and cleaning, and refining and cleaning, until it has this - it keeps it fresh. Fresh for the audience.
GORDON: Freeeeesh.
MONTGOMERY: It helps having a crazy cool director that says "We're going to change everything!"
PALMA: We were all like, "This is crazy, this is not gonna happen." I thought, this is not gonna happen. But we did make it happen! It's crazy [that] we're doing this now.
VOLPE: I think that the show strikes a good balance between the everyday fans ("Oh I saw Cats once!"), a casual viewer that loves it, but also, people who are really into theatre have a huge respect for it ("Oh the technical aspect is really impressive"). It's a good balance, everyone can get something out of it. Fans, [or] people who don't even like theatre, can come and watch and love it. I think it's for the people! It's a people show. I know, theaaaaaatre.
RODAZ: (laughing in the background) Are you guys into theatre?
BAUTA: Shrek is the epitome of family, and friendship, and unity -
GORDON: And creation.
BAUTA: And creation! Especially in our version. You want to see fresh, new, authentic theatre? That's why people should come see Shrek.
---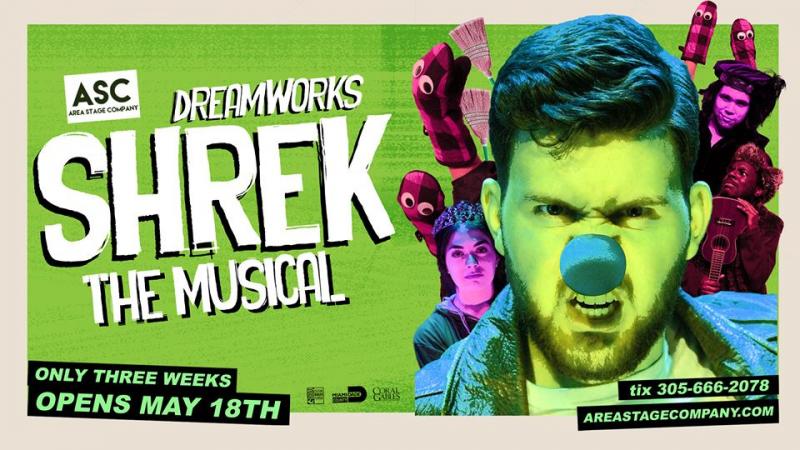 Shrek The Musical plays at Area Stage Company May 18th-June 3rd. Tickets can be purchased online or at the door.
*Editor's Note: Her reference is likely to an idiom, stating: A camel is a horse designed by committee. It is unlikely Palma wants this to do with something in the production.