BWW Review: AN AMERICAN IN PARIS at OGUNQUIT PLAYHOUSE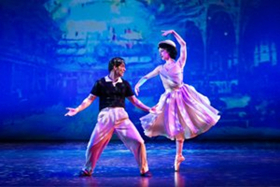 In 1928, George Gershwin composed "An American in Paris" inspired by the time he spent there. It wasn't until 1951 that An American in Paris hit the movie screen starring Gene Kelly and Leslie Caron as directed by Vincente Minnelli.
I've never seen the movie except through a few video montages reflecting the 17-minute ballet scene choreographed by Gene Kelly. So, I didn't know quite what to expect when going to the Ogunquit Playhouse's summer offering of a stage version of An American in Paris.
The experience was, as the French would say, "magnifique."
According to the notes by director and choreographer, Jeffry Denman, his plan was to take the Broadway musical version that premiered in 2015, which leaned heavily to the ballet, and create a stage version that would bring back the grand scale MGM movie quality to the stage. Denman's effort results in a blockbuster stage version that is visually stunning, grand in its scope, and simply dazzling in every respect.
The play starts at the end of WWII when an American soldier, Jerry Mulligan (Clyde Alves), decides to remain in France to pursue his love of painting. He befriends a fellow American and struggling composer, Adam Hochberg (Jeremy Greenbaum), and the son of a wealthy French couple and aspiring cabaret singer, Henri Baurel (Stephen Brower). The trio form an unlikely friendship that they describe as being "The Three Musketeers."
Henri's every move is followed by his doting and ever so proper mother, Madam Baurel (Joanna Glushak), who wants him to have a respectful career in the family business. And in matters of love, she poses the question as to whether her son's "romantic interests may lie beyond the fairer sex." Henri simply responds with a flip of the wrist and an ambiguous grin.
Mulligan soon meets a beautiful ballerina, Lise Dassin (Julie Eicher), that he immediately falls in love with, not realizing that she is betrothed to Henri and the subject of adoration for Adam. Meanwhile, impresario, Milo Davenport (Laurie Wells) has her eye on Mulligan and is willing to do whatever is necessary to bring him fame as an artist and fortune as her lover.
The cast for this show is brilliant in their ability to tell a wonderful story through music and dance.
Alves brings all the boundless energy of the Gene Kelly movie character to the stage with a flair for dance whether in ballet or tap. He's got that "boy next door charm" mixed wonderfully with the "leading man falling in love" charisma that makes the show soar. His vocals are solid and there's a nicely played comic edge in the numbers, I've Got Beginner's Luck, Liza, and the outrageous, Fidgety Feet. He performs wonderfully with Greenbaum and Brower in I Got Rhythm, S'Wonderful, and They Can't Take That Away From Me.
Brower is delightful as the mild-mannered Frenchman who prefers to send a letter to Lise asking for her hand in marriage, rather than asking her in person. Greenbaum creates an endearing character as the struggling composer exuding glimmers of promise while often retreating to his "woe is me" existence. His character is the underdog that we all want to cheer for.
Eicher is stunning onstage channeling the innocence of the movie's Leslie Caron with a large does of the young and beautiful Audrey Hepburn and an amazing resemblance to actress Anne Hathaway. Her voice is melodic and sweet, and her dancing a vision of beauty. Your heart will melt when hearing her moving number, The Man I Love.
Wells is an imposing figure as the wheeling and dealing show producer, Milo. She's no nonsense in her character and a delight in the number Shall We Dance? Her performance with Greenbaum in But Not for Me is a tender show stopper.
I was totally amazed that a set that was so simple in design could be so visually appealing and grand in its effect. With a revolving stage, quick moving flats, and well-placed projections in the performance area, the first few numbers literally create the motion of a bustling city with that large cinematic effect that director, Denman, was reaching for. When there are set pieces brought in for a scene, they magically appear on stage without hesitation or pause and with no disturbance to the eye. Scenic designer, David L. Arsenault, scores a hit for creating such a delight for the eye within the confines of the Ogunquit stage.
And what about that 17-minute ballet that appeared in the movie? Is this recreated in this musical?
Yes, there's a dream sequence ballet but I didn't time it.
When the character, Adam, has completed his ballet, Lise is ready to perform it. The piece is An American In Paris and we see both sides of the stage as it debuts, the cast's perspective and the audience's.
To dance the piece, Lise must imagine her true love, Jerry, being part of the ballet to give herself the courage she needs to perform. And so, Jerry magically appears, and they dance exquisitely beautiful passages together. This number will leave you spellbound.
Like most Broadway musicals, some people find love and live happily ever after. Others, of course, see their dreams fall apart in the end.
An American in Paris guarantees audiences a compelling story, exquisite music, and choreographed numbers that are both engaging and memorable.
For ticket info, go to oqunquitplayhouse.org
Photo by Gary Ng