BWW Review: THE BEGGAR'S OPERA at Grand Théâtre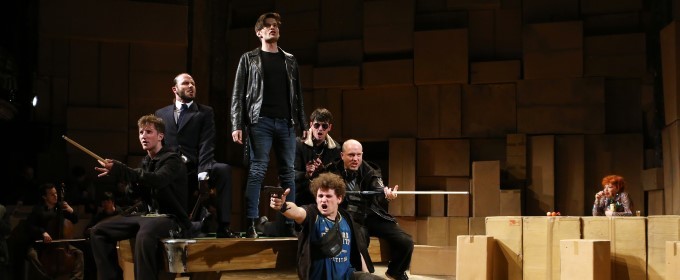 Luxembourg has welcomed a variety of interesting shows over the last months, but it has been a while since the public had a chance to see something as great as this version of The Beggar's Opera. This famous masterpiece devised by John Gay and Johann Christoph Pepuschm, who some claim to have defined our modern understanding of musical theatre, is often subject to small adaptations, in order to better fit a certain decade or national context. In this version, Robert Carsen and Ian Burton made the choice to set the play in modern Britain, using 21st century costumes and writing references to today's social and political environment. While the show was overflowing with Britishness, with some of the actors' accents being at times difficult for non-native speakers to fully comprehend, the performance did not feel exclusively British, due to the universality of the topics brought up and the many references to the European Union and Brexit.
The show starts by introducing the audience to Mr Peachum (Robert Burt), a man who swims like a shark in the local sea of organized crime. A close acquaintance of everyone who matters on both sides of the law, Peachum is a cunning criminal, the man behind the curtain who knows the art of making money in the shadows of the city. Once he learns that his daughter Polly (Kate Batter) has married Macheath, a young crook with a bounty on his head, the concerned father will do everything in his power to turn this unfortunate marriage into profit. Burt's acting and singing are both flawless and one cannot help noticing a strong resemblance between the appearance and tone of his character and the stereotypical image of a wealthy and immoral bourgeois of the 18th and 19th centuries.
He his helped in his intents by his wife, Mrs Peachum (Beverley Klein), a woman who, much like her husband, sees the life as a zero sum game where someone else's loss is her inevitable financial gain. She has the mannerisms of a lovely small town innkeeper, yet the reasoning of a scheming bandit with an alcohol addition. The contrast between the two is unquestionably one of the best sources of humour throughout the play. Klein's singing style is perhaps the most operatic of the entire cast, with a strong vibrato capable of filling the whole room.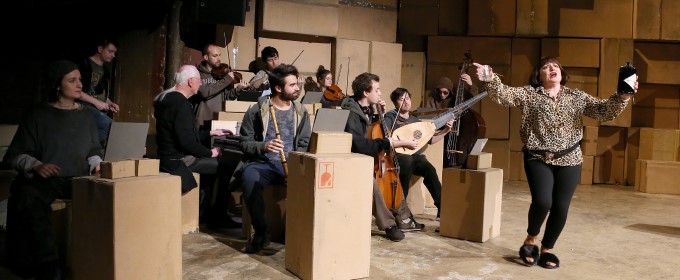 When their daughter Polly (Kate Batter) learns of her parents' disapproval, she fears the worst and makes every effort to save her relationship with her husband. Polly is portrayed as one of the nicest girls in the show, something which in fiction often tends to make a character rather one dimensional. Batter, however, was widely capable of to not reduce her to a naïve child in a pink t-shirt. The scenes in her room brilliantly display her feelings and sexual rendition to Macheath, without making her sound too angsty or too vulgar. In a play where sexuality is a recurrent theme, Polly manages to be the most physically exposed, and yet remain the most decent and respectable character of the narrative.
The delightful anti-hero Macheath (Benjamin Purkiss) is introduced a couple of scenes after the beginning of the performance, in an exchange with Polly that would make you think he is madly in love with the poor girl. His true intentions are soon revealed, however, when the womanizing charmer shows his true colours at the local bar. Most of his real thoughts and feelings are revealed in monologues addressed to the audience since, throughout most of the play, the conman deceives those around him and lies his way out of most situations. Most characters usually have to deliver a variety of emotions, yet Purkiss had a different kind of challenge. In order to portrait Macheath, the actor had to display several ways of being persuasive. It was not enough to look confident and play the alpha male with a leather jacket: a conman of such skill had to be able to convince women in love, women hurt by his actions, gangsters with no moral compass, friends, enemies and strangers. Purkiss lives up to the challenge and gives us the image of a man who is the embodiment of persuasion. His singing parts were also quite well delivered, in a style that was somewhat similar to Ramin Karimloo's.
However, no matter how skilled you might be, you are always bound to make a mistake. A victim of his own womanizing tendencies, Macheath lets his guard down and ends up being betrayed by a group of minxes led by Jenny Diver (Lyndsey Gardiner). Gardiner's character was not given a lot of lines, but it would not be fair to write a review without mentioning her strong presence on stage. Her first dominatrix outfit felt a bit over the top, precisely because the actress's body language already commanded such respect. Also, the dynamic between Jenny and our celebrated conman is quite remarkable. He finds his match in this powerful woman who will not be fooled by a silver tongue.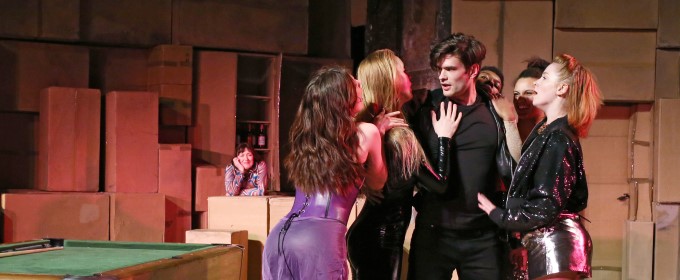 It is at this point that we are introduced to poor Lucy Lockit (Olivia Brereton), yet another one of Macheath's conquests. Pregnant with his child, she is furious to see him return to prison after having used her to escape. But what else should an attractive criminal do, when he discovers that the warden has a daughter? Lucy is not supposed to be an innocent beauty like Polly, nor a sexualized female like Jenny. Brereton gave us something slightly deeper and relatable, a sort of Éponine in a comedy play. It might have just been the emotional way in which the lines were delivered, but there was a depth to Brereton's part that was quite unique throughout the show. (Also, if one can be allowed a more personal note: my favourite accent of the show.)
Lucy's father, the tough and corrupt warden of the prison, is not as fond of the conman as his daughter. In fact, Lockit (Kraig Thornber) soon enters Peachum's game, as he sees the chance to make some money out of Macheath's demise. The two fathers and partners in crime are widely suspicious of each other, yet this old and unsteady alliance has proven to be quite profitable for both. Thornber does a great job at presenting a sneaky and immoral character and it is a shame that he is presented relatively late in the narrative. He is especially strong in his musical numbers and in his monologues.
Last but not least, it is imperative to mention Macheath's gang and the Jenny's group of women. One of the best moments of dialogue in the entire show takes place at the bar, when the gang is gathered discussing politics and pub-philosophy. The dance numbers are quite well executed, but it is the dynamic between the characters that really steals the attention of the audience.
Congratulations are no doubt in order and the standing ovation was very well deserved. Please do return more often.
Image credit: Patrick Berger
Related Articles View More Luxembourg

Stories

Shows
Born in Lisbon, has performed in several plays organized by the Catholic University of Portugal and by Pirate Productions, the most important English speaking theatre (read more...)