BWW Review: THE EFFECT at The Liminal PLayhouse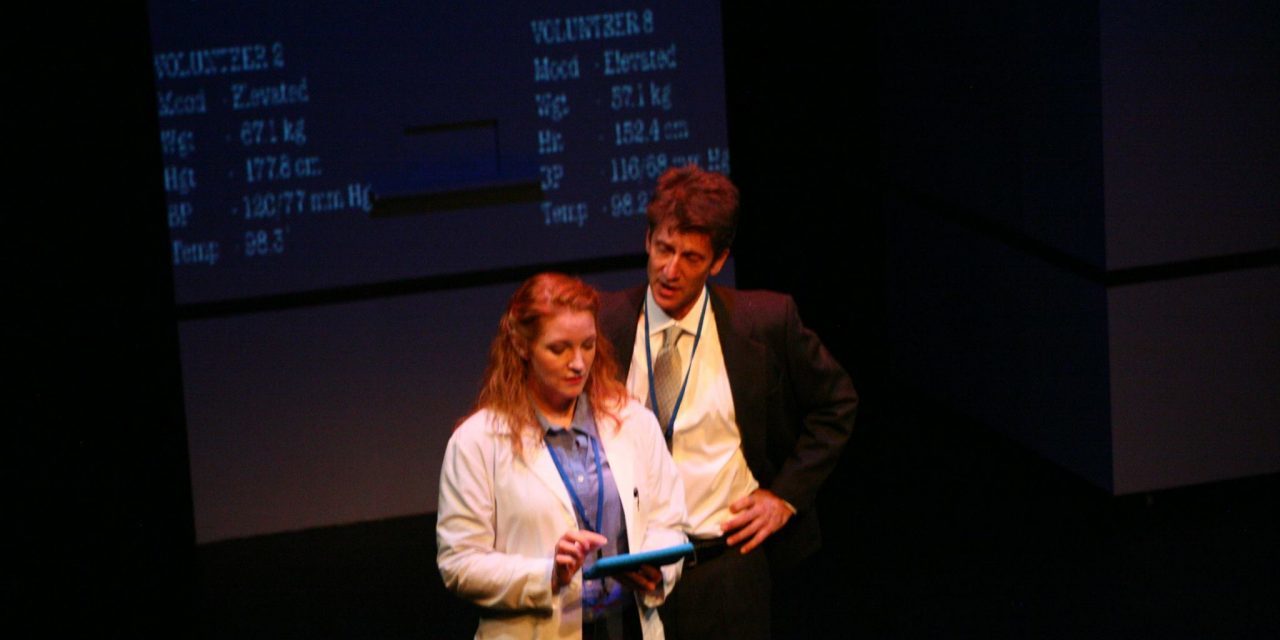 Poets have been seeking the truth about love for centuries. As elusive as the breeze and as prolific as the butterfly.
In The Effect, Lucy Prebble provocatively navigates the territory in which the idea of romantic, compulsive love and irrational behavior due to a chemical imbalance in the brain overlap to the point of being indistinguishable. As we watch a drug trial unfold in ways that affect both the test subjects and the physicians conducting the process, it becomes more and more difficult to decipher what is honest emotion and what is reckless obsession.
Those test subjects are Tristan (Trystan Bright-Hadley), a man who has been a frequent participant and knows "the ropes", and Connie (Megan Adair), a first-timer uncertain of the whole enterprise. They are not the only subjects, they are just the only two that Prebble allows us to meet, and the fact that Connie is the only woman in the current group is of no small importance. Tristan immediately carries on a typical passive/aggressive flirtation with first Dr. Lorna James (Heather Green) and then Connie; the kind of male natural response to any woman who comes within his orbit. It makes Tristan difficult to like in the first half of the play, while the two women earn our sympathy right away: Connie for her vulnerability and Dr. James for her crisp, dispassionate professionalism.
That professionalism is more of a challenge in her relationship with the trial's supervisor, Dr. Toby Sealey (Scott Davis), with him we discover she has a romantic past. A lot of those details remain a mystery, with the playwright mercifully sparing us melodramatic dialogue in favor of suggestion and connotation. Prebble relies on audience identification to get her points across about relationship dynamics. Her premise is well chosen in that the laboratory atmosphere forces us to view these characters at first academically, and then emotionally, from the outside in.
That environment is given well-established perimeters through the routine demanded by the script and ably executed with Kevin D. Grawley's frequently rotated set pieces and Keith Kimmel's unobtrusive but careful lighting. The movement of the sets (by Grace Robinson & Erin Jones as silent Medical Technicians) was handled as efficiently as possible, but I almost never noticed changes in the lighting as they occurred.
Director Kathi E.B. Ellis is gifted with a strong cast, beginning with the always quicksilver and emotionally accessible Megan Adair. All four characters have to chart a specific journey, and Connie's connection to the audience gets the ball rolling. It's crucial for the success of the play and Adair successfully draws us in to this hermetic world. Dr. James' character arc is a reverse of Connie, and Heather Green is in strong form here, ellucidating the tragic collapse of a disciplined mind with fearless discovery.
As for the men, Trystan Bright-Hadley was annoying enough in realizing the character Tristan's early desperate neediness that at first I just plain didn't like him, but all four of these people change through the course of the play, and Tristan's fate is a dramatic turnaround. Scott Davis made Dr. Sealey a nice mix of unctuous integrity leading into a rediscovery of his own sense of decency. I haven't seen Mr. Davis play a sustained, adult character in a good while (he's been either behind the scenes or appearing in shorter improv pieces), and while his relaxed quality is not surprising, it was nice to see him work a longer game, investing Sealey with intelligence and compassion.
The Effect is a comedy, or at least the first act plays for laughs that arise mostly from character and circumstance, but the giddy colors of infatuation lay a foundation for an unexpected arrival at a place where love is tested at a level that not all of us will ever have to confront. Prebble shows what place pain and suffering must occupy in the most powerful and lasting love, and how healing and endless patience can be the most profound expressions of that love.
The Effect
October 25, 26, 27, November 1, 2 & 3 @ 7:30 p.m
October 27 & November 3 at 2:00 p.m.Tickets: $20 in advance, $22 at door
The Liminal Playhouse
At The Henry Clay Theatre
604 South Third Street
Louisville, KY 40203
Related Articles View More Louisville

Stories

Shows