Keith Waits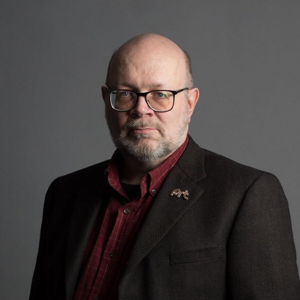 Keith Waits is a native of Louisville who works at Louisville Visual Art during the days, including being the host of Artebella on the Radio on WXOX 97.1 FM / ARTxFM, but spends most of his evenings indulging his taste for theatre, music and visual arts. His work has appeared in Pure Uncut Candy, TheatreLouisville, and Louisville Mojo. He is now Managing Editor for Arts-Louisville.com.
MOST POPULAR ARTICLES
LAST 30 DAYS
LAST 365 DAYS
BWW Interview: Angelica Santiago of SHAKESPEARE IN LOVE at Kentucky Shakespeare

April 14, 2020

12 Questions with Actor Angelica SantiagoJust because stages and galleries are closed doesn't mean there aren't stories to tell about local artists, many of who are out-of-work and uncertain of how they will pay the bills during this current public health crisis. Arts-Louisville will be talking with them.
---
BWW Feature: IS ART LOST TO US IN THIS MOMENT? at Actors Theatre Of Louisville

March 17, 2020

Some art demands you be in the room. Theatre and visual art certainly, and while we can listen to brilliant recordings of orchestral music; the thrill of the concert hall still commands attention.
---
BWW Review: ARE YOU THERE? at Actors Theatre Of Louisville

March 9, 2020

The Long DistanceAnd thus is launched the 44th annual Humana Festival of New American Plays. Once not very long ago the showcase for the Professional Training Company used to be the last show to open; now it OPENS the festival itself. Whether this is just out of love for the members of the PTC, a company that has always been a crucial part of Actor Theatre operations but has more recently taken on distinct intentionality in both the selection and application of said members.
---
BWW Feature: 2020 ARTS-LOUISVILLE/BROADWAY WORLD THEATRE AWARDS at Arts-Louisville.com

February 27, 2020

BWW Feature: 2020 ARTS-LOUISVILLE/BROADWAY WORLD THEATRE AWARDS at Arts-Louisville.com
---
BWW Review: SIX DEGREES OF SEPARATION at University Of Louisville

February 27, 2020

BWW Review: SIX DEGREES OF SEPARATION at University Of Louisville
---
BWW Review: MOTHER COURAGE AND HER CHILDREN at ShPieL - Performing Identity

February 24, 2020

Song Of Capitulation
---
BWW Review: MISS SAIGON at Broadway In Louisville

February 17, 2020

Hot off the success of Les Misérables, the creative team of Claude-Michel Schönberg and Alain Boublil created another war musical: Miss Saigon. Loosely based on the opera Madame Butterfly, Miss Saigon is an epic romance set right before the end of and three years after the Vietnam War. While the musical ultimately lost the 'Best New Musical' Tony to 'The Will Rogers Follies' in 1991, when done properly, it remains one of Broadway's greatest spectacles, something that this production has absolutely taken to heart.
---
BWW Review: HAIR at CenterStage At JCC

February 17, 2020

If you imagine a new production of the classic musical Hair will be a cozy, nostalgic revel in hippie culture you are partly right. But Hair was created as a bold and provocative statement of the counter culture to the establishment, and director Frank Goodloe's take on the material is faithful to both the stylistic and intellectual aesthetic that lies at the heart of the show.
---
BWW Review: LAWBREAKERS: A FAST AND FURIOUS HISTORY OF WOMEN'S SUFFRAGE at Stage One Family Theatre

February 4, 2020

What's the point of voting? StageOne Family Theater sets out to answer this question in the premiere production of Lawbreakers: A Fast and Furious History of Women's Suffrage. Commissioned from native Louisville playwright Diana Grisanti, this hyperactive whirlwind of race and gender inequality is fast-paced with its lessons and bold in its message, and with a first public performance of predominantly young female, this play is sure to inspire the leaders of tomorrow.
---
BWW Review: ONCE ON THIS ISLAND at Actors Theatre Of Louisville

February 4, 2020

Once On This Island is a pretty good show, but this production is closer to great. As with the recent Broadway revival, Robert Fleming exploits the aspect of fable or folk tale at work in the story to interject thoughts of the aftermath of generations of colonialism and the state of island cultures brutalized by nature and Superpowers.
---
BWW Review: DETROIT '67 at the University Of Louisville

January 27, 2020

What you consider to be the turning point of the 1960s may depend on where you were standing. If you lived on the west side of Detroit it may have been July 1967, when five days of rioting left 42 dead. In Detroit '67, Dominique Morriseau creates a story just a short distance from the epicenter of that moment in history, one that puts a face to the volatile social dynamics that we tend to view with an almost abstract perspective 50 years later.
---
BWW Review: AMERICAN PSYCHO at Acting Against Cancer

January 27, 2020

Acting Against Cancer identifies itself as 'a nonprofit semiprofessional theatre company that strives to change the lives of children touched by cancer through the arts.' Within the Kentuckiana theatre scene, they have also developed a reputation as an ambitious theatre company most likely to perform modern musicals often labeled as 'counter-culture' or 'edgy.' Their current production of Duncan Sheik's American Psycho is absolutely the type of show we have come to expect from this talented group.
---
BWW Review: THE WOLVES at Actors Theatre Of Louisville

January 20, 2020

Actors Theatre of Louisville's current production of The Wolves has an embarrassment of riches, onstage and off. Sarah DeLappe's Pulitzer Prize nominated, soccer-centric play is an important script that features 10 girls and femmes who pass the Bechdel Test as easily as the ball. They probably only spent about five minutes of the hour and a half run time talking about boys, and even those five minutes were really more about girls, friendship, and betrayal. The Wolves also has a production staff that is 90% women. That offstage commitment to forwarding gender parity at the industry-wide level is even more rare than the onstage corollary, and includes director Pirronne Yousefzadeh, and movement director Rocia??o Mendez, both of whom are clearly functioning at the height of their game.
---
BWW Review: CHOIR BOY at Pandora Productions

January 20, 2020

With flat out, incredible singing and excellent movement through complicated issues, Pandora Productions' Choir Boy is no-doubt about it a winner.
---
BWW REVIEW: Jesus Christ Superstar from Broadway In Louisville

January 20, 2020

Would you believe that Jesus Christ Superstar has been a part of our musical theatre repertoire for 50 years now? That almost stops me in my tracks as I can recall singing choral arrangements of this production when I was but a budding and promising middle school student. Songs such as 'What's the Buzz', 'I Don't Know How to Love Him' and the title song have been part of the shaping of many a young singer.
---
BWW Review: THE BAND'S VISIT at Broadway In Louisville

December 13, 2019

a??a??a??a??a??a??a??The Band's Visit is an unusually styled musical based on the 2007 Israeli film. Performed without an intermission, it features Arabian-flavored musical numbers and a mostly upbeat plot. It premiered on Broadway in 2017 and is one of only four musicals to win the 'Big Six' Tony Awards, which include Best Musical, Best Book, Best Score, Best Actor in a Musical, Best Actress in a Musical, and Best Direction of a Musical.
---
BWW Review: A CHRISTMAS CAROL at Actors Theatre Of Louisville

December 9, 2019

God Bless us, everyone! My childhood came back to me while witnessing the holiday classic A Christmas Carol by Charles Dickens. This annual production by Actors Theatre of Louisville hit all the high notes on opening night and delivered a magical feast for the eyes, ears, and heart. After four decades this production still thrills and delivers the message of redemption and kindness from the past, present, and future. I was so happy to experience it among many families and I especially enjoyed hearing and seeing children's reactions to the show.
---
BWW Review: ELF THE MUSICAL at Derby Dinner Playhouse

December 2, 2019

Derby Dinner Playhouse has earned a reputation in the Kentuckiana area for putting on excellent productions that audiences really enjoy, and their production of Elf: The Musical certainly reinforces this reputation. Elf is based on the 2003 film featuring Will Ferrell as Buddy the Elf. The musical ran on Broadway during the holidays in 2010, and, once again, in 2012, and broke box office records at the Al Hirschfeld Theatre.
---
BWW Review: THE BURN IT ALL DOWN PLAY at Louisville Fringe Festival

November 25, 2019

A young woman, an actor (Mollie Murk), recounts her experience of being raped by an important theater director. The understanding and compassionate handling of the incident by company producers doesn't obscure the truth that a formal report will almost certainly prevent her inclusion in future productions. One of the roles she takes on is Lavinia in Titus Andronicus, and she draws insightful parallels with herself and the fact that the traumatized character's inability to speak of her own sexual assault is brutally restricted and her life forfeit for the sake of honor.
---
BWW Review: ROSENCRANTZ & GUILDENSTERN ARE DEAD at Commonwealth Theatre Center

November 25, 2019

Tom Stoppard may not have created the notion of meta-theatricality but he established his reputation with Rosencrantz and Guildenstern Are Dead, a play that quickly became a milestone in Western theatre and influenced a tendency for heady self-awareness in generations of future playwrights.
---