Click Here for More Articles on SHAKESPEARE SPOTLIGHT
BWW Review: Characters Defend Their Worth in UNSPOKEN: SHAKESPEARE'S PERSONAE IN PERIL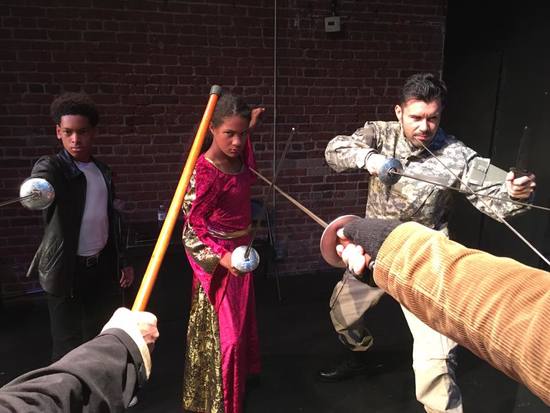 Los Angeles Drama Club jumps into the controversy about rewriting Shakespeare for modern audiences in UNSPOKEN: SHAKESPEARE'S PERSONAE IN PERIL. Part II of a trilogy exploring what has become a sore subject among Shakespeare circles, it takes a strong stand and presents persuasive food for thought in this year's Hollywood Fringe Festival.
The one-hour comedy is written by Blaire Baron, artistic director of the LADC, which she founded as a Shakespeare company for youth to perform full-length productions. By immersing themselves in classical literature, students build confidence, increase literacy and communication skills, and experience an increased sense of worth that ultimately benefits the community at large. For UNSPOKEN, two student actors join nine adults to take on the original story.
An overworked, stressed out Lady Macbeth (Blaire Baron) has been bumped from her private dressing room by new management to accommodate original Baywatch babe, Pamela Anderson. The infuriated drama queen is reduced to sharing a communal International Greenroom, the backstage holding area where actors for Shakespeare plays around the world await their cues to go on, and not even the stage manager (Ida Darvish) can appease her.
Among the lot are Fortinbras from Hamlet; The Philostrate from A Midsummer Night's Dream; Hecate from Macbeth; Christopher Sly (The Taming of the Shrew); Old Blind Gobbo (The Merchant of Venice); and Lady Montague, Rosaline, and Gregory from Romeo and Juliet - all minor characters Lady M feels are beneath her.
For the next half hour, all of them will boast, bemoan, and argue over their lack of stage time and perceived slights in an exposition-heavy exchange. The characters are drawn in broad strokes and director Matthew Singletary has pitched them at full throttle from the top of the play. Most are loud and angry, and though comical at times, starting out at such a heightened level limits where the actors can go.
Finally, a plot twist 30 minutes in brings news that the dramaturg is rewriting the plays, cutting them down to an hour to placate modern audiences with shorter attention spans, and deleting characters deemed unnecessary. Now they've got a real problem and it is at this point that the story becomes interesting. There is to be a hearing so they can defend their character's relevance and each will have one minute to tell the world why they should survive. It's a fresh idea and an exciting one to explore but, at the moment, the play is telling two different stories.
The first half of the tale is a device to get Lady Macbeth (an "important" character) into the second half of the story (concerning the "less important" characters) which is really what the play is all about. Getting to this conflict faster and moving some of the earlier dialogue here but with greater nuance and specificity would give all of the characters a more compelling journey. Rather than wasting precious stage time on petty bickering, their pursuit of truth, justice and the Shakespearean way would have been a worthy one.
Within that context, each character's personal story would become an opportunity for meaningful, humorous, or otherwise engaging dialogue about the power of individuality. It also raises the stakes.
Given the current construct, Rosaline (Nadia Trinidad) comes to the forefront as the most interesting character. She is only talked about in Romeo and Juliet and never even gets a chance to step on stage but her story in UNSPOKEN is one that has depth.
She's been waiting in the wings for 417 years and knows all the lines to every other character's scenes. When Trinidad launches into Lancelot Gobbo's dialogue in Merchant or Sampson's opening scene with Gregory (Michael Goodman) in Romeo and Juliet, or talks about Christopher Sly's (Brian Graves) Shrew prologue always being cut, it poignantly shows the extent of her longing and we feel for her. At 12-years old, there is also a budding young actress here with a promising career ahead of her if she remains as intently focused as she is in this production.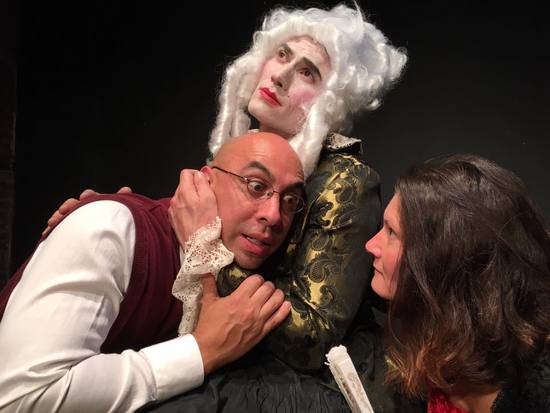 Late in the play, Brandon Nagle, who has said very little in his guise as Lady Montague thus far, offers the wisest insight into Shakespeare's thought process. What is remarkably perceptive about his words is that they are also relevant to every person in the audience as well.
Ultimately, UNSPOKEN's message isn't only about determining the worth of Shakespeare's minor characters, it's about encouraging us to consider what value we bring to the world in the face of those who would have us defend our very existence. Finding relevance in modern times in the words of a poet written over 400 years ago is an exciting prospect. To do it using theatre as a vehicle gives it even more emotional heft. This is a show with great potential and should be on your watch list as it continues to develop.
UNSPOKEN: SHAKESPEARE'S PERSONAE IN PERIL
June 3 - 17, 2017
Asylum @ Underground Theatre
1312 N. Wilton Place
Hollywood, CA 90028
Tickets and more info: http://hff17.com/4559