Review: YOU IN MIDAIR Shares a Mother's Elegy for her Daughter Lost to Gun Violence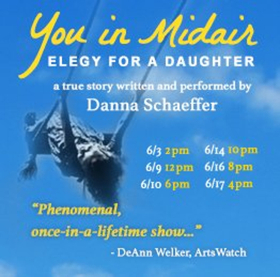 I saw a total of 24 shows during this year's Hollywood Fringe Festival, many of which entertained and moved me to praise them is reviews I posted on the Fringe website. But there were a few that deserve mention on Broadway World for possible full runs at other theaters. The first I am posting about is the solo show YOU IN MIDAIR which I saw at the Lounge Theater.
I clearly remember when actress Rebecca Schaeffer was murdered in 1989 on her doorstep by a fan who was stalking her, long before this type of behavior was the norm as it seems to be today. This solo show, written and performed with amazing emotional insight by her mother Danna Schaeffer, begins with stories from her only child's childhood during which she worried if little Rebecca was out of her sight for a few minutes.
So imagine how this proud mother, who spoke daily with her daughter when she moved from Oregon to Los Angeles to pursue her acting dreams after landing the lead role in My Sister Sam and then visited with her in Rome and Venice while filming a movie, reacted with disbelief when a call from a police officer in Los Angeles informed her that Rebecca had been gunned down and died.
In YOU IN MIDAIR, Danna somehow has the ability to recount the horror of that night and the weeks that followed from having to identify the body to planning a funeral. Shared with so much heartfelt emotion that you can feel her heart in yours,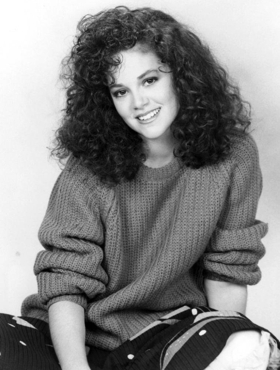 this production directed by Julie Akers, needs to be seen by anyone not believing that gun laws need to be enforced to keep crazed lunatics from creating havoc against innocent victims.
With a 90 minute run time, this show deserves a full at a local theater since Rebecca's death happened in this city. It would be great to include even more photos and videos from Rebecca's life when this show is extended so everyone can appreciate how her mother's never-ending love keeps her spirit alive.
Photo of Rebecca Schaeffer