Review: World Premiere FREDDY Pays Tribute to the Life and Death of an Avant-Garde Dance Icon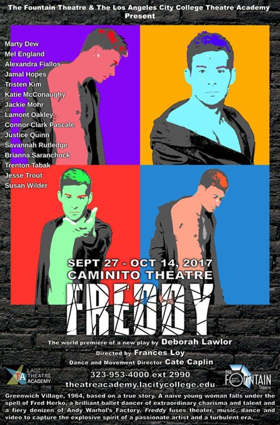 Raised in an upstate New York blue-collar family, Fred Herko showed much promise as a concert pianist, going on to attend Julliard. But at age 20 after seeing a performance of Giselle, he announced his intention to give up the piano and become a ballet dancer. The resulting severe beating by his father for pursuing a career for gay men, only inspired Herko to follow the type of life he dreamed for himself after being awarded a four-year scholarship to attend the American Ballet Theater School. He moved to Greenwich Village and never looked back during his too short yet wildly successful career.
From 1963-64, Herko became a regular in Andy Warhol's wildly free-spirited club scene, going on to star in Warhol's first movies. The talented dancer became a founding member of the experimental Judson Dance Theater and co-founder of the New York Poets Theater, both famed for their unconventional work, mostly as "happenings" geared to the avant-garde scene where he was worshipped as one of city's most brilliant and charismatic dance artists and pursued for his renowned sexual appetite by both men and women.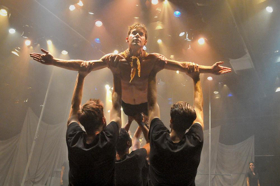 Even today, no one is sure if the 28-year old dancer and performer really intended to kill himself when he jumped out of the fifth-floor window of his friend Johnny Dodd's Greenwich Village apartment in 1964 while high on speed and possibly LSD. The manner of Herko's strange death merely added to his mythology, especially since he leapt from the window naked with Mozart playing at full blast.
Set in Greenwich Village in 1964 and based on a true story, the world premiere of FREDDY,
written by Fountain Theatre co-artistic director Deborah Lawlor, directed with perfect wild abandon by Frances Loy and frenetically expressive movement and dance choreography by Cate Caplin, fuses theater, music, dance and video to capture the explosive spirit of a passionate artist and a turbulent era. The production inaugurates a new partnership between the Fountain Theatre and the Los Angeles City College Theatre Academy at LACC's Caminito Theatre.
Lawlor, who began her career as a dancer, choreographer and actor in New York,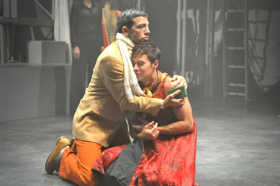 was a personal friend of Herko's. "I carried around all those memories for a very long time before I finally sat down to write," she says. "Freddy and I were students of Jimmy Waring together, and we were both involved with the Judson Church, which was at the heart of the downtown dance scene. Freddy was a brilliant talent and good friend to many people. His death shocked us all."
Along with Fred Herko (portrayed by incredibly lithe dancer Marty Dew
who commands attention every moment he is on the stage), the play centers on Shelley, a naïve young woman who falls under the spell of the brilliant ballet dancer filled with extraordinary charisma and talent. We first meet the older, modern day Shelley whose memories create the framework of the play, played by Susan Wilder, a former member of San Francisco Dance Theatre, and Katie McConaughy as the younger Shelley in 1964.
The two women perform in unison brilliantly,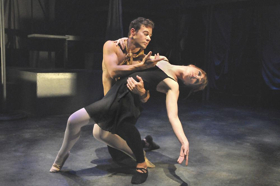 allowing us to see the story as it is being told by Wilder as memories of her extraordinary time with Herko as a fiery denizen of Andy Warhol's Factory. The three actors/dancers perform one number together, celebrating the only sexual encounter between Herko and Shelley, with both women dancing with joy at being overwhelmed by his attention. Congrats to Caplin for making the scene realistically dreamlike and not overly revealing as the three cuddle together on the floor.
Other actor/dancers of note are Mel England who takes on the role of dancer, artist and designer James Waring, Herko's friend and mentor, and Jamal Hopes as Johnny Dodd, his friend and fellow dancer who opened his home to Herko, only to have him leap to his death from it. The cast is rounded out by Los Angeles City College Theatre Academy students Alexandra Fiallos, Tristen Kim, Jacqueline Mohr, Lamont Oakley, Connor Clark Pascale, Justice Quinn, Savannah Rutledge, Brianna Saranchock, Trenton Tabak and Jesse Trout, all of whom take on many roles in an assortment of period-perfect costumes designed by JillIan Ross.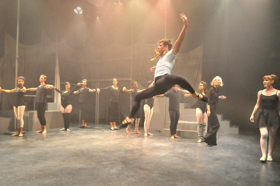 Along with Loy, Lawlor, Caplin and Ross, kudos go out to the entire technical team who put together such an amazing world premiere with only a month of rehearsals: scenic/projection designer Tesshi Nakagowa, lighting designer Derek Jones, sound designer Vern Yonemura, and props master Amrit Samra. The production stage manager is Jasmine Kalra with James Bennett and Leslie Ferreira produce for the Fountain Theatre and LACC Theatre Academy respectively.
FREDDY runs Sept. 27 through Oct. 14, with performances on Wednesdays at 8 p.m.; Thursdays at 3 p.m. and 8 p.m.; Fridays at 8 p.m.; and Saturdays at 3 p.m. and 8 p.m. General admission is $25. The Caminito Theatre is located on the campus of Los Angeles City College at 855 N Vermont Ave. Los Angeles, CA 90029. Parking is FREE in Structure 4 on Heliotrope at Monroe (between Santa Monica and Melrose). For reservations and information, call (323) 663-1525 or go to www.FountainTheatre.com.
Photo credit: Ed Krieger