Review: The Funny Ladies Rule in Musical Theatre West's 9 TO 5 - THE MUSICAL
The delightful stage adaptation of the 80's box office hit comedy is a showcase for some incredible female lead vocals belting Dolly Parton music.
Workplaces have certainly evolved since the 1980's, so watching Musical Theatre West's enjoyable new production of 9 TO 5 - THE MUSICAL---the 2008 stage adaptation of the hit 1980 film about gender dynamics in the corporate world---is like reopening a comedy-laced time capsule from the era of big shoulder pads, office secretarial pools, and HR-allowed misogyny.
But beyond just feeling like a nostalgia-baiting recreation of a fairly significant 20th-Century pop culture tent pole, 9 TO 5 - THE MUSICAL---now blessed with an expanded songbook from one of the original stars of the film, country music icon Dolly Parton---exists as a fun opportunity for a trio of leading ladies to showcase their vocal talents, and, perhaps, even their comedic chops within a framework of a stage musical.
And, luckily, the very likable and musically-gifted trio that has been assembled for this particular new regional production---which continues performances at the Carpenter Performing Arts Center in Long Beach through February 26---is a terrific grouping, with each actor excelling in their respective, iconic roles with recognizable talent and skill... evident even despite their microphones on Opening NIght barely functioning well enough to adequately pick up everything they were singing.
It's quite a task to take on, considering Southern California audiences may already be familiar with how the characters were first portrayed on stage---that is, if they had the opportunity (like myself) to have seen the original "out-of-town tryout" of the show during its pre-Broadway premiere at Los Angeles' Ahmanson Theatre in 2008. That luxe-looking but too lengthy debut production starred Allison Janney, Stephanie J. Block, and Megan Hilty in the roles that were first famously embodied by Lily Tomlin, Jane Fonda, and Parton in the movie, respectively. All three stage thespians, of course, went on to reprise these same roles for its eventual heavily-retooled Broadway production.
A year after it closed on Broadway, the show was once again revised and revamped for its first national tour production in 2010, which proved, at least for me, to be a vast improvement amongst all its stage incarnations. Admittedly, it's been quite some time since I last saw the show, so I'm not wholly sure whether any further changes have been made to it between that touring production and the licensed version now being performed by MTW.
But I can at least attest with great certainty that MTW's new staging of 9 TO 5 - THE MUSICAL---admirably directed by Cynthia Ferrer, who helmed MTW's lively DAMN YANKEES last fall---is, as I fondly remember it, quite a pleasing musical comedy filled with hilarious dialogue, outrageous silliness, an over-the-top central plot, and, of course, really catchy Dolly Parton tunes---all performed by an excellent ensemble cast that one can tell is über-determined to entertain the audience and to do right by their show's beloved source material.
Featuring a book by Patricia Resnick (who co-wrote the film's original screenplay with its director Colin Higgins), 9 TO 5 - THE MUSICAL---similar to the movie, of course---is a humorous, often cheeky examination of the lives of working women struggling to maintain their sanity as they navigate the (outdated) norms and policies of a suffocating, male-dominated environment that is Corporate America.
That environment---exaggerated a tad for this musical comedy---is represented by Consolidated Companies, the show's fictional conglomerate headed up by creepy AF company president Franklin Hart, Jr. (Edward Staudenmayer), a walking cliché of a typical sleazy, tyrannical, misogynist boss whose straight white male entitlement gives him very little room for kindness, empathy, or respect towards his subordinates... particularly the female ones.
To put it simply, he is repeatedly described as a "sexist, egotistical, lying, hypocritical bigot," a label he definitely deserves.
But, in reality, much of the real work at the company is being spearheaded by the smart, business-savvy floor supervisor Violet Newstead (the excellent Daebreon Poiema). A busy, widowed single mom to a teen son, Violet is often frustrated with being consistently ignored, abused, and overworked despite her tenacity, her brilliant ideas, and her years of seniority and experience. Even worse, Hart often takes credit for her good deeds, while also getting routinely passed over for promotions that are instead awarded to less-qualified men, some of whom she herself once trained.
Understandably, this has turned Violet into a cynical, stern workhorse, but yet she allows for a bit of empathy to sneak through upon meeting nervous newbie Judy Bernly (the delightful Ashley Moniz), a freshly-divorced housewife who has just entered an office work environment for the first time ever, a move necessitated by her discovery that her cheating ex-husband has run off with his much younger secretary. Now alone on her own in the big city, Judy is finding it quite challenging to be a working woman for the first time.
Meanwhile, vicious (untrue) gossip is rampant amongst the secretarial pool regarding Hart's comely secretary Doralee Rhodes (the superb Madison Claire Parks), a happily married Southern Belle whose sweet-and-sassy outward personality is her armor to deal with her daily challenges, which include having to put up with constant---and quite unwanted---sexual harassment from her boss.
Everyone in the office assumes the rumors of Doralee having a consensual affair with Hart is true, so they shun her and continue to whisper behind her back. Sadly, even Violet herself contributes to the false rumors, and follows everyone's lead by ignoring and avoiding being around Doralee despite her genuine friendliness.
This toxic work environment is made even worse thanks to the office's nosy busy-body Roz Keith (hilarious scene stealer Chelle Denton), Hart's over-attentive administrative assistant who's hell-bent on enforcing oppressive office rules while also carrying a not-so-secret, obsessively stalker-like crush on her boss.
The powder keg of resentment and toxicity finally explodes when Violet---despite repeated promises from Hart---is once again passed over for a promotion in favor of one of Hart's lackeys. At the same time, Doralee finds out about the rumors surrounding her alleged affair that, she discovers, Hart himself help spark, while in the out in the bullpen, Judy watches as her good friend is summarily fired just for openly discussing the shocking salary disparities between the male and female staffers doing similar jobs.
Livid with Hart and his stature in the company, the three women form a make-shift union of disgruntled worker bees. Sparked by an herbally-enhanced sharing of grievances, each fantasizes about how they would each do away with Hart.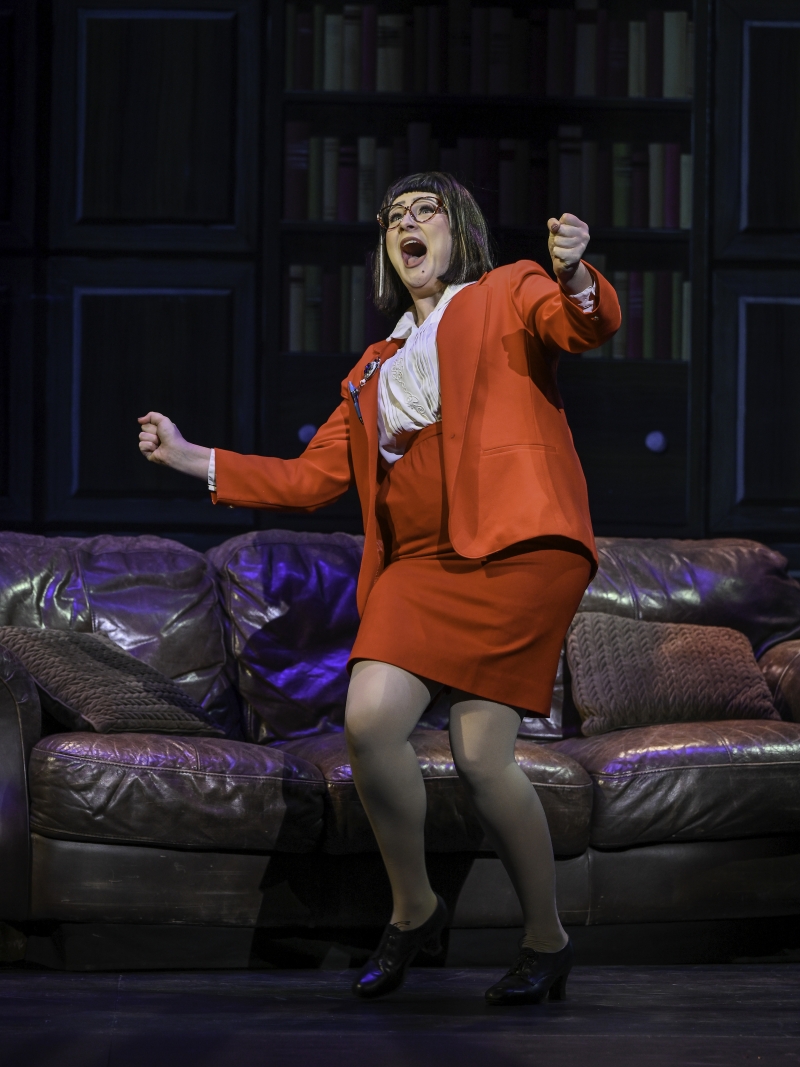 But, in the real world of corporate politics, can Hart and others like him really be stopped? And is it even possible to make positive changes in their work environment or are they doomed to continue with this oppressive, unfair status quo?
Quite cheeky and charming, 9 TO 5 - THE MUSICAL has enough imbedded aspects in its DNA to make it a very lovable, likable show. Much of the dialogue---lifted directly from the movie's screenplay---is genuinely funny and Parton's new songs have this undeniable tenacity and resolve. While I can't say that I will miss "Always A Woman" from the first act, the heartwarmingly hopeful song "I Just Might" (a song that wasn't in the Ahmanson production I saw) is one of many welcome additions.
And though the trio of "fantasy" sequences (which were much more effective and impactful in the film) still need some fine-tuning for its stage reinterpretation, the MTW production itself, overall, is a resounding humorous success, checking off most of the boxes when it comes to good musical comedies.
Kudos to choreographer Alexis Carra Girbés for staging some energetic dance numbers, including the dazzling opening prologue and the follow-up "Around Here." Visually, the show is a colorful, smile-inducing homage to the 80's aesthetic, from Robert A. Kovach's old school office set designs to Shannon Smith-Regnier's vibrant costumes (both courtesy of Music Theatre Wichita). Andrew Nagy's projection designs and Paul Black's lighting designs dynamically punctuate it all for a finishing touch.
But by far my favorite aspect of MTW's production is its leading ladies, all of whom are just spectacular and mesmerizing to watch.
Poiema's divalicious re-imagining of Violet is absolutely perfect, considering the stage role was originated by an actress who basically speak-sings the character's songs. In Poiema's hands, Violet is much more commanding when she riffs the bejesus out of Dolly's anthems. Moniz is effectively timid at the start but then triumphantly bursts out with glorious conviction with her 11 o'clock number "Get Out and Stay Out" which shows her newfound strength not only in voice but in spirit. It's a striking transformation. And, finally, Parks, for her part, is convincing as the sassy Doralee, channeling the appropriate amount of Dolly-ness without making her performance merely an impersonation of the singer. Parks' aching pathos is palpable just as much as her unbridled sunny disposition. She easily wins the audience over as soon as she steps onto the stage.
Which is why it pains me to say that these wonderful ladies were done such a disservice during the show's otherwise impressive opening night performance because of the unfortunate (and, if I'm being honest, rather jarring) sound imbalance throughout the show.
For some reason, the three leads (and, Denton) had their microphone levels set at a lower volume, rendering their solos mostly muffled and hard to comprehend, especially during times when the show's outstanding (but much louder) orchestra---under the expert baton of musical director Wilkie Ferguson III---is at its most rousing peaks. It wasn't enough to completely derail the show for me personally, but it became a bit of a running nuisance that other patrons I spoke with confirmed during intermission.
The trouble began with the opening number and, unfortunately, continued throughout the run of the show. The mix gets even more muddied when both the full ensemble and the orchestra are both more amplified than the lead soloist(s) uttering the most important lines of any given song. I frankly struggled a bit trying to decipher the emotional lyrics in "I Just Might," the show's lovely, introspective "want" song because the volume of both the orchestra and the background vocals just overpowered the emotionally quieter delivery of these actors. Thank goodness for the moments when each soloist gets to belt, because it allows them to finally rise above the chaos!
Hopefully this issue is addressed before the next set of performances.
But, ultimately, MTW's production of 9 TO 5 - THE MUSICAL is an enjoyable one, marked by its nostalgic embrace of the film that spawned it---not straying too far, but not making it a mere Xerox copy either. To hammer that idea home even further, the show (SPOILER ALERT) opens and closes with, yes, Dolly Parton herself, who makes an appearance via projected, pre-recorded video, much like a hovering deity giving the show her blessing. It's a fun little surprise seeing her "interacting" with the show, by first welcoming the audience, introducing us to the characters, and then, later, leading us all in a final sing-along at the end---reminding us again why this adaptation exists.
At the heart of the musical, however, is the infectious camaraderie formed by the show's lead trio, all of whom are first-rate as both individuals and as a combined unit. They succeed in providing audiences with three characters they can wholeheartedly root for---even if some of their methodology (i.e. kidnapping, forced entrapment) is flawed.
Endearing in its cheesiness but earnest in its well-intentioned message, 9 TO 5 - THE MUSICAL is a fun (and funny) story to revisit both on film and, yes, on stage.
Just, please, make sure those soloist mics are turned up.
Follow this reviewer on Twitter: @cre8iveMLQ.
Photos © Caught In The Moment Photography/Musical Theatre West.
---
Performances of Musical Theatre West's production of 9 TO 5 THE MUSICAL continue through Sunday, February 26, 2023. The Carpenter Performing Arts Center is located at 6200 E. Atherton Street in Long Beach, CA. For tickets or for more information, please call 562-856-1999 x4 or visit online at www.musical.org.