Review: THE UNTRANSLATABLE SECRETS OF NIKKI CORONA Takes Audiences on a Phantasmagorical Journey to What's Beyond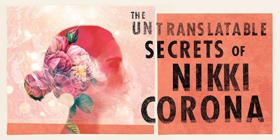 Have you ever wished for one more chance to say something to someone who has passed away suddenly? What if there was an organization that could arrange for messages to be delivered to those who have died by pairing you up with someone terminally ill who agrees to deliver that message once they have passed on? Would you do it? And what if it was extraordinarily expensive with no way of knowing if your message was ever received? That is the simple magical premise of THE UNTRANSLATABLE SECRETS OF NIKKI CORONA, a new play written by Obie Award-winning playwright José Rivera, premiering at The Geffen Playhouse through October 7.
The play begins with Nikki Corona's twin sister Abril (both brilliantly portrayed by Onahoua Rodriguez as two very different personalities) standing on a bridge, leaving a voice message for her sister before leaping through the black glass of the water below to take her own life. And the fact that Nikki did not pick up the call, not wanting to be bothered at the moment, sets up the plot of the play with Nikki at such a sense of loss and guilt that
she yearns to tell her dead sister one last thing so that she can again get some sleep at night.
As the scenes play out, the central stage platform revolves through the scenic design by Myung Hee Cho and Hana S. Kim's artistically amazing projection designs to allow for characters to appear to tell the story and then disappear. As the bridge moves off, an office desk appears at which Maren (Cate Scott Campbell) sits informing us what service she provides while preparing for her next meeting at A Better Orpheus, Inc. Like its namesake character from Greek mythology who was able to visit the dead in Hades to retrieve his lost love only to lose her when he glanced back to be sure she was following him out, Maren meets with those grieving a dead person who wish to communicate with them one more time to gain peace and closure to perhaps end their guilt over a loved one's passing. Even though she must be convinced her message will be delivered by a "messenger" hired by Maren to deliver it to her sister,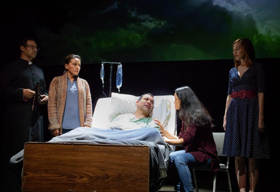 especially since there is no way she will ever know if the secret she wishes to tell Abril was ever delivered, will Nikki agree? What would you do?
Trusting the persuasive grief counselor that Maren is, Nikki signs the contract which allows her to meet with the soon-to-be-dead "messenger" who has agreed to carry her missive to the afterworld with him and deliver it to her sister, if he can find her of course. That caring person is Orlando (Ricardo Chavira, the real "star" of the show), a terminally ill cancer patient who is soon circled in lying in his hospital bed,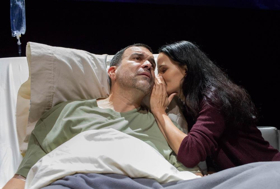 assisted by his hip caretaker Manny (Juan Francisco Villa).
Act 1 consists of Nikki and Orlando getting to know and trust each other, ending with Nikki whispering a secret she wants shared with her sister when Orlando finds her. Though we never learn what that secret is, Orlando's plea "how will I remember all those words" lets us know its meaningful contents are heartfelt and necessary to be communicated to set Nikki's aching soul at peace.
Even though the wordy first act is made up of mostly exposition,
take note of the important family information being shared to fully comprehend what happens emotionally during Act 2 as this unconventional love story takes Orlando on a phantasmagorical journey to what's beyond in a magical succession of rooms populated by people from his past who must continually live out their worst regret before being able to clear their heart to move on to what's next.
Not wanting to be like them, Orlando listens to his underworld guide, the flame-haired,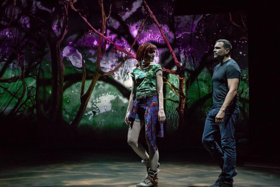 feather-topped Lisandra (also portrayed by Cate Scott Campbell), allowing each to share their story as he searches to find Abril and deliver Nikki's message so he accomplishes his final task, thus clearing his own heart to move on to what surely must be heaven, he hopes. It is during his journey that the play shines brilliantly, delivering life and closure lessons from which we can all benefit.
While not wanting to give the entire story away,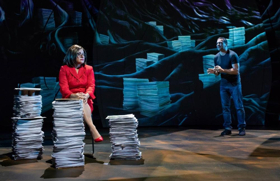 I will tell you about a few of the standout performances that take place during Orlando's after-life journey, with all characters mentioned portrayed by Zilah Mendoza (the women) and Juan Francisco Villa (the men). Each "room" Orlando visits is circled in as the one prior to it is moved off, allowing his journey walking from room to room to take on a very realistic movement, thanks to director Jo Bonney, the overall amazing scenic and lighting design, and the marvelous transformation in characters portrayal by the two actors.
Perhaps one I will tell you about is Orlando's younger brother Felipe (Villa), a handsome and macho, leather-clad biker who died in a crash
because he did not choose to wear his helmet that day. As the two brothers meet for the last time, it becomes very clear that this was one of the steps Orlando needed to take to move on, communicating his anger and guilt for not stressing that Felipe always wear his helmet. Once their encounter ends after a physical fight, Felipe is left sitting as he was when Orlando first found him, pounding away at his helmet, forever blaming it for his death rather than himself.
Villa also portrays Eldon, an elderly explorer and talked-about relative from Orlando's family,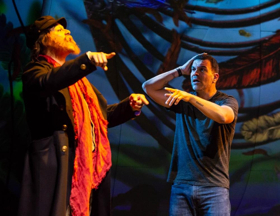 who unthinkingly took his gentle pet cats with him to an isolated island where he lived in a lighthouse. There he excitedly discovered a new breed of bird never seen before, only to have his cats kill every one of them before he could tell the world of his discovery. Poor Eldon continues to live in hell, forever trying to catch and save at least one bird in the giant net he swings at the avian projections who continually pass over just beyond his reach. Being a bird owner myself, this scene brought tears to my eyes.
Now I bet you are wondering
if Orlando ever meets up with Abril to deliver Nikki's secret. After journeying into an underwater realm ruled by an octopus we never see, he finds Abril and is able to whisper Nikki's secret to her. Abril's ensuing loud and heartfelt laughter lets us know she got the message, even if we never learn what it was. I have to tell you, it still has me wondering - and thinking about my own regrets in life that should be communicated before I depart, just as AA encourages its members to do before they can move on past their own demons to fight addiction. Perhaps this is a lesson we should all take to heart and get rid of the guilt before we attempt to move on to whatever is next.
THE UNTRANSLATABLE SECRETS OF NIKKI CORONA continues through October 7, 2018 on Tuesday - Friday at 8:00 p.m., Saturday at 3:00 and 8:00 p.m., Sunday 2:00 and 7:00 p.m. in the Gil Cates Theater at The Geffen Playhouse, 10886 Le Conte Avenue, Los Angeles, CA 90024. Tickets are priced at $30.00 - $120.00., available in person at The Geffen Playhouse box office, by phone at 310.208.5454, or online at www.geffenplayhouse.org. Rush tickets for each day's performance are made available to the general public 30 minutes before showtime at the box office. $35.00 General / $10.00 Student
Photo credit: Darrett Sanders