Review: Space Oddity Featuring David Brighton Brings The Ultimate David Bowie Experience to the El Portal in NoHo
Space Oddity - The Ultimate David Bowie Experience is a live, multi-media spectacle that takes you on a musical journey through the constantly metamorphosing career of Rock and Roll's most celebrated innovator, starring David Brighton who inhabits the mind, body and soul of David Bowie and his amazing Space Oddity band. I guarantee you will experience a stunning note-for-note theatrical concert event which transports audiences back in time through some of the most exciting moments in the history of Rock music.
From the moment the concert begins,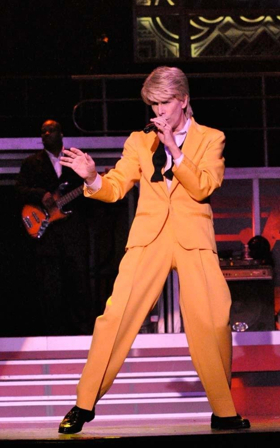 you will experience Bowie's miraculous transformation from space-aged rock idol to polished mainstream media star via his timeless classics that forever changed the face of pop culture. David Brighton's salute to the most electrifying performer of our time will have you believing you are in the presence of Bowie reincarnated.
David began his musical career as a professional guitarist...playing lead guitar with a number of popular recording artists. His stint as a sideman began with a phone call from Kevin Dubrow from Quiet Riot. Dubrow tapped David to replace the legendary guitarist Randy Rhoads.
David also enjoyed portraying George Harrison around the world with a number of the world's top Beatle groups, including: Rain, The Stars of Beatlemania, The Fab Four, 1964, Twist And Shout, Classical Mystery Tour, and When We Were Fab.
David Brighton is now credited as being the world's best David Bowie impersonator, with one of the most entertaining acts ever to hit the stage. And as a fan who first encountered his amazing Bowie re-creation in small clubs in North Hollywood more years ago than I can to share,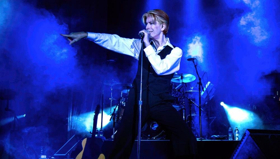 Brighton's credits now include performing side-by-side with David Bowie himself in the TV commercials for Vittel Mineral Water and for Reality - Bowie's CD. Brighton has performed as a resident cast member of the world famous Legends In Concert - the Las Vegas production show. He was also cast to portray David Bowie in the Warner Brothers feature film, "The Watchmen." He also appeared as David Bowie on VH-1 television as well as in international pop star Shakira's concert video.
Brighton has performed worldwide on bills with some of the biggest acts the world has known, including: Morrissey, Elton John, Devo, Smash Mouth, Stevie Wonder, Kenny Loggins, Three Dog Night, Chicago, Little Richard and Barry Manilow. Brighton has performed at events for Arnold Schwarzenegger and Maria Shriver... Brooke Shields, Dustin Hoffman, Sylvester Stallone,
Jay Leno, David Foster, Catherine Zeta Jones and Michael Douglas, Barbara Streisand, Quincy Jones, Nicholas Cage... to name a few.
Having worked with David Bowie in the past offered Brighton real insight into his remarkable ability to transform himself into the most influential musician in rock history, with more bands than I can count crediting Bowie's performance style as a major influence in their own band's development. And I guarantee when you experience Brighton's enthusiastic presence as the rock icon onstage, you will swear you are seeing David Bowie reincarnated onstage again, costumes and physical transformations intact!
David Brighton and his Space Oddity band have been performing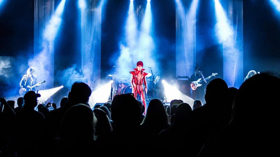 throughout the United States, Canada, Mexico, Australia, and Europe. His current United States tour included his October 6 date at the El Portal in North Hollywood where I saw the show this time - which won't be my last! Check his website for tickets to upcoming tour shows: www.davidbowietribute.com and order yours today - and then get ready to get up and dance with him!