Review Roundup: Matthew Bourne's CINDERELLA at the Ahmanson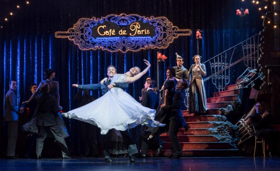 Matthew Bourne's "Cinderella" from New Adventures, presented by Center Theatre Group is now on stage at the Ahmanson Theatre through March 10, 2019.
Following their triumph playing 'Victoria Page' in "The Red Shoes," the role of 'Cinderella' is performed by Cordelia Braithwaite and Ashley Shaw. Cinderella's heroic Pilot, 'Harry,' is performed by Andrew Monaghan and Edwin Ray. 'The Angel,' Cinderella's fairy godfather is danced by Paris Fitzpatrick and Liam Mower.
'Sybil,' Cinderella's stepmother, is performed by Madelaine Brennan and Anjali Mehra. 'Robert,' Cinderella's father is performed by Jack Jones and Alan Vincent.
Cinderella's step brothers and sisters and the people of 1940's London complete the cast: Stephanie Billers, Ben Brown, João Carolino, Reece Causton, Jackson Fisch, Sophia Hurdley, Jack Jones, Daisy May Kemp, Kate Lyons, Stephen Murray, Matthew Petty, Danny Reubens, Mark Samaras, Catrin Thomas, Joe Walkling, Katie Webb, Seren Williams and Dan Wright.
One of New Adventures' most loved productions Matthew Bourne's "Cinderella" is a thrilling and evocative love story, set in London during the Second World War.
Matthew Bourne's interpretation of the classic fairy tale has, at its heart, a true war-time romance. A chance meeting results in a magical night for Cinderella and her dashing young RAF pilot, together just long enough to fall in love before being parted by the horrors of the Blitz.
Let's see what the critics have to say!
Peter Debrudge, Variety: Bourne's affection for Powell and Pressburger films - as demonstrated by his decision to adapt "The Red Shoes" - serves as a clue to where he found the inspiration for Harry: With his pencil moustache and bandaged head, the dashing figure suggests David Niven's character in "A Matter of Life and Death." But it doesn't begin to explain why he would introduce Harry so early in the show, rather than letting Cinderella discover him at the Café de Paris, where she makes her enchanted debut. Doing it this way, there's little reason for him to go searching for the owner of these slippers since he already knows where she lives, and even less explanation for his tumble into the underworld of prostitutes and thugs that comprises most of Act Three.
Erin Conley, On Stage and Screen: Told in three forty minute acts separated by two intermissions, the story moves at a dazzling clip, the magnetic performers easily holding the audience's attention. If the score was performed live, it would surely only add another layer of greatness to the piece, but for the most part the pre-recorded tracks are effective enough. As one would expect, the sequences at the "ball," which is more of a fancy party in this iteration, are the most memorable, with Cinderella clad in her iconic sparkly dress, but there are also lovely quieter moments, such as Cinderella and the pilot's eventual reunion at the hospital. There are also some modern touches to the story that feel appropriate for 2019, even if it takes place 80 years ago. As romances unfold in the city amongst the ensemble members, one is between two men, and it is nice to see an often outdated, heteronormative fairy tale be brought into the 21st century a bit. Overall, this Cinderella makes for a charming evening at the theater that is a bit of a departure from your typical musical or ballet, creating a unique blend of art with a happy ending that casts a spell.
Harvey Perr, Stage and Cinema: There is some neat choreography - particularly in the second of three acts - the willowy Ashley Shaw is always a delight to watch as Cinderella, and Neil Austin's fiery lighting is clearly influenced by the Technicolor palettes of such 40s directors as Michael Powell and Emeric Pressburger and Vincente Minnelli. But instead of swing music, which might have been appropriate if a bit of a tired cliché, it is all danced to the sometimes swirling, sometimes languorous waltzes of the original 1945 Prokofiev score, played by a prerecorded 60-piece orchestra. So, depending on where you stand, it all adds up to either art with a capital "A" or kitsch with a capital "K." You get what you came for.
Maureen Lee Lenker, EW: Bourne never forgets the grueling cost at the heart of his chosen setting, while also finding space for the "Keep Calm and Carry On" ethos that helped Londoners push through. Tonally, the production perfectly calibrates an intoxicating, breathless sense of hope with a dogged sense of danger and despair. It cuts through to the heart of any fairy tale, the moral and romantic victory of the pure-hearted winning out in spite of the dark chaos surrounding them. It doesn't pack quite the same punch as the luscious, lurid The Red Shoes, Bourne's last production to hit the Ahmanson in 2017. But it's still an enchanting fairy tale gleaming with the magic at its center, while also honoring the haunting beauty, horror, and resilience inherent in its historical setting.
Lewis Segal, LA Times: Twenty years ago a live orchestra accompanied Bourne's "Cinderella." But realities now bring us canned Prokofiev ornamented with realistic sound effects (air-raid sirens, for example), used discreetly, for the most part. Bourne includes more of the score than many of his predecessors (among them Frederick Ashton) and the result balances the documentary, romantic, narrative and comic components of his vision in an entirely original way.
Valerie-Jean Miller, BroadwayWorld: Remarkable Sets and Costumes designed by Lez Brotherston, provocative and innovative Lighting Design by Neil Austin, adding a touch of brilliant color splashed in among the muted tones of the rest of the color scheme every so often, and luscious, rich Surround-Sound Design by Paul Groothuis. Projection Design was excellent, crediting Duncan McLean.
Related Articles View More Los Angeles

Stories

Shows
More Hot Stories For You