Review: Michael Arden Directs ANNIE with Creative Ingenuity at the Hollywood Bowl
The original 1977 Broadway production of ANNIE, based on the classic story of a young girl overcoming adversity with book by Thomas Meehan, music by Charles Strouse, and lyrics by Martin Charnin, won the Tony Award for Best Musical and went on to run for nearly six years, as well as yielding countless productions around the world. In fact, since 1990, the beloved musical has been performed in 57 countries and has been translated into 28 languages.
But even if you have seen it before, I cannot stress enough how miraculous the current production is at the Hollywood Bowl, directed with creative ingenuity by Michael Arden, who is currently represented on Broadway with his Tony-winning revival of Once on This Island, a Tony-nominated director both for that production and for his revival of Spring Awakening which transferred from Deaf West Theater in Los Angeles to Broadway in fall 2015. He also won the Outer Critics Circle for Outstanding Director of a Musical and was nominated for a Drama Desk Award for the production. No doubt many awards will be bestowed upon him for the current production of ANNIE.
Helmed by Arden, conducted by Todd Ellison and choreographed by Eamon Foley, this delightful theatrical experience for the entire family is being presented for just 3 performances at the Hollywood Bowl on Friday, July 27, at 8 PM, Saturday, July 28 at 8 PM, and Sunday, July 29 at 7:30 PM.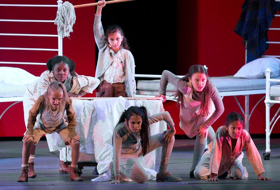 Upon entering the Hollywood Bowl, Dane Laffrey's amazing set design, centered across the stage with what appear to be the stories-tall, iconic red letters spelling out ANNIE, which soon transform into elements of every scene taking place around New York City as Annie adventures out of Miss Hannigan's Orphanage to find her real parents. When turned around, the "A" becomes Annie's upstairs hideaway while the other orphans' beds rest on the stage below. Foley's choreography then gives the seven orphans quite an athletic workout during the iconic "It's the Hard Knock Life," with each of the girls shining brightly as stars in their own right.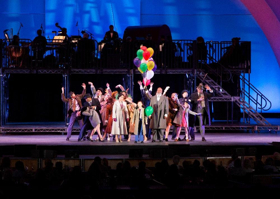 Featured in the cast of incredibly talented triple-threat (acting, singing, dancing) performers are Ana Gasteyer as the ruthless headmistress Miss Agatha Hannigan, David Alan Grier as the refined, generous billionaire Oliver "Daddy" Warbucks, Lea Salonga as his dedicated and caring assistant Grace Farrell, with newcomer Kaylin Hedges as Annie, who won the role over hundreds of other young girls from across the country who submitted video auditions to win role. Miss Hedges is the cornerstone of the production and her soaring, pitch-perfect voice and effervescent stage presence setting the jubilant tone for the entire ensemble.
Also stealing the show every moment they are onstage are the incredibly cute Malea Emma Tjandrawidjaja as Molly, the youngest of the orphans who Annie takes under to wing to calm her fears, and Macy as Sandy the street dog, herself rescued at 18 months of age by William Berloni. In fact, Macy's first performance in the iconic ANNIE role as the dog adopted by Annie during her travels took place in the summer of 2010, and she has since starred in more productions nationally than any other dog alive. I can tell you that each time she entered the stage, often on her own, Macy was greeted by well-deserved "ahhs" of appreciation from the audience and reacted perfectly to each and every one of her cues.
When Annie decides to run away from the orphanage in 1933 to seek her real parents, thanks to a locket and note left with her when dropped off there in 1922, the story is set in place for her capture from Hooverville, one of the many makeshift towns created by those suffering from homelessness during the Depression, and her subsequent return to the orphanage. Transitions from street scenes back to inside locations are staged brilliantly, with the main characters crossing along the apron walkway within the front section of the audience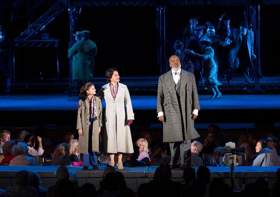 as the set turns completely around to again reveal the ANNIE letters which then become scenic elements in every indoor scene.
Of course, Annie's fate is about to change when Grace Farrell appears, sent by Oliver Warbucks to adopt an orphan to spend the Christmas holidays with him in his home. And after much very comical behind-Miss Hannigan's-back encouragement from Annie, she gets the nod and is off on the adventure of her life!
Annie's eyes are opened to the magical world of New York City with a walking tour by Warbucks and Grace, during which time we meet a young, Star-to-Be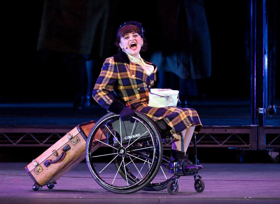 who has just arrived with her dreamlike vision of success while singing "NYC" an anthem to the possibilities of fame in spite of hard times. Ali Stroker, a wheelchair-bound actress who recently made it to Broadway in Arden's Spring Awakening, takes triumphantly to the stage, pulling a suitcase behind her as she shares her vision of the life she plans to soon lead. It's an inspiration to us all to never give up despite overwhelming odds.
Warbucks (along with Grace) soon grants Annie a wish for whatever she wants, and she quickly shares her greatest desire is to find her real parents. Act 2 opens as the trio appears on a radio show, hosted by Amir Talai as Bert Healy (who shares more optimism with his listeners thanks to his rendition of "You're Never Fully Dressed Without a Smile"), during which a $50,000 reward if offered to Annie's parents if they will make themselves known.
Of course, the money-hungry Miss Hannigan, along with the scene-stealing Roger Bart as her no-good bum of a brother Daniel "Rooster" Hannigan and Megan Hilty as his blonde sidekick Lily St. Regis (no doubt named as the HO-tel), agrees to go along with their plan to pose as the parents since Hannigan's inside knowledge of Annie's life will greatly assist them in proving who they are. The trio shines in the spotlight during their rendition of "Easy Street" which is where they hope this misrepresentation will lead them.
Also getting involved in Annie's greatest wish is
Steven Weber as Franklin D. Roosevelt, a friend of Warbucks who agrees to engage members of his cabinet, the FBI, and even Elliot Ness to fulfill the quest for her parents. Of course, when it is revealed what really happened to them, Annie and the others soon realize the impersonators belong no where else but in jail.
The final moments of the play celebrate the joy of the Christmas season, with Annie asking Warbucks to please allow the other orphans to come and enjoy the feast and presents with her. Along with Molly, soon the orphans (Marlow Barkley as Kate, Amadi Chapata as Pepper, Noe Lynds as July, Rae Martinez as Tessie and Olivia Zenetzis as Duffy) are having the time of their lives - along with the entire audience who was mesmerized by the talent on display during the entire evening of fabulous entertainment!
Kudos to the entire 15-person ensemble for assisting in the transformation of the set into the many locales needed during the production, along with their dedication to adding in so many wonderful characters, costumed to perfection by designers Dane Laffrey and Danae Iris McQueen - although I was surprised to not see Annie transformed into the iconic curly-topped redhead wearing the red iconic red and white dress for the final scene.
Tickets for performances during the Hollywood Bowl 2018 summer season are available at hollywoodbowl.com, call 323 850 2000 between 10am-6pm daily, or in person at the Hollywood Bowl Box Office. But don't wait - this awe-inspiring production is bound to sell out!
Photo Credit: Craig T. Mathew and Greg Grudt/Mathew Imaging, @mathewimaging