Review: IRONBOUND Proves When the Going Gets Tough, Tough Darja Gets Going. Again and Again.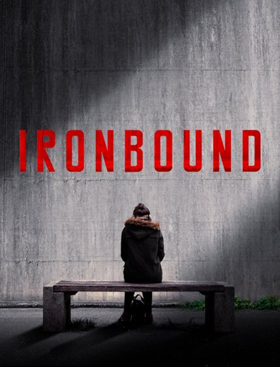 Ironbound is an unincorporated community and neighborhood within the city of Newark in Essex County, New Jersey. It is a large working-class, close-knit, multi-ethnic community that was an industrial neighborhood in the 19th and early 20th centuries with many factories employing thousands of local immigrants from many countries who came to America to make a better life for themselves and their families. But the town remained poorer than was the rest of Newark at that time, with saloons being the major meeting places for Ironbound's hard-working blue-collar workers, before radio and television, to forget their troubles for a few hours. Today however Ironbound is one of the more affluent Portuguese neighborhoods in Newark, proving rebirth is always a possibility even in the darkest of times.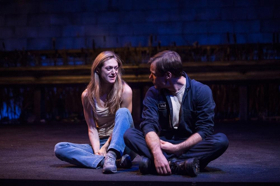 Now playing at the Geffen Playhouse in Westwood, the 80-minute play IRONBOUND by award-winning playwright Martyna Majok recounts the hard luck life of Polish immigrant Darja and the men she chooses to have in it. Moving between 2014, 1992, and 2006 - but not necessarily in that order - this wry drama points out that sometimes survival is the only measure of success.
No doubt the title of her play, though set at a bus stop a quarter of a mile from Elizabeth, NJ, makes sense since that blue-collar town is just like where Darja works in a nearby noisy paper factory and as a maid for a wealthy married woman, and yet still suffers through poverty, abusive husbands who drink too much, single motherhood, and then an adult son who steals her car and abandons her with no way to get to work other than the bus, which of course is always late.
Taking place in 1992, we meet Darja as a young newlywed flirting on a bus stop bench with her first husband Maks (handsome Josiah Bania), a man who channels his frustration by playing the harmonica. They seem to be totally in love and happy together, but dirt poor. They have a son but Maks soon leaves her to pursue his musician dreams in Chicago.
In 2006, we find Darja sleeping under the same bus stop bench after her abusive second husband, who we never see, has given her a black eye. Homeless and forsaken,
she is awakened by Vic, (Marcel Spears), a young male prostitute who sells drugs but turns out to want nothing more than to help her get back up on her feet. He does his best to support her emotionally as she breaks down about having nothing, and even offers Darya financial help to get a hotel for the night. Reluctantly she accepts his $100 and walks up through the audience on to her next adventure as Vic leaves in his next client's car.
In 2014, after living with her boyfriend Tommy (Christian Camargo), a mailman who is cheating on her with the woman whose house she cleans,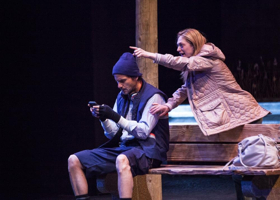 Darja loses her factory job after her son steals her car and disappears, leaving her no way to get to work other than the bus, which is always late. Tommy even has the gall to be texting with his lover while meeting with Darja at the bus stop. But after Tommy realizes where he really belongs, he finally proposes to Darja who accepts with great joy. And though we never see them get married, hopefully this will be the one which manages to survive, allowing Darja to thrive.
Throughout the play, Marin Ireland brilliantly takes us through the incredible variety of Darja's deeply heartfelt emotions, each of which will grab you and pull you into her unfortunate circumstances due to her poor choices and poverty.
Moving between her various moods every split second, Ireland will grab your attention, inspiring feelings of understanding, wonder, and perhaps a bit of pity, all the while wishing she could see the awful pattern she follows with men and overcome it to learn how to stand on her own two feet.
The intense play is brilliantly written, with Majok's focus on character development being revealed in almost every spoken word between the characters. And the four actors are so in tune with each other, you can't help but be pulled in to their stories, all the while wishing things could be different for each of them. I truly believe that to succeed when the going gets tough, the tough get going. And like Darja, it's that first step which seems to be the most difficult to make. But is she can do it, so can we!
IRONBOUND, written by Martyna Majok and directed by Tyne Rafaeli, continues through March 4, 2018 on Tuesday - Friday at 8:00 p.m., Saturday at 3:00 and 8:00 p.m., and Sunday at 2:00 and 7:00 p.m., in the Gil Cates Theater at the Geffen Playhouse, 10886 Le Conte Avenue, Los Angeles, CA 90024. Tickets are $25 - $90, with College Student tickets priced at $25, available in person at the Geffen Playhouse box office, by phone at 310.208.5454 or online at www.geffenplayhouse.org. This production contains theatrical haze, the smoking of herbal cigarettes, and profanity.
Photos by Chris Whitaker