Review: IN ANOTHER ROOM Offers Site-Specific Haunted House Immersive Experiences
Actors from other productions often ask me when they see me taking notes at a play for whom I write reviews. When I tell them, the next thing they ask is "how do I get you to come and see my show?" I then hand each one of my business cards and invite them to email materials to me so I can consider attending if it fits into my busy schedule.
Such is the case for how I found out about E3W Productions IN ANOTHER ROOM, a site-specific haunted house experience that was opening in Culver City the following week. And I was happy to be able to fit it into my schedule as I love all types of site-specific productions, especially during the Halloween season having just seen two others, WICKED LIT at the Mountain View Mausoleum in Altadena and DELUSION at an old social club in the West Adams District.
For those of us raised in the post-World War II era smaller houses built to accommodate returning servicemen and their new families on the Westside, specifically Palms and Culver City (where many these single story small homes were provided to movie industry "grunts" who often worked long hours with just enough time to get home for a nap and shower before having to be back at work), IN ANOTHER ROOM takes place in one such tiny 2-bedroom, one bath home due to be demolished soon to make way for a much larger, multi-story 5-bedroom home to be built on the site. Just walking around the property reminded me of the exactly same home once owned in Palms by an aunt and uncle where I often went to play with cousins my same age.
And since this home will soon be gone, E3W Productions was able to completely paint and decorate the empty interior to meet their exact specifications to present IN ANOTHER ROOM, inviting audiences to enter the world of the supernatural in another notoriously haunted house in Los Angeles, filled with its own rich history of tragedy and paranormal phenomena. This Halloween season the doors will be opened for a brief time during which those attuned to the psychic and supernatural will experience a unique opportunity to come face-to-face with the unknown and unexplainable.
Due to the small size of the home, only 4 audience members are admitted into the house at a time, making the show an extremely intimate experience that explores the notion of ghost stories and what is left behind from a life already lived. Making it even more spooky for me was the fact the front gate was locked and the outside property dark when I arrived a bit early. So those lucky enough to hold tickets for the already sold out 2018 performances, be advised the address will be provided to you about 24 hours in advance and do not show up more than 5 minutes early or 5 minutes late to gain entrance.
IN ANOTHER ROOM is a site-specific immersive play in which guests will wander the rooms of a purportedly haunted house in Culver City, coming face to face with various souls that have lived and died and suffered tragedy within its walls. After meeting with two hosts, one of whom will take your photo to be sure your soul is clear enough to enter the house without disrupting the spirits there, a ploy of course as the photos will become part of the show later on, guests are invited to knock on the front door for entrance into the evening's adventure.
First you will be greeted by The Man (Dan Dorff) in a small entrance hall covered from top to bottom with pages from books, lots of old photos scattered about, and a mirror on the wall where projections of those spirits we are about to meet appear as we learn a bit about each of them. Then magically, a wall is displaced and we enter the quaint living room decorated for Christmas Eve, 1964.
There we are invited to join three women for mulled wine,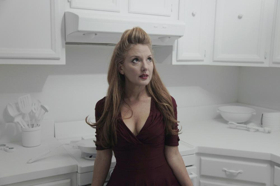 and all seems to be fine until ghost stories about the house are shared, which the women soon realize are their own life and death stories from years past. Claire (Kali Cook) tells us of a gruesome, bloody death which took place in the kitchen,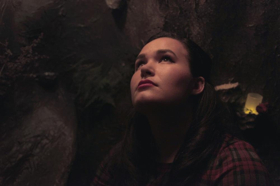 Theo (Sierra Allison) tells us of a strange death in front of the fireplace, and Judith (Emily Goss) who sports a shiner delivered by her abusive husband Stanley (Kevin Gehring), shows us a gun hidden in her purse which she hopes will soon end her misery on this Christmas Eve night. All three actresses wonderfully welcome us to what appears to be a fun evening at a party,
and each then slowly sinks into gloom and doom along with spooky noises and flicking lights as their ghost stories are told.
Soon you will be split up with audience members following Claire into the kitchen, Theo into a tent of Christmas presents near the fireplace, or Judith into the Moon-enhanced bathroom. So depending upon which character you are invited to follow, their "ghost" stories are recounted in greater gruesome detail, with each visitor given a token to remember their ghost's story. No, I am not going to reveal what those items are, just tell you I followed Claire into an all-white kitchen.... which was soon covered in blood.
Next we are scooted into a terribly messy bedroom from shortly after WWII where Walter (Ian Dick), a gay former serviceman, thinks he is hearing the voice of his lost lover Charlie. Soon, in fact, the two are communicating via the old radio in the room until poor Walter loses his mind from loneliness and despair, not to mention the hidden menace who keeps interrupting his revelries into the past, thanks to sound designer Daniel Tator's eerie effects.
The door flings open and we are then taken into the other bedroom, decorated as if a young boy lived there. Here we meet Paige (Tiffany Hubbard), a terrified young woman who keeps re-living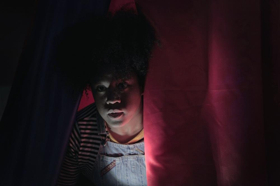 the accidental death of her brother and the monster (Austin Keeling) living in his bedroom closet. When the closet doors open on their own, Paige urges us to enter the teepee for protection, under which we are soon terrorized by the monster and other creatures who poke at us through the thin material of the teepee. The most fun part was grabbing the toy guns and stuffed animals offered to us by Claire to throw at the monster to make him leave us alone!
The evening ends with The Man escorting us to the dark backyard garage which has been flooded with water, where he urges us to step on the stones to gather around a chest in the center of the room. And given the clue I gave you earlier, I bet you can guess what is shown to us inside it. From there we are taken into the overgrown backyard where all the actors are waiting for us to join them as spirits. Do we have the power to protect ourselves from them? I can only thank the overhead conjunction of Mars and the Moon which saved us from such an evil outcome!
Creators Aaron Keeling, Austin Keeling and Natalie Jones informed me that all 2018 scheduled IN ANOTHER ROOM performances on October 19-21, October 25-28, November 1-4, and November 8-11, with four shows per night at 7:00, 8:15, 9:30, and 10:45pm, are already sold out. There is a slight possibility for an extension. Tickets for show extensions go out via Instagram @e3wproductions. Tickets are $65.I would also certainly suggest adding yourself to their advance email notifications by request to e3wproductions@gmail.com
Photo credit: Aaron Keeling