Review: Funny and Surprisingly Thoughtful RIDE THE CYCLONE Thrills at OC's Chance Theater
An appealing, zany surprise from start to finish, this fresh, angst-filled musical comedy is as hilarious as it is poignant.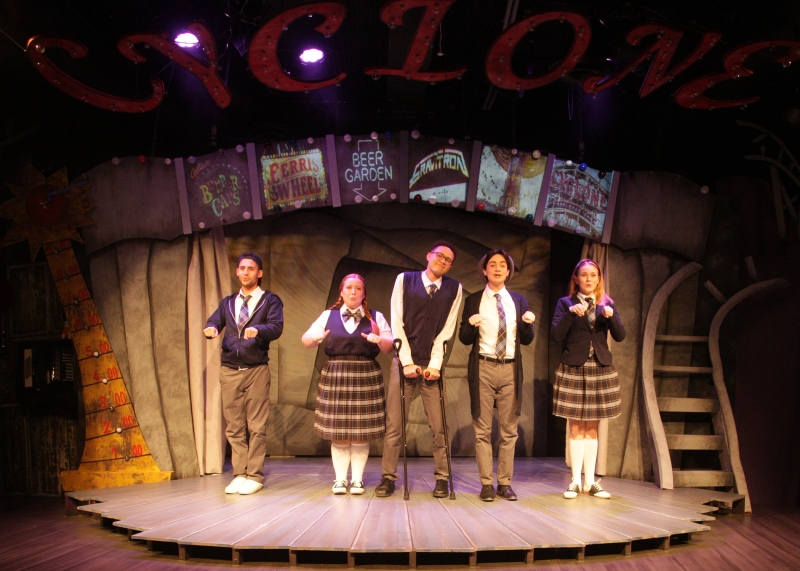 If, like me, you consider yourself a theme park junkie, then it's fair to assume that meeting your accidental death while riding a roller coaster---as fun of a pastime as it is---might just feel like the crappiest way to exit this mortal realm.
That is exactly what happens to six angst-filled teenagers in the engagingly thoughtful yet still darkly funny RIDE THE CYCLONE---a relatively new musical that has developed a kind of cult following online amongst the hip, young set forever tethered to their social media-equipped smart devices since its award-winning Canadian debut in 2012 and its subsequent off-Broadway production in 2016.
In it, six young, diversely expressive high-schoolers are tragically killed while riding the titular coaster, and have now found themselves trapped in some kind of goth-weathered, steam punk purgatory, forced to look back and assess what they've done and accomplished (or, perhaps, not accomplished) in the short lives they've had on planet earth... and to also wax poetic on their now dashed dreams for the future.
A kooky yet surprisingly poignant thrill ride, RIDE THE CYCLONE is not the expected moody or macabre musical about death, but, rather, an amusing, really zany show that basks in its delightful eccentricity, while also walloping us with all the feels as it cleverly peels away its characters' more harrowing layers.
Now having its California premiere production at OC's Chance Theater in Anaheim through February 26, 2023, this must-see, wonderfully odd, yet endearingly touching new Canadian-set musical comedy feels like a thoughtfully bonkers hybrid of John Hughes' The Breakfast Club and Frank Capra's It's A Wonderful Life, with room for a dollop of Tim Burton-esque quirkiness.
Co-writers Jacob Richmond and Brooke Maxwell are responsible for the madcap book, music, and lyrics of RIDE THE CYCLONE, which, as previously mentioned, centers around a group of kinda-dorky, fringe-hovering teens from the St. Cassian High School Choir who perish unexpectedly during a school trip while riding the Cyclone, one of the poorly-maintained rollercoasters at their local dilapidated amusement park.
Now stuck in a sort of ghostly limbo, each teen takes their respective turns regaling the audience (and, I suppose, each other) with their personal stories and dreams---told as overtly dramatized first-person musical eulogies delivered with the kind of chutzpah, gravitas, and outlandishness of a highly-seasoned comedy improv troupe made up of very emotional teenagers blessed with undeniable hyperbolic flair.
The show---presented without an intermission---spends most of its run-time as a progression of solo-focused numbers that, thankfully, don't feel choppy as if they're simply pieced-together vignettes to create a variety show. There's a moody, inter-weaving through-line that permeates each individual story, embellished with lots of laughs and wacky elements.
Each individual story, as it so happens, also serves as a kind of personal testimonial each is required to submit to the "Amazing Karnak" (Robert Foran), the park's animatronic, coin-operated fortune teller who is also the show's presiding diety-director, narrator, and sardonic game show emcee. As the six young souls mill about in the decaying ruins of the amusement park, they are informed that these individual story testimonials will be used to determine which one of them will win/earn the right to come back from the dead and return to the land of the living.
And so the "competition" begins.
The six teen characters in the musical---each one a sample model for different kinds of young, not-so-popular outcasts---start out as familiar archetypes of their ilk, but then veer off intriguingly to such interesting directions, making the show much more vibrant and intriguing than your average teen-centric show.
One thing is for certain while watching the show: you'll discover quickly why the talented, very likable, highly photogenic cast is guaranteed to win you over. Not only are they uniformly excellent together as an ensemble but also as individual custodians of their respective characters.
First up is peppy overachiever Ocean O'Connell Rosenberg (played by Haley Wolff), an overconfident, Tracy Flick/Rachel Berry-type who is demanding, annoyingly "positive," and who is a constant know-it-all that tends to be grating to others. She often took control of the proceedings while alive, and so it's no surprise that even now in purgatory, she is determined to be the loudest, most listened-to voice in the room.
Her insecure doormat of a best friend, meanwhile, is Constance Blackwood (Rose Pell), a de-facto Girl Friday who often acquiesces her wants and opinions in favor of propping up Ocean's. But she's been determined to change her meek personality in small moves (she was willing to lose her virginity in a Porta-Potty, for goodness sake), and, in death, is slowly learning how to embrace this new-found empowerment to be a brighter leading lady instead of just a minion cowering behind Ocean's star wattage.
Then there's the swaggeriffic Ukrainian immigrant Mischa Bachinski (Jared Machado), a wannabe rapper whose auto-tuned American Dream involves a taste of international stardom and the spoils that come with it. Funny enough, the guy may act like he's got a tough, hard exterior, but deep-down, he shields a budding sweetheart. Beside him is disabled sci-fi nerd Ricky Potts (Jaylen Baham), a timid but adorkable young man whose fantasy life includes being the confident leader of an alien planet, which is a stark contrast to his quieter real life that requires the use of crutches.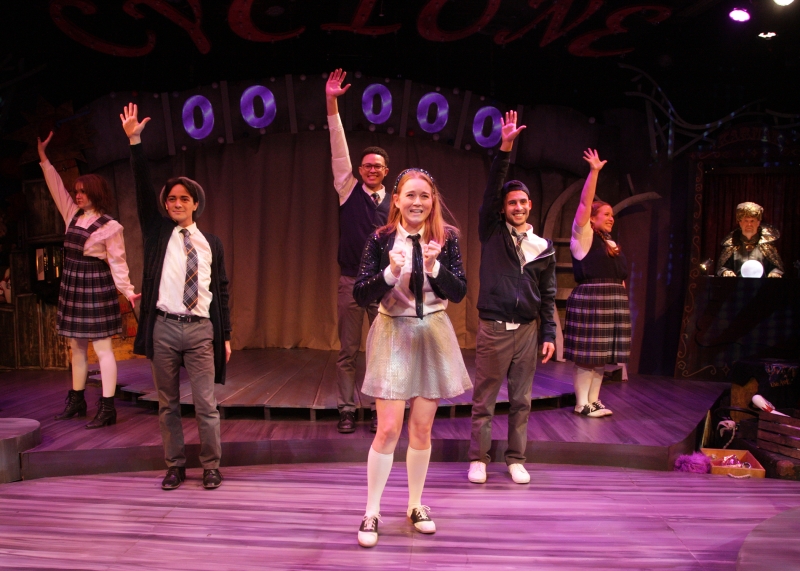 Showstopping showman Noel Gruber (terrific scene-stealer Wyatt Hatfield, who, I swear, looks like the spitting image of Stranger Things' Noah Shnapp) is openly gay and openly flamboyant, er, I mean, openly theatrical. His fantasy life---an unapologetic window into his already out-in-the-open personality---is that of a Parisian entertainer/prostitute draped in a form-fitting negligee, while recreating seductive Bob Fosse-esque dances for a rapt audience. Gruber's moment in the show is a sensational production number---using the amazing moves of choreographer Miguel Cardenas---that is one of many highlights throughout the show.
And finally, the sixth coaster victim/prize contender is a mysterious, eerie young lady that has sadly been dubbed simply "Jane Doe" (played hauntingly by Em Flosi) due to the fact that this girl was unfortunately decapitated during the incident and cannot be properly identified (they assume she's a fellow student because of her school uniform).
Who is she and what could possibly be her story? And who, in the end, deserves to rise from the twisted ashes to continue on with a mortal life? All is eventually revealed, one entertaining number at a time.
Directed by Jocelyn A. Brown, this superb, enjoyably eclectic, and swiftly-paced production---like most of Chance Theater's technically savvy shows---is a creative and talent explosion, which is always such a pleasant surprise to behold in a small regional theater. There's not a single lull throughout its intermission-less run, which makes for such a fun watch.
I am especially impressed by the show's visual and technical components, from the weathered and antiqued set co-designed by Antonio Beach and Bradley Kaye, which is vibrantly lit by Masako Tobaru, to the dazzling video/animated projections by Nick Santiago and the truly outlandish costumes designed by Bradley Allen Lock (the alien costumes were a perfect hoot).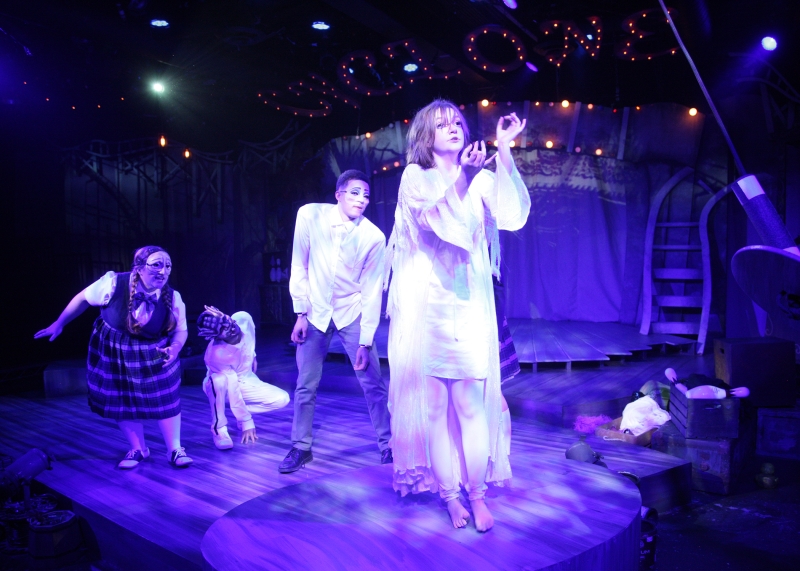 The cleverly appointed asymmetric set---itself seeming like a living, breathing (though undead) entity just like the actors---really fits the storytelling and vibe of the show, and is quite an inventive use of this stage's compact footprint. Additionally, sound designer Rebecca Kessin surrounds the space with such notable sounds that resonate well with the environment depicted in the story.
Thankfully upending many expected clichés that have come before that explored similar type of teen-centric storylines, Chance Theater's RIDE THE CYCLONE is an entertaining show with a fresh, kooky perspective. Despite its silliness and oddball storytelling, the show does manage to somehow be impactful, too. It was a truly delightful surprise.
Follow this reviewer on Twitter: @cre8iveMLQ.
Photos from Chance Theater's production of RIDE THE CYCLONE by Doug Catiller, True Image Studio.
-------
Chance Theater's Production of RIDE THE CYCLONE: THE MUSICAL continues on the Cripe Stage through February 26, 2023. Directed by Jocelyn A. Brown and featuring musical direction by Lex Leigh and choreography by Miguel Cardenas.
Chance Theater is located in the Bette Aitken Theater Arts Center at 5522 E. La Palma Ave., Anaheim, CA 92807. For more information or to purchase tickets, call (714) 777-3033 or visit www.ChanceTheater.com.