Photos: Unique Coalition Launches 'Catch Up California' Campaign At Rally To Fund Performing Arts Equitable Payroll Fund
The coalition announced a request for $50 million to launch the Equitable Payroll Fund, a grant program designed to support small nonprofit performing arts organizations.
An unusual coalition of management and labor launched a kick-off event on Friday, January 27 to secure budgeting for SB 1116, the groundbreaking arts funding bill that passed the state legislature and was signed into law last year, but remains unfunded in the most recent budget.

The rally at Antaeus Theatre Company in Glendale, dubbed "Catch Up, California," featured leaders of both the Theatre Producers of Southern California, known as TPSCA, and Actors' Equity Association, the labor union representing American actors and stage managers in the theater.

Speakers at the rally included SB1116 author California State Senator Anthony Portantino (D-Burbank); Actors' Equity Association president Kate Shindle; actor/TPSCA board member Marc Antonio Pritchett actor/Antaeus artistic director Bill Brochtrup; Playwrights' Arena artistic director Jon Lawrence Rivera; Ophelia's Jump producing artistic director Beatrice Casagran; and actor Kirsten Vangsness. Actor/director Jason Alexander, who was not able to attend in person, contributed a videotaped statement.

The coalition announced a request for $50 million to launch the Equitable Payroll Fund, a grant program designed to support small nonprofit performing arts organizations - and workers directly - by providing reimbursements of payroll expenses. This program will support jobs for both production and non-production employees and, in a reversal of the arts funding norm, will reimburse smaller organizations at a higher rate.

Currently, California's arts investment is less than a third of New York's, and less than a sixth of Minnesota's - even as nonprofit arts generate billions of economic activity in the state. A recent wave of closures of small nonprofit performing arts venues statewide has put the health of the sector in jeopardy.

"The future of California's vibrant and eclectic small performing arts organizations has never been in greater peril, with new reports of closures every week," says TPSCA president Martha Demson. "We implore the California legislature to recognize our rich cultural and artistic legacy and to act now to fund the Performing Arts Equitable Payroll Fund. This innovative program will help restore sustainability for our vulnerable theatres, ballets, operas and symphonies, ensuring a place for California's diverse community of artists and creative innovators in the years and decades to come."

"It just makes economic sense to keep the arts going throughout the state," said Alexander. "There's a whole economy that thrives when these arts are in play. Not just the handful of actors that work on the stage...all these little economies being served by these small nonprofit performing arts centers. That's real employment. That's real dollars. That's real important to the health of California."

"This is an urgent moment for California to catch up on arts funding and support live arts workers, who have still not fully recovered from the COVID shutdown," said Shindle. "Funding the Equitable Payroll Fund now will save theaters across the state. It will ensure a better future for thousands of middle-class arts workers in California, as well as all the small businesses that depend on a thriving theater in their neighborhoods. I'm grateful for the leadership and commitment of Senator Portantino as we champion this legislation together."

"We are deeply concerned about the rising number of theater and live events venues closing across California," agrees California Arts Advocates CEO Julie Baker. "These closures represent a loss of jobs and livability. Public investment is critical and necessary for arts to be accessible for all and for communities to benefit from the economic and social impact of arts and culture. We were thrilled the Governor signed SB 1116 and now urge the Legislature and Administration to breathe life into the bill by funding it in this year's budget. This is a smart investment for CA to make."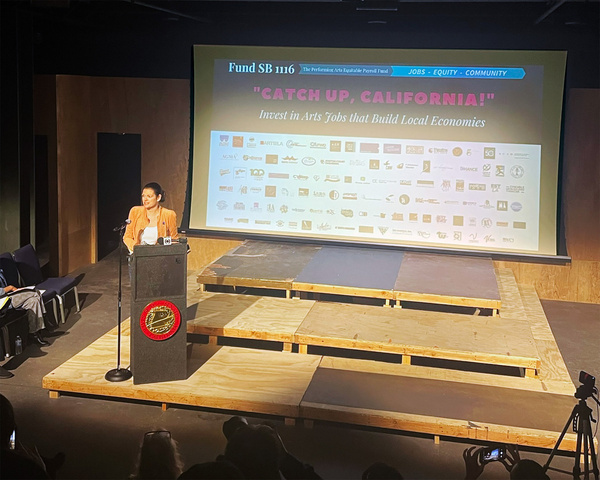 Actors Equity Association President Kate Shindle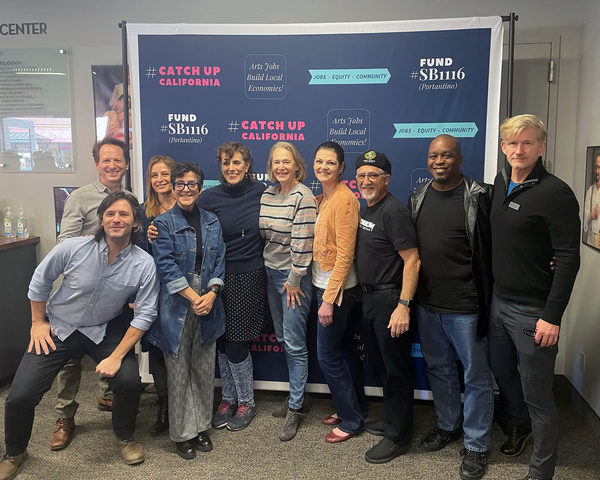 Leo Marks, Jeannine Wisnosky, Elina De Santos, President of the Theatre Producers of Southern California Martha De