Nickelodeon Star Buddy Handleson Talks Making Stage Debut in AFTERLIFE: A GHOST STORY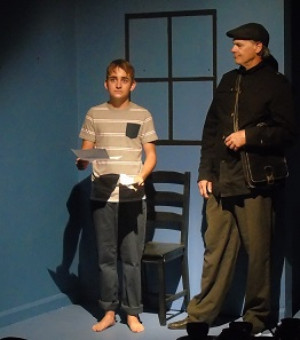 Buddy Handleson, star of the Nickelodeon sitcoms, Bella and the Bulldogs and Wendell and Vinnie, sat down with veteran stage director Trace Oakley to talk about the transition from TV to stage.
Handleson is featured in Collaborative Artists Ensemble's afterlife: a ghost story, opening tonight, Oct. 13, at North Hollywood's Avery Schreiber Playhouse.
---
Trace Oakley: At what point did theatre become part of your life?
Buddy Handleson: I started training with acting coach Michael Woolson a year ago, and he encouraged us to read plays as a way of learning about theatre, and also to find monologues to work on in class. I was surprised at how many plays I read and loved, when I previously found many classics to be pretentious when assigned them in school. In the environment of an acting class, where I was being challenged, my perspective on plays was completely different. Michael Woolson strongly suggested plays and monologues that take us our of our comfort zone, and that was very exciting for me.
My other major exposure to theatre also came in the past year, when Steve Jarrard, who worked with me on Bella and the Bulldogs and Wendell and Vinnie, invited me to see a play he had directed, Long Way Down. Seeing that production, and meeting the cast...I knew this was something I needed to try.
TO: You read and saw plays, but what made you want to act in them? What made you want to become a stage actor?
BH: It's something that definitely is out of my comfort zone. It's acting, and I've done a lot of acting, but stage is so different in many ways. It's live, no retakes, which is scary, but thrilling. Theatre is also less visual, and more about the words. I really like that. In a play, every word means something, even if it's just an "and" or "but," or a pause or hesitation. In TV, actors are often encouraged to paraphrase, or make the words their own. I like the challenge of dialogue that is word-for-word, and still making it true to my character.
TO: Many film and television actors never do live theatre. And Hollywood isn't always kind to stage actors. How have your film and TV colleagues reacted to the news that you are doing a play?
BH: People have been really supportive, and excited for me. After I initially said yes to this project, I went into a panic, and regretted it, and thus regretted having told people about it, but I happily got past that. I was having doubts about whether this was something I could do.
TO: What major differences are you seeing, acting onstage, vs. on television or film?
BH: Stage has more sustained scenes. I wasn't used to scenes that last more than a couple of minutes. I love monologues! Not many TV shows give actors an opportunity to really sink their teeth into a monologue. There's also the fourth wall - delivering some lines to or toward the audience. On TV, it's always at another character, or at an angle away from the audience. And then, of course, there's having that live audience.
TO: What has been the most challenging aspect of this experience?
BH: Getting out of my own way. I've never done this, except for a kindergarten play. I've had to deal with a lot of anxiety, partly because of this new experience, and also because it's a very intense play, with intense emotions, and awful things that happen to characters in the story. There are easier plays I could have picked to start with.
TO: Who is your character?
BH: A young man - that's actually his name in the script, "A Young Man," who drowned at age 3. He is trying to find his way home in the afterlife, and doesn't actually know he's dead. He encounters some very interesting characters along the way, including a bird, who he finds very unsettling, and a postman, who he sees as a mentor, as someone similar to himself.
TO: How do you relate to him? What do Buddy and "A Young Man' have in common?
BH: Anxiety. Also, not knowing what the future holds. It's not a character that I have to start absolutely from scratch on. He's an extension of me, and the rehearsal process has allowed me to find the many elements that are different and to explore the similarities, as well.
TO: You obviously read the play before agreeing to do it. What did you like about this play and this theatre company?
BH: I like the storyline, but even more I love the characters, a family that is relatively normal, but dealing with tragedy and change, and others characters who are really out there. And it's full of symbolism, which I love. I latched onto the symbolism right away. I saw things that some people might not see, but that's one of the great things about a work that isn't super-straightforward: different people interpret it different ways.
As for Collaborative Artists Ensemble, I've known Steve Jarrard since I was 12, and have worked so much with him. We have a great relationship. And Meg Wallace (founder and acclaimed actress) is amazing. I feel like I am in good hands.
TO: You are in an unique place in your life, in that at 17 you already have a career, but now you are that time of deciding about college and what to study, and what to do next. What are your plans for the future?
BH: My dad just asked me the same thing. I'm still deciding about college. In terms of acting, I definitely want to purSue Serious roles, challenging roles and projects. In terms of me, and related to acting, I just want more life experiences. I started working at Starbucks, because I wanted some independence, and real-life experiences.
TO: Starbucks? You must get interesting, confused looks and comments from fans who know you from television.
BH: Yes, a few, mostly from parents who have kids who watch my shows.
TO: Any dream roles or projects?
BH: So many shows I watch and would love to be on: VEEP, Silicon Valley, Transparent...and more theatre for sure.
---
afterlife: a ghost story, by Steve Yockey, opens tonight, Oct. 13, and runs Fridays and Saturday nights at 8 p.m., Sunday nights at 7 p.m., through Nov. 12 at North Hollywood's Avery Schreiber Playhouse, 4934 Lankershim Blvd., North Hollywood, CA 91601. NOTE: Buddy Handleson will not be performing on Oct. 20, 28, and Nov. 5. His understudy will play the role on those nights. Further information at www.collaborativeartistsensemble.com, or call (323) 860-6569. Tickets can be purchased online at afterlife.brownpapertickets.com.
Pictured: Buddy Handleson and Edgar Allan Poe IV. Photo by Steve Jarrard.