MAMMOTH FILM FESTIVAL Set For Takeoff March 2-6, 2023
Filmmakers and film lovers set to unite for world premiere screenings, red carpet exclusives, market place, interactive panels, world class parties and more.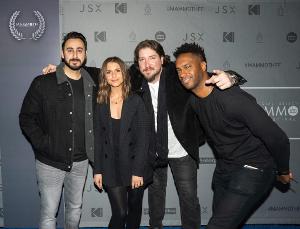 Mammoth Film Festival has emerged as one of the fastest growing festivals in the world. This year's edition takes place March 2-6, 2023 and is one of the most highly anticipated destination festivals on the calendar for filmmakers and film lovers globally.
The winter festival has also become a go-to secret platform for film buyers looking for additional opportunities and options aside from Sundance and the Berlinale and before SXSW. Although some call it one of the most exclusive and "underground" festivals to attend, badges and tickets are open to the public. If you can get them before the sell out. With its pedigree of never before seen content, film buyers have the opportunity to bid on some of the hottest titles from this year's official selection during the Mammoth Marketplace. To date, MammothFF has boasted over 15 feature film sales since its inception in 2018.
This year's festival will feature over 80 films selected from an overwhelming response of submissions via FilmFreeway, inclusive of U.S and international world premieres across the Feature, Documentary, Short, Music Video and Episodic categories, with a highlighted Action Sports category.
The festival strives to showcase world premieres from incredible young and seasoned filmmakers, layered with both talented up-and-comers and established renowned actors across diverse backgrounds.
Mammoth Film Festival features it's Mammoth Film Summit Interactive Panels, expert film talks and think tanks, panel discussions, and a slew of high profile red carpets. The festival has also established a reputation for throwing some of the best networking events, parties and receptions where filmmakers rub elbows with the biggest names in the entertainment industry.
"MammothFF" was the brainchild of Producer and Texas-native Tanner Beard. In 2017, in preparation for the inaugural event, Beard told Variety his big vision for the event was to be a "mini Sundance," and "a place where young filmmakers can showcase their work and meet potential distributors." He proceeded to move forward on that goal with his co-founders Tomik Mansoori, Theo Dumont and Festival Manager Alexandra Chando in organizing an annual gathering which has seen the biggest names and next generation talent.
The 2023 Mammoth Film Festival lineup will kick off in the features category with the world premieres of "Bonded" starring Golden Globe nominee Diego Calva ("Babylon"), Jason Patric, Paulina Gaitan, Alfredo Castro, Renata Vaca and Ari Lopez, inspired by a true story from the Golden Globe winning producers of "Argentina 1985," and executive producer Yalitza Aparicio; and "Bad Hombres" starring Luke Hemsworth, Tyrese Gibson, Thomas Jane, Nick Cassavetes, Hemky Madera, Paul Johansson, Diego Tinoco and directed by John Stalberg.
"Some Other Woman" will be headlining Friday Fright Night, a staple of the fest and is directed by Joel David Moore ("Avatar") starring Ashley Greene-Khoury, Amanda Crew, Rick Fox, Brooke Lyons and Tom Felton; the International Feature "The Engineer" directed by Danny A. Abeckaser, starring Emile Hirsch along with Abeckaser, Robert Davi, Kyle Stefanski and Israeli stars Angel Bonanni, Tsahi Halevi, Oshri Cohen, Dan Mor, Dana Ivgy Adam Elon and Omer Hazan, based on the story of Hamas Bombmaker and militant Yahya Ayyash; Action Feature film "On Fire" directed by Peter Facinelli and Nick Lyon, also starring Peter Facinelli, Asher Angel, Lance Henriksen, Ross McCall and Fiona Dourif; and Feature film "Dyad" with Nick Cassavetes, Paul Johannson, Rob Kirkland (Mayor of Kingstown,Yellowstone), Lou Ferigno Jr, Christian Combs, Melanie Rains, Denny Love, Miraj Grbic and Mark Hapka.
World premiere features are also set to include the feature "Rise" from Maritte Lee Go and producer Maurice Fadida starring Jimmy Akingbola, Joy Sunday (Wednesday), Peter Mensah, Sasha Morfaw, Sufe Bradshaw and Chike Okonkwo. MammothFF's First Time Filmmaker Spotlight is set to highlight actors turned directors Luke Roberts and Justin Matthews who will premiere "The Duel'' starring Dylan Sprouse, Hart Denton and Patrick Warburton.
The documentary category is highlighted by the world premiere of Michael Madsen's "American Badass: A Michael Madsen Retrospective" from director Dominique Milano, featuring Quentin Tarantino, John Travolta, Ron Perlman, Paul Sorvino, Mario Kassar, Angie Everhart, Donald Gladstein, William Baldwin, Chuck Zito, Mike Starr, Robert Forster, Daryl Hannah, Virginia Madsen, Charlie Sheen and many more.