Interview: Bart DeLorenzo on Directing Richard Eyre's Adaptation of Henrik Ibsen's GHOSTS
at the Odyssey Theatre Ensemble
Odyssey Theatre Ensemble is presenting the Los Angeles premiere of what may be Henrik Ibsen's most controversial play, Ghosts, adapted by acclaimed British director Richard Eyre and directed by Bart DeLorenzo, a Los Angeles-based theater director and producer who is the founding artistic director of the Evidence Room theater, a 17-year-old company renowned in Los Angeles for contemporary theater productions.
I decided to speak with Bart about what led him to direct this new adaptation at the Odyssey Theatre Ensemble.
Thank you for taking the time out of your busy schedule to speak with me, Bart.
Thanks for inviting me, Shari. I love to talk about theater.
What is it about Ghosts that drew you into directing Eyre's adaptation at this point in time?
When someone asks me to direct one of the great plays - and for me Ghosts
is one of the all-time masterpieces - I instinctively say yes, and then try and figure it out later. Because I know I'll learn something. These are the plays that I believe always have something to tell us. In this case, I think the characters are living through a moment of enormous change, of societal rethinking. Are the systems and structures that people live in and that control their lives, are they actually beneficial? And if they're not, why do we perpetuate and reanimate them? Do we need to pull them down and start again? And this resonates for me in this cultural moment, one in which we're both trying to create new ways and also when issues that I thought were long behind us are returning.
For those not familiar with Ibsen's play, can you tell me the gist of the story?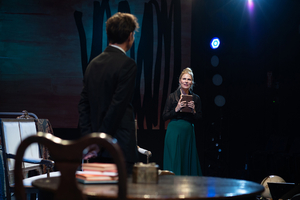 Ibsen wrote probably his most famous play, A Doll's House, the year before this one, and that's the story of a woman who cannot bear to stay with her husband a moment longer, and so at the end, she leaves, slamming the door on her marriage and her children to begin afresh. And Ghosts is the story of a woman, Helene Alving, who like most women of her time, doesn't leave her family - and the play explores all the troubles she endures in staying. Ghosts begins after her husband's death as her new life is about to begin. She's building an orphanage in his name as a final burying gesture, and her beloved son is finally coming home after many years abroad to attend the dedication, which her former love is officiating. I think it's the happiest day of her life, as beginnings often are, but not to give anything away, the secrets of the past soon intrude and reshape the day.
What makes it Ibsen's most controversial play?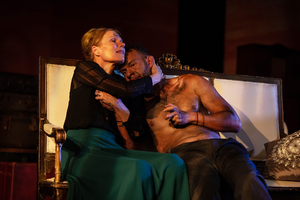 In its time it was banned in many cities and many critics - as often happens with the boldest theater pieces - who condemned the play as filth because it discussed syphilis and prostitution, incest and free love. All the taboo subjects that I'm sure people were actually talking about in their homes, but some didn't think should be aired in state-sponsored theaters. And today I think it's just rarely performed because Ibsen wrote other plays that aren't quite as dark as this one or are a little more family-friendly. But I wish all his plays were performed more frequently.
How does Eyre's adaptation differ in the way these subjects are handled?
I think Richard Eyre's version does two things. He streamlines the play a bit so that it's a relentless and breathless 90 minutes. And the seductive language of his dialogue is both contemporary and sparkling. Ibsen famously said that he was more of a poet than a social philosopher and I think Eyre's version celebrates not only the poetry of words with its witty crackling repartee, but also the poetry of theatrical action, the dance of gestures and patterns. It's an adaptation by a brilliant man of the theater.
Do you consider the play more about politics, societal mores, or love?
That's a great question, Shari. I don't know. I think some of the greatest plays resist being broken down into their themes because they really address a larger question: How to live. And Ibsen makes that question so complicated and, of course, includes politics, societal mores, and love - an excellent dissection, Shari. I can say that I've tried to explore all of these in the production and I have a feeling different playgoers will be struck differently depending on what's going on in their lives - and I'm hoping there'll be many kind but passionate arguments about just your question in the car on the way home and over the following weeks.
Your cast includes Pamela J. Gray as Helene Alving, Barry Del Sherman as Pastor Manders, Alex Barlas as Helene's son Oswald, Viva Hassis Gentes as the Alving family maid, and J.Stephen Brantley as her father Jacob Engstrand. Have you ever worked with any of them previously?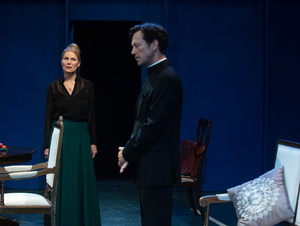 I've directed a few plays with Pamela and Barry previously. Most recently, Pamela played Masha in my production of Vanya and Sonya and Masha and Spike at South Coast Rep, perhaps the exact opposite of this play and character. She was hilarious. And Barry recently worked on Stage Kiss with me at the Geffen, among others. Again, the opposite of this character, though oddly, his relationship in the play is somewhat similar. Alex and Viva, two excellent young actors, are recent graduates of CalArts where I teach and where I first got to work with them. And this is my first time with J.Stephen and I'm enjoying his work enormously.
What do you think will surprise audience members about this adaptation of the play?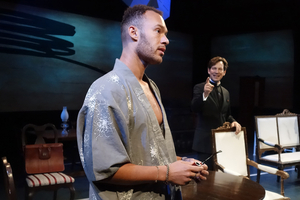 Well, we've started previews and people are telling me how immediate this version is. It doesn't seem like an old play or about a different time. It all seems 'now' and the way we talk about our lives today. And those who don't know the play are shocked by how the story turns and where it goes in its final minutes.
And what do you hope audiences will walk away talking about afterwards?
I love the way you ask this question, Shari, because that's really the heart of the theater, isn't it? The complementary follow-up to any interesting play.
Absolutely!
Well, this play ends with a kind of cliffhanger so I think they may talk about what they think will happen after the curtain falls, which hopefully leads to a discussion of their own lives, which may lead to a chat about what progress has been made in the 140 years since Ibsen wrote it. Ibsen is a provocateur so I think he would like that.
I know you have been and will continue to be a busy director around many stages in the Los Angeles area. So far, has there been one production that comes to mind when you are asked which sticks in your memory the most?
I have so many favorites for so many different and often deeply personal reasons, but if it's one, I'd have to say that there was something so poignant for me and for all the collaborators with the show that my company Evidence Room opened September 15, 2001: a production of Chuck Mee's great postmodern vaudeville The Imperialists at the Club Cave Canem with a bouquet of extraordinary musical numbers that Ken Roht created.
That was such a challenging time for all of us. Please tell me more!
We were in final rehearsals the night before the towers fell and we didn't know what to do or what we should do. But we kept meeting at the theater and talking and crying and rehearsing, sewing costumes, and by the end of the week, even though we didn't have any reservations in the book, we decided to open anyway. I sent out a giant group email - the early days of internet marketing - just inviting people to come and gather and not expecting anything really. But to our surprise, the theater was packed and it became a magical night of civic communion and I think all of us in that room together found so much meaning and connection. That's also been what I've learned through the pandemic: that my love for the theater has less to do with telling and hearing stories - though I love them - and more to do with the gathering and watching together.
A true tale of the magic and power of live theater. Tell me about your time working with the Evidence Room and what drew you to create it.
Oh Shari, you don't have the space. The company is my alternative soul. I worked to create it because I wanted to be an artist and direct plays and no one was asking me to, so I gathered a few people I knew from the various schools I had gone to and a few of their friends and a few of their friends' friends and we just started educating each other and trying things that we thought were interesting and one thing led to another and despite many, many obstacles, we just kept going. It's where I met my collaborators and confidants and soul brothers and sisters. I learned I enjoyed producing as much as directing and I especially enjoyed finding talented people and helping them move forward. The company still exists and we put up a show occasionally but it's nothing like the days of having something onstage almost every weekend. It was an exhausting time but so creatively fulfilling, the most relentlessly creative period of my life. I'd love to be that sort of artistic director again.
And what's up next for you?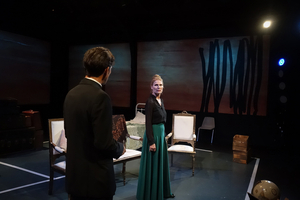 Two days after Ghosts opens, I begin a packed semester teaching at CalArts, but in terms of directing, there are two projects I'm developing right now with one of the great LA artists, one to be done out of town and another here, but we're not quite ready to announce them yet. Hopefully soon, but I think they're very exciting.
Is there anything else about the play or life in general you would like to share with readers?
Because there is so much that's changing in LA theater, I'd like to express a hope: I hope our great local artists will continue to pull together and help each other, and I hope our largest theaters will look more toward the best of our LA community to create art by, for, and with the citizens of our beloved Los Angeles.
Thanks so much, Bart, for your insightful answers!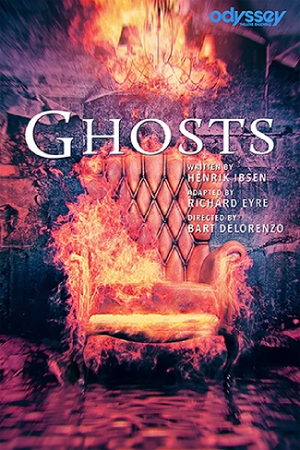 Following two press previews (also open to the public) at 8 p.m. on Thursday, Sept. 8 and Friday, Sept. 9, regular performances of Ghosts begin on Saturday, Sept. 10 and will take place on Saturdays at 8 p.m., Sundays at 4 p.m., and Mondays at 8 p.m. through October 23 (dark Sunday, Sept 11 and Monday, Sept. 12). In October, performances are added on Friday, Oct. 7; Friday, Oct. 14; and Friday, Oct. 21, each at 8 p.m.
Tickets to performances on Fridays, Saturdays and Sundays range from $25-$40. Tickets to performances on Monday nights are Pay-What-You-Will (reservations open online and at the door starting at 5:30 p.m.). Tickets for artists and educators are $20 with union (AEA-SAG-AFTRA) or school ID on Sunday, Oct. 9. Additionally, post-performance discussions with the artists are scheduled on Monday, Sept. 19 and Sunday, Oct. 9, and are included in the ticket price. The second Friday of each month (Friday, Sept. 9 and Friday, Oct. 14) is "Wine Night": enjoy complimentary wine and snacks and mingle with the cast after the show.
The Odyssey Theatre is located at 2055 S. Sepulveda Blvd., West Los Angeles, 90025. For reservations and information, including up-to-date Covid-19 safety protocols, call (310) 477-2055 or go to OdysseyTheatre.com.
Production photos by Cooper Bates
Shari Barrett, a Los Angeles native, has been active in the theater world since the age of six - acting, singing, and dancing her way across the boards all over town. After teaching in secondary sc... (read more about this author)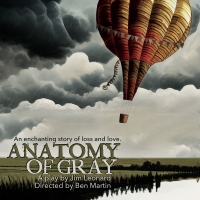 Interview: Playwright Jim Leonard on the L.A. premiere of ANATOMY OF GRAY

November 17, 2022

Jim Leonard has published eight plays, including The Diviners, And They Dance Real Slow in Jackson, and Battle Hymn, with his theatrical honors including the Outer Critics Circle Award, an Ovation Award, the Dramatists Guild Award, and an LA Weekly Award for best play.
---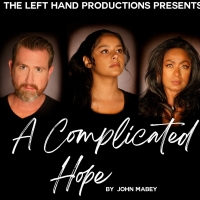 Interview: Shawn Lefty Plunkett on presenting the West Coast premiere of John Mabey's A COMPLICATED HOPE

November 15, 2022

John Mabey's three-person play A Complicated Hope centers around Marie and her daughter Rose Marie who are left adrift after their husband and father, Michael, passes away. But it's how he leaves that alters the lives of the family forever, especially after they meet Arnie, Michael's boyfriend. Mirroring the erratic path of grief itself, A Complicated Hope flashes between the moments in time that changed them all, exploring the challenges of both finding a family of choice and letting yourself be found. Earlier this year, Kentwood Players presented a reading of Mabey's play in which Shawn Lefty Plunkett portrayed the role of Arnie. I was curious to find out what led to his decision to produce the fully-staged West Coast premiere of A Complicated Hope as well as take on the role of Arnie again.
---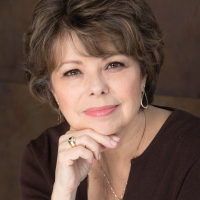 Interview: Anne Marie Ketchum, Founding Artistic Director of the Verdi Chorus, on their Upcoming VERDI PUCCINI FEST

October 30, 2022

As an early holiday present for opera lovers, On November 12 and 13, the Verdi Chorus' 39th season culminates with a Verdi Puccini Fest for two performances only at the First Presbyterian Church in Santa Monica. Under the direction of Founding Artistic Director Anne Marie Ketchum, who promises the program will include "some of the most exciting moments from two of the greatest operatic composers who ever lived," I decided to speak with her on its inception, creation, and what makes the Verdi Chorus such a special part of our city.
---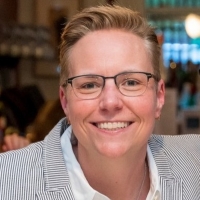 Interview: Playwright Cyndy A. Marion on the West Coast Premiere of BROKEN STORY

October 28, 2022

A serial killer's backstory always seems to fascinate people more so than that of their prey. But what is it about these vicious murderers that inspires works of art being written about them? That question popped into my head when I heard about the West Coast premiere of Cyndy A. Marion's play Broken Story, which was inspired by the murder of writer Susan Berman and her close relationship with serial killer Robert Durst. I knew I wanted to find out what inspired Cyndy to create the play and how she conducted her research.
---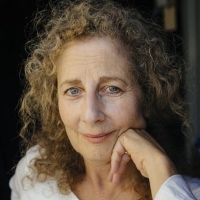 Interview: PRT Artistic Director Marilyn Fox on Directing ALBEE/PINTER

October 27, 2022

Tony Award winning playwrights Edward Albee and Harold Pinter, who have left indelible marks in world theatre, both give voice to the outlandish and amusing behavior of humans in many of their dark comedies. Pacific Resident Theatre is offering a retrospective of two of their early one acts in tandem, both first produced in 1960. Albee's Fam and Yam, set in an upper Eastside penthouse, examines an encounter between two unnamed playwrights, one famous, one not, offering Albee's biting wit and incisive satire at its best. In Pinter's The Dumb Waiter, two working-class hitmen wait in a basement for their next assignment. I decided to speak with Pacific Resident Theatre's Artistic Director, Marilyn Fox, about the production.
---