Epic Story THE WINTER'S TALE Comes to Shakespeare By The Sea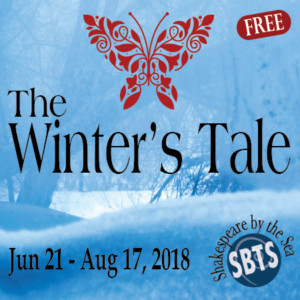 "It is required you do awake your faith." In one of Shakespeare's last plays, The Winter's Tale tells the story of a King who banishes his family wrongfully, and is taught the meaning of forgiveness through the inspired plan of a wise, loyal woman. Shakespeare by the Sea's 21st Season continues with this epic and magical story, opening June 21 and directed by Ovation Award-winner Stephanie A. Coltrin.
The Winter's Tale will tour Los Angeles and Orange Country for over ten weeks in 13 locations: San Pedro, Hermosa Beach, Lakewood, Rossmoor, South Pasadena, Long Beach, La Mirada, Santa Ana, Torrance, Whittier, Mission Viejo, Manhattan Beach, and Carson before returning to Point Fermin Park in San Pedro for the Grand Finale Candlelight Ceremony performances. In repertory with The Merry Wives of Windsor, Shakespeare by the Sea will perform in 23 locations total. Tour location details and dates are available at www.shakespearebythesea.org/locations.
For twenty years, Southern California audiences have come to love Shakespeare by the Sea for its high value productions of Shakespeare's plays, presented free of admission in dozens of local parks each summer. Providing free arts programs to more than 20,000 audience members each year, the outdoor festival has become a family and friends favorite event, who gather around blankets and picnic baskets to enjoy Shakespeare under the summer sky.
In The Winter's Tale, King Leontes loses all that he holds dear in an instant: his wife, his son, and his best friend are ripped from him by his wild and baseless jealousy. His newborn daughter is banished, not expected to survive. His wife seemingly dies of a broken heart, his son dies from sadness over his mother's fate, and his best friend barely escapes with his life. Too late, Leontes realizes how wrong he was. But is it too late for a miracle or two? Director Coltrin remarks, "The story illustrates the epic, heart-breaking, tragic consequences of jealousy, but unlike Shakespeare's tragedies, provides redemption and forgiveness in the form of a miracle. Filled with extraordinary language, its drama is matched by its comedy, and throughout there is a sense of the magical power of grace. When what's gone and what's past help is not past grief, the story reminds us that what was lost can indeed be found."
Since 1998, SBTS has reached over 500,000 youth and their families, seniors and individuals in Southern California with quality arts and educational programs. Funded entirely by donations and grants, Shakespeare by the Sea brings contemporary and classic works to underserved, culturally diverse audiences in order to ignite imagination, promote literacy and encourage artistic expression. This season's performances are made possible through the support of the LA County Arts Commission, Orange County Community Foundation, LA County 4th District Supervisor Janice Hahn, and multiple City Tour Sponsors. The San Pedro performances are made possible in part by a grant from the City of Los Angeles, Department of Cultural Affairs.
| | |
| --- | --- |
| Vote Now for the 2022 BroadwayWorld Los Angeles Awards | |
| voting ends in | |