EXCLUSIVE: Ingrid Michaelson on 'WILLY WONKA AND THE CHOCOLATE FACTORY' at The Hollywood Bowl!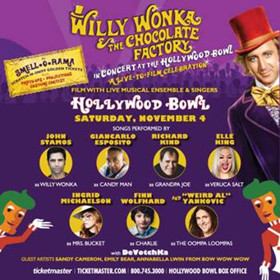 As the Hollywood Bowl gets ready for a sweet serving of WILLY WONKA AND THE CHOCOLATE FACTORY: LIVE TO SCREEN, BroadwayWorld correspondent, Maeve Riley, caught up with singer/songwriter Ingrid Michaelson. Fresh off the Broadway stage as Sonya in Natasha, Pierre, and the Great Comet of 1812, Ingrid will be making her Hollywood Bowl debut singing the timeless classic, 'Cheer Up, Charlie' as Mrs. Bucket.
What has your experience been like so far with the cast and creative team for 'Willy Wonka and the Chocolate Factory' Live to Screen at the Hollywood Bowl?
I've worked with this team before- I got to do Sally's song from Nightmare Before Christmas when they did The Music of Danny Elfman From the Films of Tim Burton concert at the Lincoln Center a few years ago. I love them! They're not regimented as to how they want the songs to be done. They want to infuse our interpretations into it, which I think is really cool. So far it's just been pretty simple, pretty easy breezy. I can't wait to get into the room with the orchestra and get going!
How does it feel to perform an iconic song ('Cheer Up Charlie') in such a special setting?
I mean, as soon as my manager wrote to me and they asked if I wanted to be part of this, they didn't even have to say much... I would have just changed people's costumes at that point. Then they said they wanted me to sing 'Cheer Up Charlie' - I was like OH MY GOD, yes of course! Plus, I've been to the Hollywood Bowl, but I've never sung onstage. I also feel like this movie is so iconic and it's part of my childhood, so to be part of it is just insanely cool.
When did your love for musical theatre begin?
I always studied theatre. When I was nine years old, I was in a group called Kids Onstage in Staten Island until I was thirteen. Then, I wanted to go to school for theatre, which I did, and taught children's theatre after college.
How did you transition from being a musical theatre performer to a singer/songwriter?
I started to write music at the same time I was graduating. I just felt like with acting, you're always kind of waiting around for someone to cast you in something. With music I felt much more in control, like I could control my own destiny. So I switched over to writing music, never thinking I would leave theatre fully behind. Then, my music just picked up and I followed that for a while.
What was it like going back to your roots in the theatre with Natasha, Pierre, and the Great Comet of 1812?
When Natasha, Pierre, and the Great Comet of 1812 came along, which was not planned, I said yes... which was terrifying. I had the best time ever. It was so much fun, and I loved getting back into that part of my life. I also did a movie about a year and a half ago called Humor Me that's going to be in select theaters in the new year, so I'm definitely going back to that area of my life. Not that I'm going to leave music behind, but I'm focusing a lot on theatre and acting, and I'd love to write a musical, so there's lots of things in the works. I don't think that part of me ever left- it was just kind of waiting to come out again.
What advice do you have for young artists looking to pursue a career in the entertainment industry?
Ingrid: When I decided to do Great Comet, I was so frightened. I really didn't think I could do it for many reasons. I think it was mostly fear, because I didn't feel prepared for it. When I decided to say yes, I put myself totally into it, worked really hard, and I became ready for it. It was so frightening to me, but I think what I learned from that and what I've learned many times over my life is that often times its those opportunities that are really scary that yield the most reward- not monetarily, but spiritually and soulfully. So, my advice would be to do all the things that make you uncomfortable and make you scared. Go outside of your comfort zone. I've totally not done that and chickened out, and then been regretful about it. I know for a fact that when you hound yourself and do the things that are scary, nine out of ten times you're going to walk away with something that's really great.
What has been the most fulfilling moment for you throughout the span of your career?
I remember meeting the Obamas and thinking, "This would have never happened in my life if I wasn't where I am now." I kept thinking, "I'm meeting a president of the United States of America." Plus, it's Barack Obama and Michelle. I remember being a bit awestruck. I also think that the moments of being onstage during Great Comet and watching the end of the show happen... those were really magical moments for me, because I've wanted to be on Broadway my whole life, before I even knew what it meant. I mean, I grew up in Staten Island, and it was all about Broadway. So, those moments when I really locked in onstage were pretty transcendent. You realize you're actually doing this thing that you've wanted to do your whole life, as long as you can remember. You're DOING it. As far as music went, I never thought I was going to be a musician. So yes, of course as you go along you create dreams and you have goals and plans and hopes, so I've had amazing experiences with my music. But there's something different about theatre, specifically about being in this amazing show on Broadway and thinking to myself, "You're here doing this. You're really doing this." So I think that was probably the most profound moment- that and meeting Obama were both pretty amazing experiences.
---
Warner Bros. Pictures' classic "WILLY WONKA & THE CHOCOLATE FACTORY™" will be brought to life when WILLY WONKA & THE CHOCOLATE FACTORY™IN CONCERT AT THE HOLLYWOOD BOWL: A LIVE-TO-FILM CELEBRATION premieres on Saturday, November 4th. This special event will feature John Stamos, ELLE KING, and "WEIRD AL" YANKOVIC alongside an all-star cast singing iconic songs as the film plays on the Bowl's movie screen accompanied by live musicians. Tickets are on sale now at ticketmaster.com.
The singing cast includes John Stamos performing "Pure Imagination" as Willy Wonka, Giancarlo Esposito singing the role of The Candy Man, Richard Kind as Grandpa Joe, ELLE KING singing Veruca Salt's "I Want It Now," Ingrid Michaelson as Mrs. Bucket, FINN WOLFHARD as Charlie, and "WEIRD AL" YANKOVIC as the Oompa Loompas.
Maeve Riley is so excited to be a BroadwayWorld.com Social Media Correspondent via Vine and Snapchat! A student at UCLA's School of Theater, Film, and (read more...)