BWW review: Much LAUGHTER ON THE 23rd FLOOR at Garry Marshall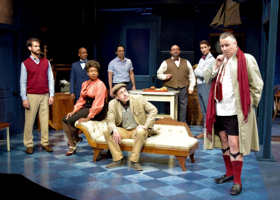 Laughter on the 23rd Floor/by Neil Simon/directed by Michael A. Shepperd/Garry Marshall Theatre/through April 22
In 1993 Neil Simon penned his experiences as a young writer for Your Show of Shows on early 50s television in a play entitled Laughter on the 23rd Floor. At that early time he was a novice learning from the likes of series star Sid Caesar and fellow-writers Mel Brooks, Larry Gelbart, Carl Reiner, and Selma Diamond among others. The seven member team plus Caesar collaborated on sketch comedy that ran live weekly on NBC. Daily work was hellish with the crazies bringing their personal issues and divergent styles of expression every hour of every day to the writers' room. The sketch material was not only affected by their various personalities clouded by bold ethnic traits but also by the world around them that included the infamous attacks of McCarthyism. In the arts actors, writers, directors and other artists were endangered of being branded a communist and fired from their work. NBC found Your Show of Shows to be too sophisticated and thereby made cuts threatening the show's existence. It was cut back to an hour. In the play Sid Caesar is Max Prince (Pat Towne), an alcoholic and drug addicted tyrant who will stop at nothing to prove his point. He fights NBC; of course, to no avail. Laughter... plays the Garry Marshall Theatre through April 22, brilliantly directed by Michael A. Shepperd with a fabulous ensemble of nine players.
Simon's character is Lucas (Jason Grasl) who serves as narrator, introducing each writer, Max and his secretary Helen (Jessica Joy) and then observing as well as cautiously interjecting his own thoughts on the subject matter at hand. Director Shepperd gets the most out of Simon's detail by keeping the action circular, in constant motion and by utilizing a brisque almost frenzied pace. This is not the Simon whose earlier plays were laced with jokes and more jokes to elicit laughs. It's the later Simon after Brighton Beach Memoirs, Broadway Bound and Lost in Yonkers, who wrote about his own life. There's reality and lots of guts hurled around this writing room as characters literally scream and rant about what's bothering them, much like the antics of little children. Mel Brook's character Ira Stone (Jeff Campanella) is a hypochondriac who always arrives late and in nonstop patter kvetches about having a brain tumor or dying from some disease or other. Sounds much like Woody Allen too. Stone is so irritating that the others resent him, especially because he works less hours but is making a very high salary. The only female writer is Carol (LaNisa Renee Frederick) who would rather be thought of as a writer than a woman. She's expecting a baby and in act two shows just how strong a constitution she has by showing up and working in spite of her extreme discomfort. Val (Roland Rusinek) is Russian, speaks with a thick accent and is constantly chided for his ethnic speech. On the humorous side, he cannot remember the name of an off-Broadway theatre that has a fruit in it...apple, pear, peach...no, cherry, the Cherry Lane Theatre...and he cannot properly pronounce the curse word f---.
And then there's Max, the superstar who would rather walk around the office in his shorts or shove his arm through the wall to make a point than behave in human fashion. Like a fascist dictator he consistently rules with an iron hand. When Milt (Ty Mayberry) enters wearing a white suit, Max gives him hell and he must call the costume department to get a dark suit. Max is indomitable and throws his power around despite the well-known fact that his addictions literally put him to sleep at a moment's notice and cause him to collapse in a heap more than once. One of the funniest arguments arises when the gang are rehearsing a sketch, a take-off on the current film of Julius Caesar starring Marlon Brando. Towne as Max assumes a fine Godfather accent and delivers a delicious reading of "Stella!" from Streetcar. When he finds out that Ira wrote the line into the sketch, he insists it be cut, because of Ira's overbearing eccentricities. Of course, it's left in, but how the two hash it out is one hilarious scenario.
Other members of the team include Brian (John Ross Bowie), an Irishman who yearns to sell a screenplay to Hollywood and Kenny (Cornelius Jones Jr.), the more serious writer whose character is supposed to resemble Larry Gelbart or Carl Reiner. Every actor has his moment in the spotlight, but this is basically an ensemble effort. No one outshines anyone else. The chemistry amongst all of the actors brings out the true comraderie of a harried writing staff.
Scenic design by Alex Calle shows the large cluttered office space with the theatre back wall clearly visible. Actors can be seen making their entrances and exits, giving the whole experience a delightfully enhanced theatricality.
Don't miss Laughter on the 23rd Floor through April 22 only! The reality of how a live TV show from the 50s got produced is there for all to see and enjoy. It's one helluva terrific entertainment.
(photo credit: Chelsea Sutton)