BWW Review: Tour-de-Force Performances Highlight DANNY AND THE DEEP BLUE SEA at Edgemar Center for the Arts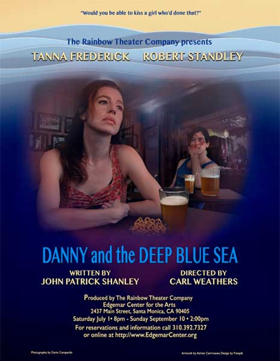 Every once in a while, I am treated to an amazing evening of theater featuring actors who step outside of themselves and totally encompass their characters every single moment they are onstage. With performances as riveting as any I have seen, Tanna Frederick and Robert Standley are marvels to behold as unlikely lovers Roberta and Danny in John Patrick Shanley's DANNY AND THE DEEP BLUE SEA, brilliantly directed with soulful abandon by Carl Weathers at the Edgemar Center for the Arts in Santa Monica. The Rainbow Theatre Company production is the show to see this summer!
Tanna Frederick and Robert Standley are quickly becoming the Hepburn and Tracy of local stages, having also appeared together previously in The Rainmaker (L.A. Times Critic's Choice) and Jack & Jill. They also appear in the 2016 feature film Ovation, which is totally appropriate given the standing ovations their current show is garnering for them.
DANNY AND THE DEEP BLUE SEA begins in a rundown bar in the Bronx where two of society's rejects, Danny and Roberta, strike up a halting conversation over their beer. He is a brooding, self-loathing young man who resorts more to violence than reason; she is a divorced, guilt-ridden young woman whose troubled teenage son is now being cared for by her parents. Danny, whose fellow truck drivers call him "the animal," seems incapable of tender emotion, while Roberta, who is still haunted by the memory of an ugly sexual incident involving her father, is distrustful of men in general. And yet, as their initial reserve begins to melt and they decide to spend the night together, the possibility of a genuine and meaningful relationship begins to emerge - a first for both of them.
Along the way, we get to see these two lonely and damaged souls attempt to let down their guard, then retreat from each other when the possibility of things working out for them seems to be more of a fantasy than reality. Standley is especially endearing as Danny learns how to "touch me nicely" per Roberta's request for tenderness rather than anger. Their most heartfelt emotional moment occurs when the two discover they both have the same dream of a beautiful, white dress in church wedding, during which Danny decides to impulsively propose to Roberta so they can make it happen for each other. You will celebrate their excitement and joy right along with them thanks to the overwhelming emotional atmosphere created by Frederick and Standley when sparks fly between them. But what happens when they awake in the morning will break your heart, and then have you cheering for things to work out for these two lost souls seeking love and redemption after meeting over pretzels and beer.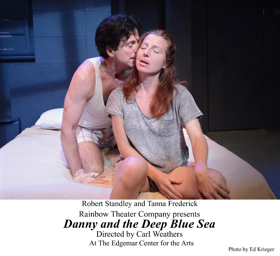 John Patrick Shanley is the playwright best known for his Tony® Award winning play Doubt, receiving a Tony nomination for Outside Mullingar, and winning the Oscar® for his screenplay for Moonstruck. He expertly knows how to realistically portray the back-and-forth power struggle between couples, and with Frederick and Standley so immersed in theirs, you won't be able to take your eyes away from them. And I guarantee their performances will have you sitting at the edge of your seat during the entire 90-minute show.
Once word gets out about how amazing their performances in DANNY AND THE DEEP BLUE SEA truly are, the rest of the run is bound to sell out quickly. So don't wait to order your tickets so you can be dazzled by the star power onstage just as I was.
DANNY AND THE DEEP BLUE SEA written by John Patrick Shanley, directed by Carl Weathers and produced by The Rainbow Theatre Company, starring Tanna Frederick and Robert Standley, continues at the Edgemar Center for the Arts, 2437 Main St., Santa Monica, CA 90405, through September 10, 2017 on Sat. at 8:00, Sun. at 2:00. (Dark on August 12-13.) Tickets are $25, with students and seniors at $20. Reservations may be made by calling (310) 392-7327 or online at www.edgemarcenter.org. Parking is available in an adjacent fee lot with metered street parking and a nearby metered municipal lot in the area.
Related Articles View More Los Angeles

Stories

Shows