Review: The American Dream is only a Taco Away in ICE at 24th STreet Theatre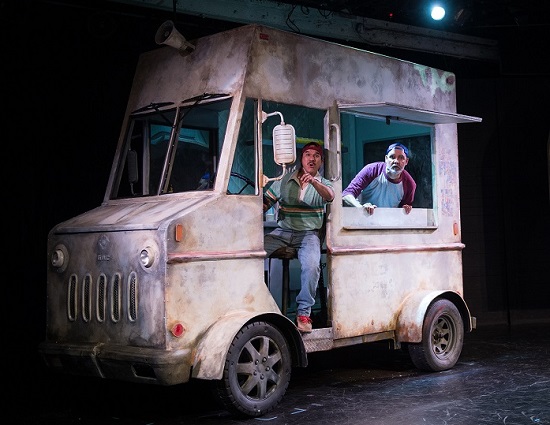 Seduced by the notion that, in America, winning is everything, an immigrant loses sight of what is really important in Leon Martell's world premiere play, ICE. Commissioned by 24th STreet Theatre to commemorate its 20th anniversary, the 65-minute one act highlights the plight of every hopeful soul diligently trying to attain the life, liberty, and pursuit of happiness promised by our founding fathers.
But, for the undocumented, the road to claiming those unalienable rights can be long and challenging. Hard work and good intentions don't always ensure success, as Chepe (Jesús Castaños-Chima) finds out in ICE.
Tired of being taken advantage of by unscrupulous bosses who break promises and exploit his illegal status, he resurrects an old ice cream truck and refashions it to fulfill his dream of selling gourmet tacos. But the business struggles and the truck won't run. And each time the police sirens start to wail, he hides to avoid detection. The threat of deportation is a part of every day.
His solution is to convince his cousin, Nacho (Tony Durán), to cross the border from Mexico and bring his mother's secret salsa recipe with him. Together, he is certain they can win the KUSA food truck contest and find success at Dodger Stadium. After all, Fernando Valenzuela, a fellow Sinaloan with whom he used to play baseball, is now the Dodgers' star pitcher, thanks to a little move Chepe taught him when they were kids.
But Chepe is unlucky. His truck defies him, he still can't sell any tacos, and his admiration of Valenzuela is colored with jealousy. When push comes to shove, Chepe sacrifices his principles to get ahead and ends up lying, cheating, and stealing like the bosses he hated.
His journey is mirrored in a single song, "The Wind" by Cat Stevens. It winds its way throughout the play, first in short haunting snippets on acoustic guitar and, later, in a full version played and sung live by Davitt Felder, who sounds so much like the artist that it will make you long for the days when you, too, were a seeker.
On the surface, it may seem an unusual choice for a play about a Mexican who loves baseball and is trying to make a better life for himself in America but it encapsulates the protagonist's odyssey succinctly. He follows a dream. He loses his way. He learns a lesson. It's the kind of story 24th STreet Theatre tells so well.
The relationship between the two cousins is a sweet one. Nacho trusts Chepe completely and the admiration and innocence shining in Durán's eyes each time he looks at Castaños-Chima is incredibly charming. As Chepe, Castaños-Chima responds to every problem with resolute authenticity.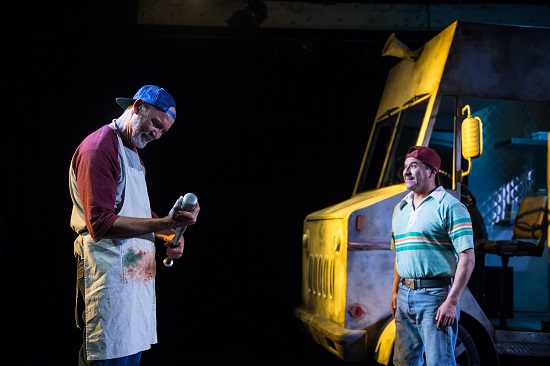 Not even a blind Irish priest, Davitt Felder (whose distinct ability as a utility player allows him to disappear into several roles, both live and on video, with ease), can make sense of the hoops one must jump through when faced with his own crisis of conscience.
Director Debbie Devine excels at clean storytelling that doesn't get bogged down in extraneous padding but Martell's writing doesn't give her an easy path this time around. Martell has a gift for creating characters we care about and dialogue that is believable, but there are holes in the story and a few too many details left off-stage that make the fate of the characters questionable. At only a little over an hour's running time, it leaves plenty of room to expand the play's connective tissue to flesh out what's missing.
The physical, spiritual, and emotional aspects of the story are represented in set designer Keith Mitchell's three set pieces: Chepe's taco truck, the physical object of his dream; a stained glass church window, the spiritual beacon of hope; and two stacked vintage television sets evoking an emotional connection to the world in all its good, bad, and ugly glory.
When you don't clutter the stage with unnecessary items, each piece takes on greater significance while leaving the actors plenty of room to create. Defining those spaces with light is Dan Weingarten's specialty. Adding sound to enhance the virtual world without calling attention to itself is why Chris Moscatiello won a Los Angeles Drama Critics Circle award this year.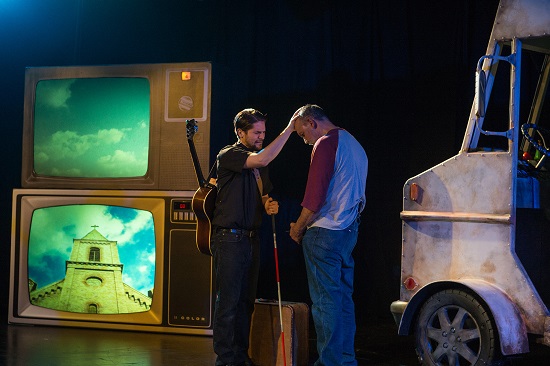 Because immigration is such a hot button in the U.S. right now, it is doubly important to make sure we carry our compassion in our back pockets, ready to pull out at a moment's notice. We may not remember what it was like to be a stranger in a strange land seeking to build a better life for our children but we are all descended from families that emigrated here at one time or another (with the exception of our Native American brothers and sisters). I am sixth generation, you may be second or twelfth or twentieth. I guarantee you, a little compassion goes a long way.
24th STreet Theatre has worked its way into the hearts of its neighbors by expanding the very definition of compassion and incorporating the community it serves into its own mission. It is a symbiotic relationship born out of necessity that benefits thousands of children and adults each year. In a country where many are looking for a place to call home, with or without papers, theirs is a heartwarming success story that lifts up everyone who crosses their doorstep.
ICE, then, is a natural subject for the company to explore. There may not be an easy answer for how to evolve our immigration system but if the play offers a little insight into the immigrant experience, it has done its job. And if 24th STreet Theatre isn't already on your short list, you should add it now. Smart art and doing good go hand in hand here.
ICE
April 7 - June 10, 2018 (now extended through June 24)
24th STreet Theatre
1117 West 24th Street
Los Angeles, CA 90007
(Intersection of 24th and Hoover)
Tickets: (213) 745-6516 or
www.24thstreet.org
Photo credit: Cooper Bates