Click Here for More Articles on SHAKESPEARE SPOTLIGHT
BWW Review: These TWO GENTLEMEN OF VERONA Have it Made in the Shade

THE TWO GENTLEMEN OF VERONA, Independent Shakespeare Co.'s latest summer fling with Will Shakespeare, marks a full-circle moment in the company's history. It was the first play ISC produced in Barnsdall Park, some thirteen years ago, and their first partnership with the Los Angeles Dept. of Rec and Parks. Since then, the relationship has flourished with audiences continuing to flock to the free outdoor performances, which now take place in Griffith Park. This year it is projected that 50,000 attendees will pull up a blanket and enjoy a night of culture under the stars. Not bad for a bunch of roustabouts who knew their stock in trade was making Shakespeare approachable for the common man. It is a concept the playwright would most certainly have approved of and one they have perfected to a T.
For ISC's 2017 productions - MEASURE FOR MEASURE, the season's opener, and the currently running TWO GENTS - important themes emerge about how men treat women, the blurring of gender lines, and the complicated way conflicts in love are resolved.
In the first play, a chaste woman's virginity is used as a bargaining chip to pay for a man's indiscretion. In the second, a man pursues his best friend's lover, attempts to rape her, and when caught in the act, is nearly given the woman by his friend because he feels sorry for him. Audible gasps rippled through the crowd on opening night at his caddish behavior, although they do reflect attitudes of the period in which they were written. Both plays show women treated as property and, in 2017, you can bet that stimulates a lot of animated discussion at intermission. But, no matter, ISC has a plan.
The company sets TWO GENTS in the 1950s, accompanied by a live band on stage playing an infectious rock 'n' roll score. Musical director Dave Beukers' arrangements are bright and sexy with a beat that's perfect for dancing (think Elvis Presley during his Sun Records days or Jerry Lee Lewis). It's a choice that admirably complements Shakespeare's early play - thought by many to be his first - and the erratic appetites of youth.
The story is full of familiar Shakespearean elements such as a journey, a woman disguised as a boy, mistaken identities, and young lovers who defy their parents - all devices he explores with greater finesse in later works. Some say TWO GENTS reflects the playwright's inexperience with story development but that doesn't get in the way of this company. Led by husband and wife team Melissa Chalsma and David Melville, who often alternate directing duties, productions are crisp and bursting with entertainment value the whole family can enjoy. That applies to this production as well which Melville stages specifically to please the crowd in a time period that lends itself to fun and frolic.

The cast includes familiar ISC faces and some newer ones who are moving up through the ranks and taking on larger roles. Nikhil Pai (Valentine) and Evan Lewis Smith (Proteus) are best pals about to get schooled in the ways of friendship and romance, with Pai the nerdish skeptic who ultimately becomes a fool for love, and Smith the fickle friend whose loyalties change whenever it suits his desire. Pai exercises his comedic chops this time around and Smith gives nuance to the good-guy-turned-cad role. Both have an intelligent command of the language and play to their strengths, which allows the rest of the characters a lot of latitude in how they add to their storylines.
Servants Speed (Xavi Moreno) and Launce (David Melville) do it by ramping up the humor; Moreno with his quick wit and sharp tongue, and Melville assisted by a dog (Lorenzo González) whom he loves beyond measure. The comedy bits that bubble up from this layer of the play are delightfully wacky. One interlude finds Melville stripped down to his skivvies, while watching González change characters in almost every scene is the kind of meta actor conceit that reaps countless comic rewards.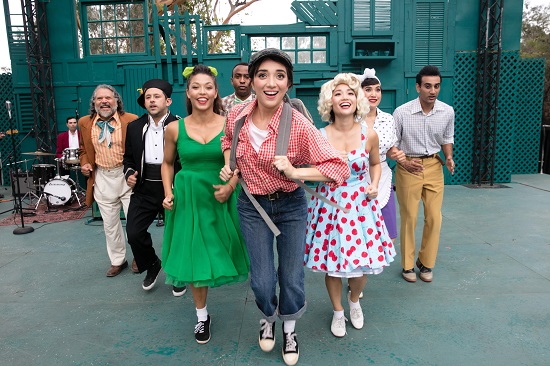 ISC regular Erika Soto is swiftly cycling through Shakespeare's ingénue roles with the company and adds a vivacious Julia to a growing list that includes Miranda in THE TEMPEST, Juliet in ROMEO AND JULIET, and Bianca in THE TAMING OF THE SHREW. Jilted but not jaded, the spunky young woman follows her love to Milan, dressed as a boy, provoking a wide range of emotions before her man is abruptly returned to her. Soto is inherently likable and a breath of fresh air every time she steps on stage. You can see the makings of a Viola or Rosalind flirting on the horizon even now.
Ruoxuan Li's black leather jackets for the outlaws, and circle skirts and preppy plaids for the leading players all lend authenticity to the period and its unbridled optimism. The teal wash of Caitlin Lainoff's shuttered and latticed scenic design gives the colors in Li's costumes an extra lift, propelling the characters forward out into the crowd.
And, as is typical for an ISC production in the park, the audience is always in on the action. No unexpected opportunity for a laugh gets overlooked, even if it is at the expense of an actor having a Carol Burnett moment trying not to laugh. The audience eats it up every single time.
So, let's recap:
♥ Cool concept? Check.
♥ Take the whole family? Check.
♥ Free parking? Check.
♥ Fun with rock 'n' roll? Check.
♥ Highly-skilled actors with classical expertise? Check.
♥ Music, comedy and a dog? Check and double check.
Summer's here so let the good times roll. Your good time is made in the shade with Independent Shakespeare Co.'s THE TWO GENTLEMEN OF VERONA.

THE TWO GENTLEMEN OF VERONA
July 29 - September 3, 2017
Early performance time: 7:00 pm
The Old Zoo in Griffith Park
All performances are FREE to attend
More Info: (818) 710-6306 or www.iscla.org
Photo credit: Grettel Cortes
Related Articles