Review: THE THANKSGIVING PLAY at Geffen Playhouse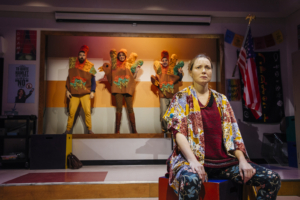 The latest offering at The Geffen Playhouse is Larissa Fasthorse's satire "The Thanksgiving Play".
The question facing three "woke" white thespians (the forthright Noah Bean, the statuesque Alexandra Henrikson, and the earnest Jeff Marlow) along with a "focused" director (the solid Samantha Sloyan) are tasked with devising an elementary school pageant about the first Thanksgiving while avoiding any cultural missteps.
In presenting this production, the message is good (and for the 98% caucasian audience, worth hearing and seeing). But the impact and how it lands on us and (should) affect us gets lost in the concept of trying to be too clever and funny. Author Larissa Fasthorse writes a great 90 minute play, but muddles it with too much (in this reviewer's opinion) esoteric material, rather than coming from the heart and speaking from a personal voice.
The performances are all strong, however Michael John Garces has directed the actors to be very one dimensional and stereotypical in their characters. Nothing is horrible, I simply came out hoping for a little more power and directness.
This is a dark comedy with dry humor, if you enjoy 'Saturday Night Live', you will love this production. If you dont...you probably won't.
"The Thanksgiving Play" runs through December 6th at Audrey Skirball Kenis Theater at Geffen Playhouse, 10886 Le Conte Avenue, Los Angeles, CA 90024. It iss 90 minutes with no intermission.
Tickets currently priced at $30.00 - $120.00. Available in person at The Geffen Playhouse box office, by phone at 310.208.5454 or online at www.geffenplayhouse.org. Fees may apply.
Rush tickets for each day's performance are made available to the general public 30 minutes before showtime at the box office. $35.00 General/$15.00 Student
Photo Credit: Jeff Lorch
The Cast of "The Thanksgiving Play"
!
Celebrating 3 decades as an actor/director/choreographer/producer/educator, Jeff is honored to be bringing BroadwayWorld.com review to the Conejo Valley. Having trained with and/or mentored by some... (read more about this author)